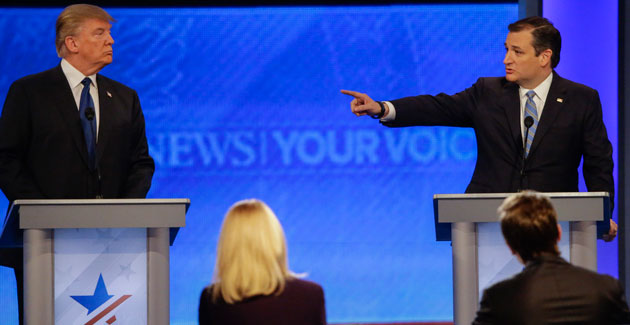 Fight disinformation:
Sign up
for the free
Mother Jones Daily
newsletter and follow the news that matters.
With a few days to go before the New Hampshire primary, the seven top Republican contenders—Carly Fiorina and Jim Gilmore didn't make the cut— met for a debate at St. Anselm College. Donald Trump,who skipped the last debate because Fox wouldn't remove moderator Megyn Kelly from the lineup, seemed more subdued than in past performances, though he received a loud round of boos when he tried to silence Jeb Bush during an exchange over eminent domain. (More on that below.) Tonight was all about the revenge of the governors—particularly Chris Christie and Jeb Bush, who put in some of their strongest appearances. Things didn't go so well, however, for Sens. Marco Rubio and Ted Cruz, who received a drubbing from their opponents. Here's a recap of the debate's best moments.
Well, That Was Awkward
The start of the debate may go down as the most awkward in memory. This trainwreck began when Ben Carson failed to walk onstage when his name was called, causing a bottleneck in the wings and forcing the other candidates walked around him. Then Donald Trump apparently didn't hear his name and stood next to Carson while their rivals walked by them. On top of it all, the ABC News moderators forgot about John Kasich, leaving an empty podium and one mystified Ohio governor.
Just watch this video, because a debate kickoff this awkward doesn't happen often.
Christie and Rubio Clash—And Rubio Gets Stuck On Repeat
Debate moderators set up a faceoff between Chris Christie and Marco Rubio—and Christie apparently rattled Rubio enough to get the Florida senator's usually smooth delivery stuck on repeat. Confronted with Christie's criticism, Rubio deflected and launched into a tirade against Barack Obama. "Let's dispel once and for all this fiction that Barack Obama doesn't know what he's doing. Barack Obama is undertaking a systematic effort to change this country and make this country more like the rest of the world." He then went on to list a number of what he said were his accomplishments in Congress—including the Hezbollah Sanction Act. But Christie quickly jumped in to point out that Rubio failed to show up to vote on the Hezbollah bill.
"That's not leadership, that's truancy!" Christie said.
And that's when Rubio's record apparently broke. Using almost the exact same words he had just used moments before, the Florida senator turned back to Obama.
"But I would add this, let's dispel the fiction that Barack Obama doesn't know what he's doing, he knows exactly what he's doing," Rubio repeated. "He is trying to change this country!"
Mocked once again by Christie for the repeated phrase, Rubio…did it again.
"There it is!" Christie interrupted. "There it is the memorized 25 second speech, there it is everybody!"
Weirdly, Rubio used the same line a fourth time a few minutes later.
Ben Carson Confronts Ted Cruz Over Iowa "Dirty Tricks"
Ben Carson—and Donald Trump—have accused the Cruz campaign of engaging in "dirty tricks" by spreading rumors that Carson was dropping out of the race during the Iowa caucuses. Asked about this episode during the debate, Carson said he wouldn't "use this opportunity to savage the reputation of Senator Cruz"—but his anger was palpable. He went on, "I will say that I was very disappointed that members of his team thought so little of me that they thought that after having hundreds if not thousands of volunteers and college students who sacrificed their time and were dedicated to the cause—one even died—to think that I would just walk away ten minutes before the caucus and say, 'forget about you guys—I mean who would do something like that?'"
Ted Cruz Won't Criticize Donald Trump to His Face
Cruz was asked about his recent comments that Trump was not displaying the "temperament of a leader," but he declined to reiterate his earlier criticism with the real estate mogul standing directly next to him on the debate stage. When ABC moderator David Muir attempted to get him to answer the question directly, Cruz replied only, "I think that is an assessment the voters are going to make."
"I have to respond," Trump interjected. "I respect what Ted just said, but if you notice he didn't answer the question. And that's what's going to happen with our enemies and the people we compete against. We're going to win with Trump. We're going to win."
Jeb Bush and Donald Trump Battle Over Eminent Domain
A question for Donald Trump about the use of eminent domain, turned into a clash between the real estate mogul and Jeb Bush. Bush, who has had trouble landing a punch against Trump in past debates, brought up an eminent domain case involving an elderly woman who refused to sell her Atlantic City property to Trump. The exchange quickly grew heated. "He wants to be a tough guy," Trump said. To which Bush responded, "How tough is it to take property from an elderly woman?" Trump received a loud round of boos, claiming the negative reaction "was all of his [Bush's] donors and special interests."
Trump Says He Would Bring Back "Worse Than Waterboarding"
Asked "is waterboarding torture," Cruz said it isn't. "It does not meet the generally recognized definition of torture." He added, however, that "I would not bring it back in any sort of widespread use." Trump had a different take on the issue of waterboarding. Not only would his administration bring back waterboarding, he said, but "I would bring back a hell of a lot worse than waterboarding."