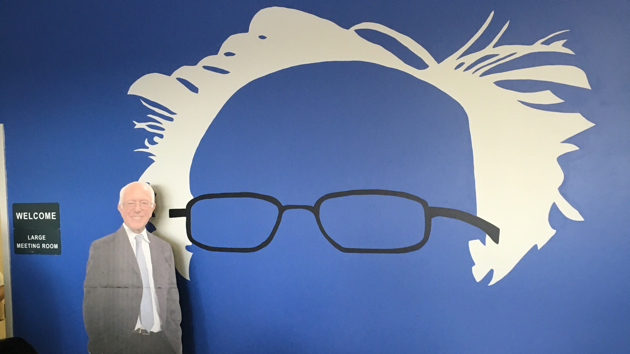 Fight disinformation:
Sign up
for the free
Mother Jones Daily
newsletter and follow the news that matters.
The first thing you see when you approach Hillary Clinton's campaign headquarters in Des Moines, Iowa, is a young man clad in a bright blue Bernie Sanders T-shirt and hoisting up a Bernie sign.
When you realize that Sanders has an office about 20 feet down the hall from Clinton's organizing HQ, the sight makes a little more sense. Clinton opened her second-floor office back in June; Sanders opened his office—his state headquarters—in the fall. (As Sanders' campaign boomed, it had to open a second, larger office 2.5 miles down the road.) "Bless you," a Bernie canvasser said as she heard someone sneeze from inside the Clinton suite (the door was open).
The man in the entrance is Dakota Nelson, 26, of Delray Beach, Florida. Just two hours before the caucuses kick off, Nelson was taking a break from his grueling 12-hours-a-day canvassing schedule. He looked exhausted and a little jittery, and when asked how it would feel if Clinton were to win the caucuses Monday night, he said he didn't even want to go there emotionally.
Nelson is indicative of what we saw in two Sanders offices in Des Moines on Monday: out of state volunteers working tirelessly to get out the vote for their candidate. Mother Jones came across volunteers from Florida, Ohio, and Alabama. These volunteers explained to us that teams from other states were out canvassing. Sarah Sladick, 20, and Abby Loveless, 19, had come from Birmingham, Alabama, on Thursday to go door-knocking in Newton, Iowa. They ran into Clinton canvassers on the same block and rushed to beat them to people's doors. When asked about the differences between Alabama and Iowa, Sladick said, "The squirrels are really big." She and Loveless talked excitedly about how Foster the People and Connor Paolo of Gossip Girl fame had stopped by the office earlier in the day.
Outside Sanders Campaign office, which is right down the hall from Clinton HQ: pic.twitter.com/bUqOSnlX3G

— Pema Levy (@pemalevy) February 1, 2016
Clinton's office, meanwhile, was filled with Iowans and staffers who had been working hard for a long time. Some had been with the campaign since the spring. "I feel like an honorary Iowan," said one paid field organizer who'd moved to Iowa from New York in April. Her car even has Iowa license plates.
The Sanders and Clinton offices are a reflection of what is about to play out here: The question is whether a swell of frenzied, passionate volunteers or a months-long ground game of nose-to-the-ground organizers will win the day.