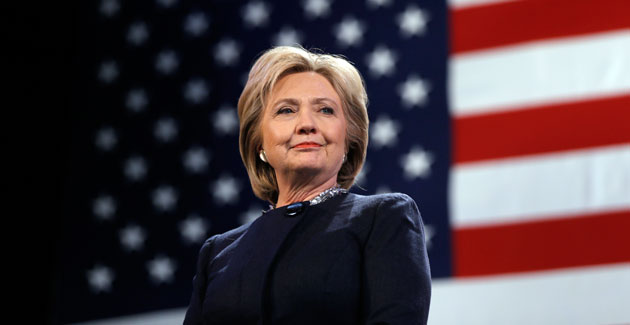 Fight disinformation:
Sign up
for the free
Mother Jones Daily
newsletter and follow the news that matters.
Whether Bernie Sanders places first or second in Monday night's Iowa caucuses—which recent polls show Hillary Clinton narrowly leading—his outsider campaign has made a definitive mark on Iowa's college campuses, where Clinton is just plain uncool.
"I'm not a fan of Hillary at all. I think she's very much backed by big money and would be a continuation of the institutions that are present in America that I think are pretty negative," Wyatt Heritage, a first-year student at Grinnell College, told me last week. "Supporting Hillary feels like being a Republican here."
Grinnell College (where I graduated in 2009) was a rough spot for Clinton during her last presidential campaign. In the precinct covering the school, she did not meet the 15 percent requirement and, consequently, received no delegates. It was a costly loss for Clinton, given that this was the most delegate-rich precinct in the state. Obama ended up winning Iowa's Democratic caucus.
It seems things haven't gone much better for Clinton this time around. Barb Trish, a political science professor at Grinnell and my old adviser, told me that the students who favor Clinton seem hesitant to say so. (Fans of Sanders are hardly reluctant to note their preference.) As part of her political science intro class, Trish routinely asks her students what opinions might be socially unpopular to express at Grinnell. Typically, she says, students suggest the uber-liberal campus might be a rough place to be pro-life. But last semester, one first-year student piped up that she thought it would be difficult to express support for Clinton. When Clinton visited the campus last fall, Sanders fans created a Facebook protest page titled "Grinnellians Against Hillary," and in the middle of her event they stood up, threw paper money into the air, and chanted about her connections to Wall Street.
Clinton has not fared poorly only at Grinnell College. When Drake University in Des Moines hosted a mock caucus a week ago, Clinton nabbed just two delegates, and Sanders and Martin O'Malley each drew four. Younger voters statewide have broken strongly for Sanders. In the latest Des Moines Register poll, Sanders got 63 percent from voters under 35. "Sanders has definitely captured the vast majority of young persons from college campuses but not necessarily the young people who were previously politically involved," says Austin Wadle, president of the College Democrats of Iowa and a sophomore at Grinnell. "He's definitely getting a lot of people who previously had no interest in politics and the electoral process, to get them excited for it."
That trend carries over nationally. A recent USA Today/Rock the Vote poll found 57 percent support for Sanders from Democratic and independent voters between the ages of 18 and 25, with Clinton registering only 25 percent. A Reuters poll last week showed that a whopping 75 percent of Democrats younger than 30 support Sanders, with 17 percent in Clinton's corner. And it's not just young Democratic men breaking for Sanders. The Rock the Vote poll showed that the "Berniebros" include a lot of young women, with Sanders holding a 50 to 31 percent lead over Clinton among the women polled.
College campuses featured prominently during the final week of Sanders' Iowa campaign. He started the home stretch on Monday at Grinnell and closed Sunday by pumping up canvassers at Iowa State University followed by his last Iowa rally at Grand View University in Des Moines. The night before, he held a rock concert extravaganza at the University of Iowa. A crowd of 3,500 people, mostly students, crammed into the Field House, with the fire marshal turning away hundreds more when the building reached capacity. Still, the line of shut-out students cheered for Sanders outside. It would have been easy to assume the college kids were there to see Vampire Weekend or Foster the People, but they ate up Sanders' speech and began filing out en masse once he'd finished—even though Vampire Weekend came back onstage for a rendition of "This Land Is Your Land." Turns out they were there for the socialist stumping rather than the indie tunes.
Clinton does have her own base of college fans, and students from several campuses described the campus Clinton organizers as more professional and organized than the spirited Bernie fans. "There's a bit of contentiousness between the two groups," Wadle says. "The Bernie people are very outspoken, sometimes more aggressive than other candidates."
Should Clinton beat back the Sanders challenge and snag the nomination, she might have to work hard to win the support of college-age voters because the nomination fight has seemingly left a negative impression of Clinton among younger voters. Clinton, says Zach Spahr, a Grinnell student and Sanders fan, "is a manipulative politician who pays lip service to true liberal ideas." But all's not lost for Clinton. Sitting next to Spahr was Herny Bolster, a second-year Grinnell student and, at this point, a fan of former Maryland Gov. Martin O'Malley, and he has a different take. He points out that Clinton is more willing than Sanders to build compromises across the aisle, and he adds, "The more I get to know about Hillary, she's not as bad as everyone says. I mean, she's not the devil. She's extremely not the devil."