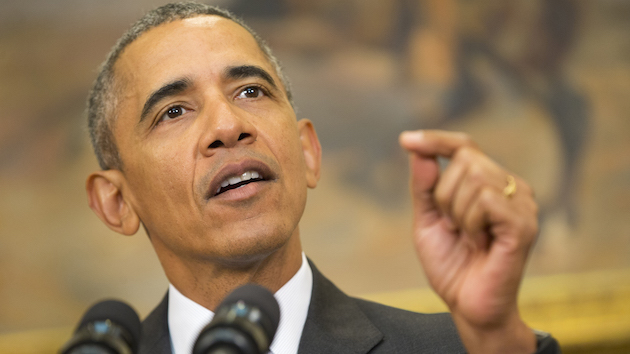 Fight disinformation:
Sign up
for the free
Mother Jones Daily
newsletter and follow the news that matters.
Casting the move as a moral imperative, President Barack Obama announced a plan on Tuesday to close the prison at Guantanamo Bay at long last and bring its remaining detainees to prisons in the United States.
"For many years it's been clear that the detention facility at Guantanamo Bay does not advance our national security," Obama said in an announcement from the Oval Office on Tuesday. "It undermines it. It undermines our standing in the world. It is viewed as a stain on our broader record of upholding the highest standards of rule of law."
Shutting down the Guantanamo prison was a major campaign promise during Obama's first White House run in 2008. But the facility has remained open, drawing widespread criticism from human rights groups, foreign governments, and many members of Obama's own party. While both Obama and former President George W. Bush have released or transferred many former detainees to the custody of other countries, 91 inmates still remain at the prison.
Obama's plan would transfer another 35 of those inmates, leaving 56 prisoners who are too dangerous to be sent to other countries. Those inmates would be transferred to facilities in the United States and continue to go through trials by the military commissions that are hearing their cases in Cuba.
Obama described the plan not only as a moral and diplomatic boost but also as a way to dramatically cut the cost of housing terrorists. According to the written plan submitted to Congress, the government spent $445 million to run the Guantanamo prison last year. Moving the remaining inmates to the United States "would lower costs by between $140 million and $180 million annually, as compared to [fiscal year] 2015 Guantanamo operations costs," the report stated.
Obama's announcement pinned the blame for the long delay in closing the prison on Republicans in Congress, claiming they had supported closure while George W. Bush was in office but then reversed course to score political points. "Unfortunately, during that period where we were putting the pieces in place to close [Guantanamo], what had previously been bipartisan support suddenly became a partisan issue," Obama said.
Senate Majority Leader Mitch McConnell (R-Ky.) immediately pushed back, pointing out that current law prohibits the government from bringing Guantanamo prisoners to the United States or spending funds to prepare prisons in case they're brought to the country. "This isn't a case where the president can even try to justify the use of some pen-and-phone strategy by claiming Congress failed to act," he said in a speech on the Senate floor. "To the contrary, Congress acted over and over and over again in a bipartisan way to reject the president's desire to transfer dangerous terrorists to communities here in the United States." Provisions about Guantanamo have been passed as part of National Defense Authorization Acts, the large yearly laws that lay out military spending and policy.
Obama's plan currently has little chance of passing Congress, and even White House spokesman Josh Earnest said on Monday that he was "not confident" lawmakers would approve the plan, according to the New York Times. Despite this final effort, it remains unlikely that Obama will be able to fulfill one of the central promises that he rode to the presidency.