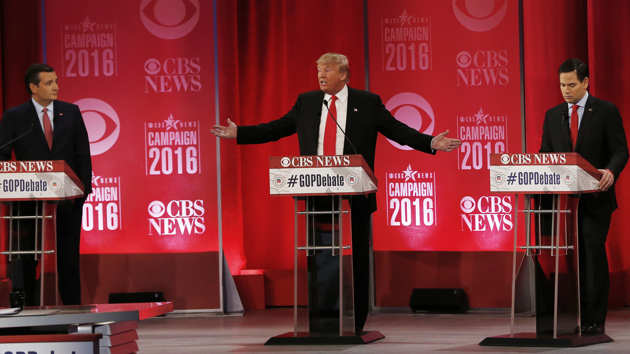 Fight disinformation:
Sign up
for the free
Mother Jones Daily
newsletter and follow the news that matters.
A week before the crucial GOP primary in South Carolina, the Republican presidential candidates met for another debate Saturday night. Gone were Gov. Chris Christie and Carly Fiorina, who each dropped out following the New Hampshire contest. The debate, hosted by CBS, began with a moment of silence to mark the death of Supreme Court Justice Antonin Scalia. Then the candidates, in a series of fiery exchanges, returned to the familiar conflicts that have dominated their previous encounters.
Here are the highlights:
Ted Cruz gets his facts wrong…and the crowd boos the moderator for correcting him.
At the start of the debate, moderator John Dickerson, the Face the Nation host, asked each candidate if he thought President Barack Obama should name a replacement for Justice Scalia during his final year in office. Predictably, several of the candidates pushed the new conservative meme: the GOP-controlled Senate should block Obama from appointing a successor to Scalia. "We have 80 years of precedent of not confirming Supreme Court justices in an election year," Ted Cruz claimed. Not so, said Dickerson, pointing to Justice Anthony Kennedy, who was confirmed in February 1988. Cruz tried to argue that Kennedy got his seat in 1987—which was when he was nominated. But when Dickerson tried to make sure viewers were aware of the facts, the South Carolina crowd booed.
Donald Trump invokes Iraq War and 9/11 to attack Jeb Bush.
In 2008, Donald Trump said that George W. Bush should have been impeached over the Iraq War. When Dickerson asked Trump if he still holds this view, an inflamed Trump called the Iraq War "a big fat mistake" that cost the US trillions of dollars and thousands of lives.
A heated exchange followed: Jeb Bush fired back at Trump, calling out the business mogul for his continued attacks on the Bush family. "While Donald Trump was building a reality TV show, my brother was building a security apparatus to keep us safe," Bush said. The back-and-forth grew hotter when Trump interrupted Bush and declared that the Twin Towers came down when George Bush was president.
Rubio disagreed, asserting that September 11 was Bill Clinton's fault because Clinton failed to kill Osama Bin Laden in the 1990s. Rubio added, "I thank God that it was Bush in the White House on 9/11 and not Al Gore." In response, Trump again invoked the 9/11 attack: "I lost hundreds of friends, the World Trade Center came down during the reign of George Bush." He was met by a roar of boos from the audience.
Ted Cruz gets booed over immigration.
It wouldn't be a GOP debate without a fight between Cruz and Rubio over immigration. But this tussle came with the added twist of a debate crowd that turned on Cruz, booing him when he attacked Rubio's support for immigration reform. And when Cruz accused Rubio of once supporting amnesty during an appearance on Univision, Rubio fired back: "I don't know how he knows what I said on Univision, because he doesn't speak Spanish." Cruz immediately shot back at Rubio in rapid, but grammatically incorrect, Spanish.
Donald Trump calls Ted Cruz the biggest liar.
When Trump said he considers himself "a common-sense conservative," Cruz protested. Cruz contended that the billionaire has been "very, very liberal" throughout his career, though also "an amazing entertainer." Trump then accused Cruz of putting out robocalls criticizing Trump. He said that Cruz was a "nasty guy" who "will say anything." Trump continued, "You are the single biggest liar."
A few minutes later, while Cruz was trying to respond to another attack from Trump (regarding Cruz's support for the confirmation of Supreme Court Chief Justice John Roberts), Trump began shouting over Cruz: "Why do you lie? Why do you lie?"
"Donald, adults learn not to interrupt each other," Cruz responded. "Yeah, yeah, I know, you're an adult," Trump replied.
Trump and Cruz continue sparring: "Why do you lie?!" pic.twitter.com/qnAtp7GZrY

— Mashable News (@MashableNews) February 14, 2016
Trump says Planned Parenthood does "wonderful things" for women's health, other than abortion.

Cruz accused Trump of supporting taxpayer funding for Planned Parenthood, hitting Trump for having said, "Planned Parenthood does wonderful things and we should not defund it." Trump responded by saying that he does believe the organization does "wonderful things" having to do with women's health "

" Cruz used Trump's answer to again accuse the tycoon of being a liberal and claimed that Trump would appoint progressive judges to the Supreme Court.