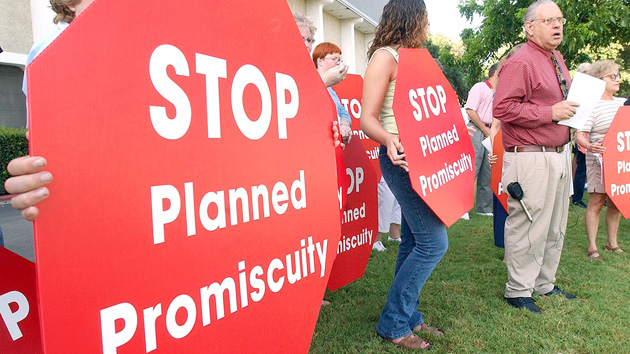 Fight disinformation:
Sign up
for the free
Mother Jones Daily
newsletter and follow the news that matters.
The Alaska Senate passed a bill on Friday that prohibits abortion providers like Planned Parenthood from teaching sex education in public schools.
Republican state Sen. Mike Dunleavy, who sponsored the bill, described it as a way to protect children from the "indoctrination" of abortion providers. "Let's be straight," he told lawmakers before the vote. "The abortion providers are a business, they're in our schools to recruit our kids as agents of their business, and they're in our schools to recruit kids for potential clients later on down the road…This is a process of indoctrination, and it's getting worse."
The bill, SB 89, passed last week in an 11-7 vote. On Monday, the Senate passed it a second time, after its lone Democratic supporter asked that it be heard again.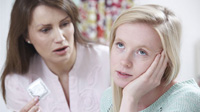 The proposal does not name Planned Parenthood specifically. But the health care organization is the only abortion provider that teaches sex ed in the state's public schools, according to a spokeswoman for the organization. Planned Parenthood is also the largest nonprofit provider of sex ed in Alaska, teaching more than 2,000 students there each year, according to the Associated Press.
Planned Parenthood has said the measure will deprive students of access to information about STDs and contraception in a state that has the country's highest rate of chlamydia infections, the fifth-highest rate of gonorrhea, an above-average teen pregnancy rate, and a child sexual-assault rate that's six times the national average.
"In the face of these statistics, the state should really be focused on improving access to sexual-health education, instead of restricting it," says Planned Parenthood spokeswoman Jessica Cler.
Advocates of the proposal say it promotes parental involvement in education by allowing parents to withdraw their kids from school lessons over concerns about lessons on sexuality. But Democratic state Sen. Berta Gardner, who opposes the bill, says the law is unnecessary because parents in Alaska can already take their kids out of class if they don't approve of a lesson. The measure would do more harm than good, she says, because it would deprive children whose parents want them in sex ed from learning about sexuality and STDs.
"In this law, we're banning the one agency that is there and available with fact-based materials for children," she said, referring to Planned Parenthood. Dunleavy, the bill's sponsor, said parents and teachers should be in charge of sex education, "not abortion providers."
Dunleavy has also introduced a piece of companion legislation that would punish teachers and school board members who allow abortion providers to teach in Alaska schools. Under that bill, SB 191, school board members could risk funding for their district and teachers could lose their teaching certificates if any sex ed material comes from a person who's associated with an abortion provider.
Thirty-seven states and Washington, DC, require school districts to allow parental involvement in sex education, according to the Associated Press.
"We've certainly seen attacks on our sexual health education programs in other states, but never this extreme," Cler of Planned Parenthood says of the bill passed on Friday. She says lawmakers in Missouri and Montana introduced similar legislation in 2005 and 2013, respectively, but that those measures failed to pass.
The Alaska bill must still move through the state House, where a Republican representative introduced similar legislation last week. But at least one state legal expert has questioned whether the proposal could withstand a court challenge. In mid-February, a legislative attorney for the state Senate warned that the bill raised issues under the First Amendment—as well as other protections for free speech and association in the US and Alaska constitutions—by preventing schools from contracting with abortion providers. "It is likely that, if enacted," the attorney wrote, the bill "will be challenged in court, but it is difficult to predict the outcome."