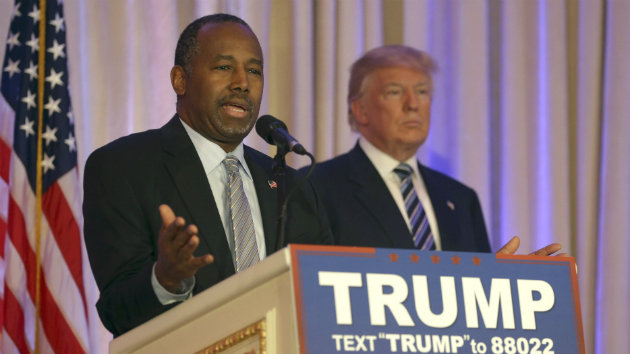 Fight disinformation:
Sign up
for the free
Mother Jones Daily
newsletter and follow the news that matters.
Last week, Ben Carson endorsed Donald Trump, saying, "With our support, I am sure that we can help restore America's values and faith." The following day he suggested he would be willing to serve as Trump's running mate, should the real estate mogul secure the Republican nomination, and he noted that he had told Trump as much. But this was more than just talk. Carson's camp is taking steps to position Carson as the Republican vice presidential nominee, according to a Carson insider, and Carson believes he stands a good chance of being offered a spot on the ticket.
Before agreeing to endorse Trump on Friday, Carson met privately with the front-runner. In an interview with NewsMax on Monday, Carson said his sit-down with Trump had included discussion of a role for the former neurosurgeon in a Trump administration.
Trump "will surround himself with very good people," Carson told NewsMax. Asked if he would be one of them, Carson replied, "I will be doing things as well…certainly in an advisory capacity." Pressed on whether there had been concrete talk about a role for Carson in a Trump administration, Carson replied, "Yeah."
The Carson insider says Carson left his meeting with Trump believing he was well positioned for the veep slot on a Trump ticket. "He needs me more than I need him," Carson boasted to his top staff, according to the source, who noted that Carson would likely soon start a push to be Trump's vice presidential pick. Carson's campaign spokesman forwarded a request for comment to longtime Carson associate Armstrong Williams, who said he had no comment.
For someone who is apparently enthusiastic about joining a Trump administration, Carson struggled to say much of anything nice about Trump during the rest of the NewsMax interview. Carson brought up his preferences for other candidates and described his decision to back the bombastic tycoon as purely pragmatic.
"I didn't see a path for Kasich, who I like, or for Rubio, who I like," Carson explained. "As far as Cruz is concerned, I don't think he's going to be able to draw independents and Democrats unless he has some miraculous change."
"Is there another scenario that I would have preferred? Yes," Carson said. "But that scenario isn't available."