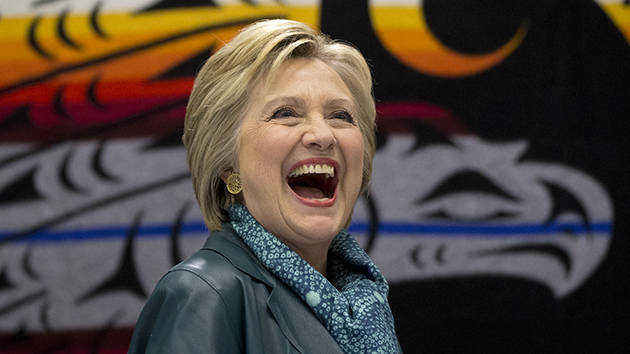 Fight disinformation:
Sign up
for the free
Mother Jones Daily
newsletter and follow the news that matters.
A month from now, the Clinton campaign thinks it will have all but won the Democratic presidential nomination.
On a conference call with reporters Monday, Hillary Clinton's chief strategist, Joel Benenson, said the former secretary of state will have expanded her delegate lead enough by the end of April to be the clear winner of the primary contest over Sen. Bernie Sanders of Vermont. Benenson predicted that the upcoming Wisconsin primary, on April 5, would be close. But after that, Clinton is expecting victories in the delegate-rich states of New York on April 19 and Pennsylvania on April 26.
"The truth is, after April 26, there just simply is not enough real estate left for Sen. Sanders to close the commanding lead that we've built," Benenson said. "We expect to come out of that day with a pledged and total delegate lead that will make clear who the nominee will be, and that it's going to be Hillary Clinton."
Benenson's comments came shortly after Sanders' campaign held a call of its own to argue that the senator has a path to overtake Clinton's delegate lead and win the nomination.
With 2,383 delegates needed to clinch the Democratic nomination, Clinton currently leads Sanders 1,243 to 975 among pledged delegates and 469 to 29 among the 712 superdelegates who are free to back the candidate of their choosing. Benenson did acknowledge Monday that Clinton may not reach a majority of delegates through pledged delegates alone, but argued that superdelegates are a part of the Democratic Party's nominating process and have been for decades. As of now, Benenson said, Clinton has already amassed a "nearly insurmountable pledged delegate lead."
Benenson also took issue with the Sanders campaign's claim that the senator will be a stronger candidate in the general election against the eventual Republican nominee. On its call Monday, the Sanders campaign pointed out that in general election match-up polls, Sanders performs better than Clinton against Donald Trump, Ted Cruz, and John Kasich.
"She is winning in most of the general election swing states we've competed in," Benenson said. "She's won in 9 of 12 states that were decided by single digits in the 2012 election." Those include Ohio, Virginia, Florida, Missouri, and North Carolina.