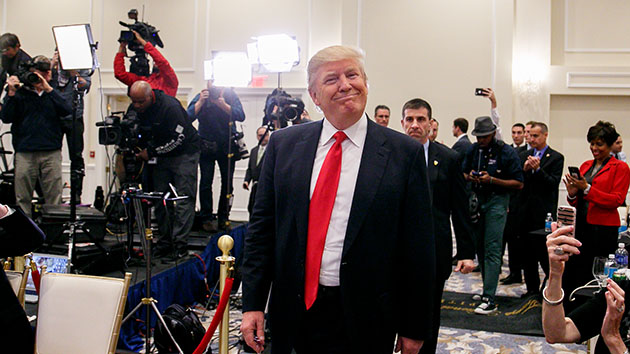 Fight disinformation:
Sign up
for the free
Mother Jones Daily
newsletter and follow the news that matters.
When Donald Trump declared victory Tuesday night in the Florida Republican presidential primary, he made sure to reserve a few choice words for his favorite target: "disgusting reporters." His comments came in the aftermath of an accusation last week by Breitbart News reporter Michelle Fields that Donald Trump's campaign manager, Corey Lewandowski, had violently grabbed her at a Trump event. That incident was the most visible manifestation of the Trump campaign's hostility toward the press, and the one that brought the issue fully into public view. But for months, reporters have been feeling the wrath and capriciousness of the Trump operation, which has developed a lengthy list of publications that are banned from covering the Republican front-runner's public events.
Reporters who work for publications that have gotten on Trump's bad side find themselves ignored by the campaign. They are automatically turned down from receiving credentials to his events, and their emails to the campaign go unanswered.
This media blacklist is growing with each passing week. On Tuesday, the Trump campaign turned down a credentials request from Politico reporter Ben Schreckinger, who hadn't had problems getting into prior Trump events but published a story earlier in the day revealing troubling aspects of Lewandowski's past.
Trump's campaign hasn't confirmed the existence of a list of banned publications. But the list has, at times, included the National Review, the Des Moines Register, Univision, BuzzFeed, the Daily Beast, Fusion, the Huffington Post, and Mother Jones. Rather than targeting specific reporters, the Trump campaign appears to decree blanket bans on publications that have published negative coverage of the Republican candidate.
"Having vendettas against outlets and playing it out to the point that you're not letting them in as press is ridiculous," says Sam Stein, a senior politics editor at the Huffington Post, which has found itself banned from Trump events, possibly because of its decision early in the campaign to relegate Trump to the website's entertainment section. (The publication reversed that move but started adding a disclaimer to the end of each Trump article labeling him a racist.) "I'm completely opposed to that. And I find it fairly childish for the Trump campaign to do this. It doesn't suggest someone who's big and tough and brave, that he can't face critical media."
Campaigns inevitably treat media outlets differently, offering the candidate up to favored publications for exclusive interviews or feeding scoops to friendly reporters. But the absolute refusal to allow certain publications to receive credentials to cover rallies is unprecedented in the recent history of presidential campaigns.
"If he's the nominee, it's not going to be ideal," says Alexis Levinson, a reporter for the conservative National Review who can't get on the media list for Trump events these days. "If the Democratic nominee is willing to credential National Review and the Republican nominee is not, think on that one for a second. That's a strange dynamic."
Levinson didn't encounter any problems reporting on Trump at the start of the campaign season but has been unable to get media credentials since her editors published an "Against Trump" cover package that collected editorials from conservatives denouncing Trump—a part of the magazine that she had no involvement in as a reporter. Nevertheless, Levinson and her colleagues have been shut out from all subsequent Trump events.
"You can't just decide you don't want to deal with press because someone was mean to you," Levinson says. "And no other candidate would get away with holding reporters accountable for what their editorial boards do." The ban has forced her to shift how she's covered the campaign. After waiting several hours in the general public line at an Iowa event, only to be turned away when the venue reached capacity, Levinson now avoids reporting on daily Trump stories. "I just don't pitch stories that involve me covering Trump stuff anymore," she says. "I don't have three hours to go spend in line. It's so irritating."
Many reporters on the blacklist don't have the luxury of skipping events. Instead, they register online for free tickets available to the general public and often have to wait in line for hours—a challenge for reporters who need to cover multiple events in a day, sometimes separated by hundreds of miles. "It was okay with us because the real story happens to be in the crowd and outside the arena," Stein says. But even that route is sometimes unavailable. Huffington Post reporter Samantha-Jo Roth says she's been turned away at the general public line by security when she tries to enter with a backpack stuffed full of camera equipment.
I am hardly an unbiased observer of this phenomenon. I have regularly been turned away from Trump events since I first started to try attending them in Iowa in January. It's not clear whether a specific Mother Jones story upset the Trump team, or if the campaign takes issue with the magazine generally. In late February, I tried to go through the official channels to attend Trump's Nevada victory party at a Las Vegas casino, to no avail. I waited in the general admission line and eventually got in. When I saw the press pen inside the casino ballroom, it was immediately clear that the Trump campaign's decision to deny my request had nothing to do with a lack of available table space.
Clearly my request for Trump press credentials wasn't accepted because they didn't have enough space in media pen pic.twitter.com/afdeHpsYOR

— Patrick Caldwell (@patcaldwell) February 24, 2016
When Mother Jones' Russ Choma tried to go through the media entrance to a New Hampshire event in December, Trump's campaign staff summoned local police to escort him from the venue. My colleague Pema Levy was turned away from a Trump event in Iowa in January, along with several other reporters.
Certainly, the Trump campaign hasn't based its blacklist on the qualifications of the reporters or the publications' reputations within the media industry. Earlier this month, Trump's campaign credentialed the Political Cesspool, a radio show that labels itself "pro-white." Meanwhile, for the same event, the Trump campaign didn't respond to a request from the New Tri-State Defender, an African American newspaper in Memphis.
The campaign's targeting of publications can seem arbitrary and inconsistent. While the Des Moines Register made the enemies list for one editorial, reporters at the New Hampshire Union Leader weren't shut out from covering Trump even as the paper's publisher went to war against Trump.
Daily Beast reporter Olivia Nuzzi didn't have much trouble covering the Trump campaign at the start of last year. But then last November, the campaign suddenly shut Nuzzi out, cutting her from its press email list and turning down her credentials requests without any explanation. It's not hard to see why the campaign would hold a grudge against the Daily Beast. Last July, the website published a piece titled "Ex-Wife: Donald Trump Made Me Feel 'Violated' During Sex." The writers quoted Trump's lawyer, Michael Cohen, as threatening to sue them if they wrote the story and telling them, "I'm warning you, tread very fucking lightly, because what I'm going to do to you is going to be fucking disgusting." But Nuzzi remains mystified about why she was able to continue covering the campaign for months afterward, only to be abruptly cut off.
Since November, Nuzzi has been to about 10 Trump events through the public line, an experience she says has grown nerve-racking as the events take on an increasingly hostile tone, particularly toward the media. These days, Trump regularly whips the crowd into an anti-media frenzy and urges his fans to boo the press pen.
"Normally I'm taking notes on my phone, so I don't look like 'reporter here with a fedora on and a press badge,'" Nuzzi says. "I try to be as discreet as possible about it, but if someone asks if you're a reporter, you have to say yes, obviously. When they start booing the media when you're in the crowd that's doing the booing, I don't know what to do. I just sort of look down and try to not make eye contact with anybody." She waits to start interviewing Trump supporters until after the event, lest she attract the notice of Trump's staff, who might wonder why she wandered off from the strictly corralled press pen. It's not an unreasonable fear; this weekend, Michael Mayo, a columnist for Florida's Sun-Sentinel, was threatened with arrest if he did not leave a Trump rally in West Boca after he entered through the public line and tried to film protesters. With the growing volume of protesters at Trump's rallies, the campaign has reportedly begun to intersperse plainclothes security officers amid the crowd to root out anyone who is not a true Trump fan.
"I don't know if I feel like I'm safer in the crowd or I would be safer in the press pen," Nuzzi says. "Because at least in the press pen you know that you're surrounded by a lot of people who could document or who could tell you, 'Yeah, that was Cory Lewandowski who just pulled you to the ground.' But if you're in just a crowd, with hundreds of people, I find it at least a little bit nerve-racking. I feel very alone. Very, very alone."
Still, things aren't always much better for reporters stuck in the designated press pen. CBS's Sopan Deb, who is embedded with the Trump campaign and follows the candidate around the country, tweeted in January about a Trump supporter who accused him of taking pictures for ISIS. At Trump's canceled rally in Chicago last Friday, Deb was arrested while trying to film protesters outside the event.
Two weeks ago, a Secret Service officer watching over the press section choked Time photographer Chris Morris and slammed him to the ground when he tried to venture out of the media pen.
Reporters are regularly threatened with banishment by the Trump campaign if they stray from a rigid set of guidelines. In November, Lewandowski threatened to rescind CNN reporter Noah Gray's credentials after Gray ventured from the press pen to document protesters at a Trump rally. In January, Trip Gabriel of the New York Times was "ejected" from a campaign stop in Iowa, just a few days after Gabriel wrote an unflattering piece on Trump's campaign in the state.
Last month, Trump vowed to make libel laws more punitive against the media if he becomes president. "I'm going to open up our libel laws so when they write purposely negative and horrible and false articles, we can sue them and win lots of money," Trump said during a campaign event in Texas. Hostile rhetoric toward the press is a staple of his events. "I would never kill them, but I do hate them," he said of the press in December. "And some of them are such lying, disgusting people."
Carol Lee, a Wall Street Journal reporter and the current president of the White House Correspondents' Association, declined to speculate on how the association would respond if Trump, as president, tried to exclude specific outlets from the White House press corps. But she offered this statement: "We advocate on behalf of journalists for as much access to the president and administration officials as possible, which is in the public interest, and would obviously oppose any outlet or reporter being banned because the White House doesn't like their coverage."