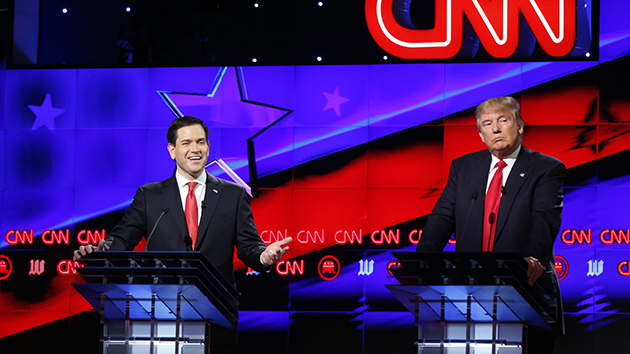 Fight disinformation:
Sign up
for the free
Mother Jones Daily
newsletter and follow the news that matters.
Desperate to stop Donald Trump's march to the Republican presidential nomination, Marco Rubio's campaign suggested on Friday that the best way to defeat Trump, in one state, at least, is not to vote for Rubio.
"If you are a Republican primary voter in Ohio and you want to defeat Donald Trump, your best chance in Ohio is John Kasich," Rubio's communications director Alex Conant said on CNN.
Rubio echoed that sentiment. "John Kasich is the only one who can beat Donald Trump in Ohio," Rubio said. "If a voter in Ohio is motivated by stopping Donald Trump, I suspect that's the only choice they can make."
The comments come days before the high-stakes, winner-take-all primaries on Tuesday in Florida and Ohio, where both Rubio and Kasich are battling Trump on their home turf. Conant and Rubio's remarks embrace the strategy put forward by Mitt Romney earlier this month, when he urged Republicans to vote for the most viable anti-Trump candidate in each state to deprive Trump of enough delegates to win the nomination. By this logic, Rubio's supporters in Ohio would cast a strategic vote for Kasich, the state's governor, to keep Trump from winning Ohio and its 66 delegates.
Polls show Kasich battling Trump for the lead in his home state, while Rubio is in single digits.
Conant argued that the favor should go both ways: Kasich supporters should vote for Rubio in Florida to stop Trump. "Marco Rubio is the one person who can beat Donald Trump here in Florida," he said on CNN. "If you like John Kasich or you like Ted Cruz and you're here in Florida, you need to vote for Marco Rubio because he's the only one who can deprive Donald Trump of those 99 [Florida] delegates."
But the Kasich campaign is reportedly not buying into this strategy.
Kasich spox Rob Nichols on Rubio news: "We were going to win in OH without his help, just as he's going to lose in FL w/o ours"

— Kathleen Ronayne (@kronayne) March 11, 2016
Most polls show Rubio trailing Trump significantly in Florida.