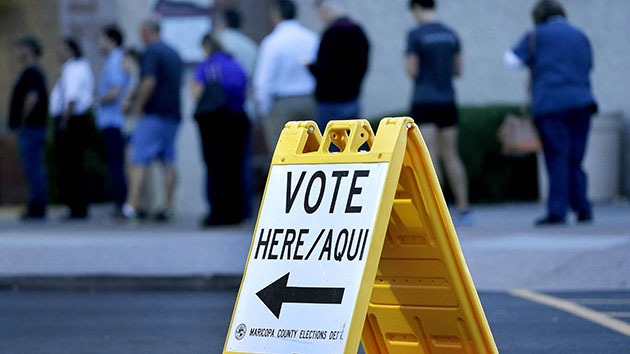 Fight disinformation:
Sign up
for the free
Mother Jones Daily
newsletter and follow the news that matters.
Phoenix Mayor Greg Stanton asked Attorney General Loretta Lynch Wednesday to investigate the circumstances surrounding the extremely long lines voters in the Phoenix-metro area experienced during Tuesday night's election. Dena Iverson, a spokesperson for the Department of Justice, told Mother Jones, "We will review the request from the Mayor of Phoenix, just as we review all such requests."
Stanton, a Democrat, told Lynch that the situation was "unacceptable anywhere in the United States, and I'm angry that the County elections officials allowed it to happen in my city."
The mayor was referring to Maricopa County, home to about 2 million registered voters. While many of them voted before the primary, many did not, a situation that election officials pointed to as one reason for the long lines. An additional factor, they said, was independent voters, who are not permitted to vote in these elections, showing up to cast their ballots. Others have pointed to the fact that Maricopa County election officials decided to cut the number of polling places from more than 200 to 60, and accused the Republican county recorder, Helen Purcell, of distributing fewer voting locations in areas with lower minority populations. Stanton repeated those allegations in his letter to Lynch:
"For example, in Phoenix, a majority-minority city, County officials allocated one polling location for every 108,000 residents," he wrote. "The ratios were far more favorable in predominantly Anglo communities: In Cave Creek/Carefree, there was one polling location for 8,500 residents; in Paradise Valley, one for 13,000 residents; in Fountain Hills, one for 22,500 residents; and in Peoria, one for every 54,000 residents."
It's unclear whether Stanton is basing his calculations on a city's total population or a city's voting-age population, but he also put Tuesday's election into the wider context of Arizona's troubled election history. He pointed out that in 2014, the state had a high rate of provisional ballot rejection—provisional ballots are given to voters when there's question about their eligibility to vote—and noted recent changes to election laws that critics say limit voter participation.
"[Tuesday's] fiasco demonstrates the urgent need for an independent and thorough law enforcement investigation to safeguard one of the most sacred rights we have as citizens," Stanton wrote.
Read his full letter below: