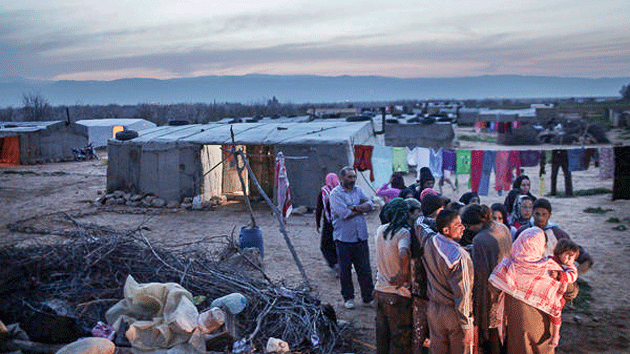 Fight disinformation:
Sign up
for the free
Mother Jones Daily
newsletter and follow the news that matters.
The trauma of war may have an even deeper psychological toll than previously thought. A new study in the BMJ (formerly the British Medical Journal) finds that refugees are at a higher risk for schizophrenia and other psychoses.
In an analysis of 1.3 million Swedish citizens, a team of psychiatric epidemiologists found that refugees were 3.6 times more likely to develop psychotic disorders than their Swedish-born counterparts. They were also 66 percent more likely to do so than migrants who were not refugees.
The study was released today, coinciding with the fifth anniversary of the beginning of the Syrian civil war. As refugees from the conflict continue to pour into Europe, these findings highlight refugees' mental health needs and some of the ways in which current services fall short. "The burden of mental health disorders which occur in already vulnerable populations is an important humanitarian issue," says James Kirkbride, a coauthor of the study and a senior research fellow in the Division of Psychiatry at University College London.
The authors of the BMJ study believe that traumatic experiences exacerbate a person's risk of developing a psychotic disorder. They estimate that 0.13 percent of refugees in Sweden have developed a psychotic disorder. Last year, Sweden decided to accept more than 32,600 refugees. According to the study's findings, about 41 will likely develop a psychotic disorder in the years after their arrival. Though the data on children is limited, Kirkbride says it appears that people who migrate earlier in life may be more likely to experience psychosis. The authors also suspect that a difficult resettlement process could exacerbate these effects, though further study is needed to confirm this.
Emotional disorders such as anxiety and depression are still more common than psychotic disorders among refugees, just as in the general population. The National Center for PTSD estimates that up to 31 percent of refugees suffer from depression, and some studies show that as many as 86 percent suffer from post-traumatic stress disorder.
When asked whether he worried that his study's results might increase the fear of refugees, Kirkbride admits that the stigma surrounding severe mental illness abounds. However, the best response, he says, is to provide refugees with psychotic disorders with the treatment they need. "If you subscribe to the view that we have a moral duty to care for those we accept in our countries as refugees, this should extend to providing appropriate mental health care."