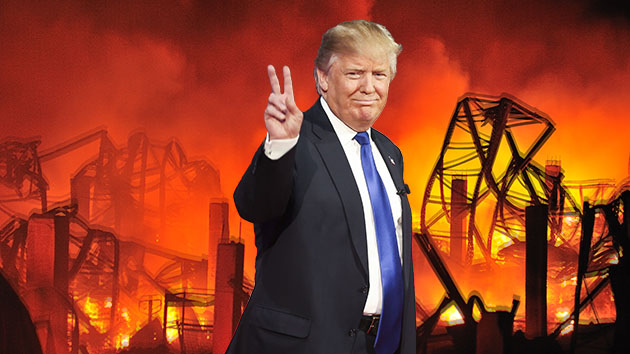 Fight disinformation:
Sign up
for the free
Mother Jones Daily
newsletter and follow the news that matters.
In the days before Donald Trump triumphed on Super Tuesday, winning a majority of states and mounting a commanding lead in the hunt for delegates, the Republican Party and the conservative movement were already in meltdown mode.
Let's run the tape: Mitt Romney, the Republican presidential nominee four years ago, tweets out an attack on the current Republican front-runner, condemning Trump for failing to repudiate the support of former KKK leader David Duke during a CNN interview: "A disqualifying & disgusting response by @realDonaldTrump to the KKK. His coddling of repugnant bigotry is not in the character of America." A few hours later, conservative radio host Laura Ingraham tweets full-snark at Romney: "Is this Mother Jones?" News reports point out that Senate Majority Leader Mitch McConnell is prepared to run away from Trump, should he become the GOP nominee, in order to protect Republican senators facing reelection. Sen. Ben Sasse (R-Neb.) declares he will leave the party if Trump is nominated. (Trump, he exclaims, is "trying to wage a hostile takeover of this party. He's attacking all of the core tenets of the Republican party's platform.") Yet Sen. James Inhofe, an Oklahoma Republican, takes issue with Sasse and says on MSNBC that he will not support a third-party or independent candidate if Trump heads the GOP ticket: "We had that one experience with Ross Perot [in 1992], and it didn't turn out so well." House Speaker Paul Ryan slaps Trump for not denouncing the KKK quickly enough but says he plans to support the GOP nominee, suggesting he might accept Trump. Meg Whitman, the Hewlett-Packard CEO who backed Chris Christie's presidential bid, excoriates the New Jersey governor's "astonishing…political opportunism" after Christie endorses Trump. She calls the real estate tycoon "a dishonest demagogue who plays to our worst fears" and who "would take America on a dangerous journey." And RedState, the prominent conservative site, calls on the Conservative Political Action Conference, the annual gathering of right-wing activists, to disinvite Trump from speaking at the confab this week; the outfit protested that CPAC and the American Conservative Union, which organizes the event, "are destroying their own reputations, that of the entire conservative movement, and indeed the Republican Party" by giving Trump a platform.
And that was all before Trump on Tuesday night took a giant stride toward ultimate victory—with Ted Cruz placing first in his home state of Texas and in Oklahoma, and Marco Rubio falling short of a win in the key state of Virginia. The Super Tuesday results will intensify the open civil war Trump has sparked within the GOP. It's a split unlike any that has hit a major political party in the modern era. Sure, the Democrats have been dealing with their own divide, as nonparty member Bernie Sanders has led an insurgent crusade against Hillary Clinton, the insiders' choice. After Super Tuesday—when Clinton bested Sanders in most but not all states—Sanders' chances of derailing Clinton are diminished, and he might soon have to ponder the value of continuing his assault on her conventionalism and Wall Street ties. But despite the barbs Clinton and Sanders have traded, the Democratic primary contest has not yet yielded a divisiveness that is unbridgeable or a significant threat to the party's prospects and existence. Should the race follow recent trend lines, there remains the possibility that Sanders will dial back the criticism of Clinton and eventually rally his forces to her side. There is still opportunity for nastiness and bitter recriminations. But the Sanders "revolution," at this point, is no longer a dagger pointed at the heart of the party or its power brokers.
Trump, the other self-proclaimed revolutionary of 2016, is tearing his party and the conservative movement apart. More accurately, the Mussolini-quoting reality-TV star has key players in the GOP and on the Right at each other's throats. He has triggered a foundational crisis for the Rs and their conservative comrades. Are the Republicans a party that cares about inclusion, or one that is angry about the cultural and demographic shifts underway in the United States? The answer is key to its identity. After the last presidential election, Republican National Committee chair Reince Priebus oversaw an autopsy that concluded the party needed to be more welcoming to people of color, women, and perhaps even gays. More tolerant. After all, given population trends, it must win some votes beyond angry older white guys. And the party's Big Business pals had become impatient with GOP obstructionism on immigration reform and its brinkmanship on budget and debt issues. Yet Priebus' kumbaya notions have not been accepted by many of the party's voters, who after years of being fed a politics of hate and fear by the GOP now enthusiastically embrace the in-your-face, brash, immigrant-bashing, Muslim-banning schtick of the outsider billionaire (who decries the Republican establishment, lobbyists, and fat-cat donors, and who speaks supportively of Planned Parenthood while proclaiming his opposition to abortion rights). And Trump is no longer a niche Republican. A national poll that came out the day before Super Tuesday found 49 percent of Rs on his side. No one was close: Rubio was at 16 percent and Cruz at 15 percent.
Is the GOP the party of Trump? Will it be? The Republican elite clearly says no—at least at this stage. But there are cracks in the establishment. Sen. Jeff Sessions of Alabama endorsed Trump at a rally in his home state on Sunday. Texas Lt. Gov. Dan Patrick, a Cruz supporter, said that if Trump were to be the GOP standard bearer, he would cheer him on because "every Republican has to coalesce and defeat Hillary Clinton." Ryan won't rule out supporting Trump. Christie has become his sidekick. A handful of other elected Rs have joined the Trump crusade. Most Republicans, though, have ducked the question of whether they will support him should he bag a majority of the delegates. But they won't be able to sit on the sidelines for much longer. Can GOPers unite (even if grudgingly) behind a candidate whom Romney pronounces disqualified for the presidency, whom Cruz disparages as a "P.T. Barnum" who may be hiding his tax returns because of his supposed connections with the Mafia, and whom Rubio calls a "con artist" (with a small penis)? This level of assault is far more extreme than the usual primary infighting. These attacks will render it tougher for other Republicans to reach any accommodation with Trump if he succeeds. And what would it mean if a wide swath—or the majority—of the leadership of a political party cannot support the party's nominee? The difficult questions for them only continue: Do they form a new party, do they put forward a candidate who runs as an independent, do they tell voters to—yikes!—vote for a Democrat (Clinton or a socialist!)?
Rep. Scott Rigell of Virginia is one elected GOPer prepared to take a stand against Trump. Before the polls had closed in his home state, where Trump notched a win, he unloaded on the front-runner: "Trump is a bully, unworthy of our nomination. My love for our country eclipses my loyalty to our party, and to live with a clear conscience I will not support a nominee so lacking in the judgment, temperament and character needed to be our nation's commander-in-chief." As Trump slouches toward the nomination, all of Rigell's party colleagues in the House and the Senate will be asked to assess the mogul. There are 24 Republican senators whose terms are up this year. Several of them are in difficult reelection battles, with the Democrats having a shot at reclaiming the Senate. There will likely be no query more important in these Senate contests than whether or not the incumbent Republican is a Trumpublican. The Rs will not be able to run or hide.
It's been more than 100 years since a major political party had to deal internally with a basic question critical to its existence. The Whig Party collapsed because of profound disagreement within its ranks over slavery, and in 1852 its anti-slavery faction successfully blocked the nomination of the party's own Millard Fillmore, then the incumbent president. More recently, the Vietnam War and civil rights caused deep fissures in the Democratic Party, but it managed to survive. The primary battle between President Jimmy Carter and Sen. Ted Kennedy in 1980 was bitter but did not rip apart the party. What future historians might call the Trump Question does threaten to wreck the GOP. If Trump snags the nomination, Republicans will have to decide between submitting to his will—that is, accepting his demagoguery, bigotry, buffoonery, and erratic ideology—or bolting. This will be a moment of truth (or lies) for every Republican.
The conservative moment has to wrestle with a similar dilemma: Is Trump a legitimate champion of the Right or a phony usurper of the tradition? Several high-profile conservatives, including Ann Coulter and Ingraham, have bear-hugged Trump as a conservative crusader and assailed other rightists opposed to the tycoon. The National Review crowd and the neocon gang are horrified that Trump's next property could be the White House. In the National Review recently, Glenn Beck huffed that Trump's candidacy is a "crisis for conservatism." That magazine also ran a piece that called Sessions a "prostitute" for enlisting with Trump. (The headline: "The Rats Are Scurrying: Republican Officeholders Who Endorse Trump Are Sellouts.") Naturally, Breitbart, a band of cheerleaders for Trump, denounced the National Review for that article. On Tuesday afternoon, I spotted neocon godfather Bill Kristol at a train station, heading to Fox News in New York to share with the network's viewers his election wisdom. He noted it was a depressing day, presumably because of Trump's impending victories. After all, Trump is out of sync with Kristolian neoconservatism: He has dumped on the Iraq War, suggested George W. Bush ought to be impeached for his WMD falsehoods, and demonstrated a reluctance to intervene in Syria (while calling for a military buildup and vowing to eradicate ISIS somehow). How can any self-respecting hawk accept a possible commander in chief who knew nothing about the nuclear triad?
Neocon Max Boot put it this way:
This is, in general, a moment of testing for Republicans. It is a character test. Do you believe in the open and inclusive party of Ronald Reagan? Or do you want a bigoted and extremist party in the image of Donald Trump? I have been a Republican my entire life, but I will never support Trump. If voters nominate him, they will confirm everything bad that Democrats have ever said about the GOP. A Trump nomination will splinter the party, sully its good name—and increase the risk that a dangerous demagogue will assume the most powerful position in the world.
He says Clinton would be "vastly preferable" to Trump. Try telling that to the vast right-wing conspiracy of Clinton haters. (Benghazi!)
The split among conservatives over Trump does not fall along neat ideological lines. It may be that those right-wingers most driven by opposition to immigration reform are more drawn to Trump than conservatives who are more attuned to national security and libertarian-ish economics. The Club for Growth, a tax-cutting, government-shrinking outfit close to the editorialists of the Wall Street Journal, endeavored early to block Trump by criticizing his past use of eminent domain. It was like trying to slow down Godzilla with a speed bump. Overall, the Trump civil war within right-wing circles appears fueled more by attitude than philosophy. And which side is Fox News on?
Claiming victory on Tuesday night, Trump declared, "I am a unifier." But he threatens not only to smash up the GOP but to blow apart the conservative movement. The conflicts he has detonated will not easily be resolved. He presents an irreconcilable difference. In recent years, the Republicans and the conservatives were already warring among themselves over the tea party and whether it was best to obstruct and threaten debt crises and government shutdown or to take a stab at actual governance. Trump raises the stress level within the party and the movement to 11—maybe 12. He is forcing both to come to terms with the anger, fear, bigotry, and hatred they have encouraged and exploited in the Obama years. However the GOPers and conservatives handle this existential challenge, it likely won't be pretty or classy.