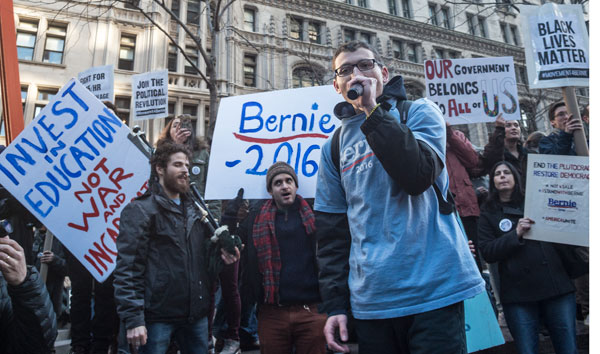 Fight disinformation:
Sign up
for the free
Mother Jones Daily
newsletter and follow the news that matters.
Millennials may be a powerful force this year at the polls.
This huge bloc of potential voters will have a big impact on the presidential election in 10 states this year, during both the Democratic and Republican primaries as well as the general election this November, according to a new study. In fact, young voters could influence the outcome of the Democratic caucus in Colorado on March 1 and may play a key role when Ohio and Florida hold primaries for both parties on March 15.
These 10 states were ranked by the Center for Information and Research on Civic Learning and Engagement (CIRCLE) at Tufts University. The analysis is based on each state's overall competitiveness in the election, its population younger than 30, the percentage of young prospective voters who attended college, and the youth turnout in the state's previous presidential elections.
Here's what you need to know about the youth vote in these key states:
Why is the youth vote so powerful now? Millennials—those born between 1982 and 2000—are numbered at an estimated 83.1 million. They are now the largest generation in the country and equal in voting power to Baby Boomers for the first time ever. Although data show 18- to 24-year-olds have voted at lower rates than other age groups since the 1960s, more young people cast ballots in 2008 than in previous elections. (Forty-nine percent of 18- to 24-year-old eligible voters went to the polls in 2008, up from 47 percent four years earlier).
So far, Bernie Sanders and Ted Cruz have scored with young voters, but each state will be different. Sanders isn't the only candidate earning Millennials' support. Young Republicans came out in record numbers to the Iowa caucus on February 1, and 15 percent of the state's caucusgoers were between the ages of 17 and 29. According to the CNN exit polls, most young Republican voters cast ballots for Cruz, with Marco Rubio taking a close second. In addition to passionately supporting the candidates they like, young people have also used the ballot box to send a message to candidates they don't support, said CIRCLE's director Kei Kawashima-Ginsberg. This may have been the case in South Carolina, where Donald Trump won the majority of voters of all age groups, except 17- to 29-year-olds.
"If young people come out in a large number to oppose [Trump], he could be in trouble, perhaps not in primaries but, if he is nominated, definitely in the general," she said.
What are the next primaries where young voters will be the most influential? Colorado is ranked fifth on CIRCLE's list (Iowa was No. 1) of the states where young voters could have the most influence, and it will hold its Democratic primary on Super Tuesday. This state's youth are educated and tend to vote in large numbers: 61 percent have attended some college, and nearly 60 percent of 18- to 21-year-old voters cast a ballot in 2012. In comparison, nationwide, 38 percent of voters under 30 cast ballots in 2012.
"There's so many ingredients that are going to cause young people to show up in record numbers this year," said Steve Fenberg, the executive director of New Era Colorado Foundation, a decade-old nonpartisan group that aims to get youth to the polls.
An influx of new residents has boosted the number of eligible young Colorado voters. There are 786,000 residents aged 19 to 29, and this group is the fastest-growing, according to the state's demography office. Also, the political process has become more accessible for all Coloradans due to voting laws passed in recent years, namely new measures for online and same-day registration as well as early voting.
"It feels like it's much later in the cycle," Fenberg said of the political buzz in Colorado right now. "It's been a battleground state for several cycles now, but there's an added excitement from people who are moving here or people who have turned 18."
Virginia is another state to watch on Super Tuesday. This state has 1.2 million young people who are 19 to 29 years old, and those who were eligible to vote in the 2008 and 2012 presidential elections did so in greater numbers than other young voters nationwide, according to CIRCLE. Among Virginians who are younger than 30, 19 percent have at least one parent who was born outside the United States.
Once March 15 rolls around, watch Ohio, which is ranked fourth on CIRCLE's list. The Buckeye State has 1.7 million young people and 385 institutions of higher education. Voter turnout among young Ohioans in the last presidential elections was higher than the national average. However, this state is different in one important way— more than a quarter of its young people are married. That means young voters may prioritize issues such as public education and child care.
Florida, also holding a primary on March 15, comes in eighth on CIRCLE's list. The state's 2.7 million young voters are more diverse than those in any other state on the list—25 percent of youth there are black and 23 percent are Latino. Nationwide, Latinos who are eligible to vote generally cast ballots less often than whites, but that's not the case in Florida. Millennial voters in this state voted in the last election as often as whites.
What are the other states on the list? Iowa, Nevada, and New Hampshire, made the cut. The remaining states on CIRCLE's list will hold primaries over the next two months: Virginia and Colorado on March 1; North Carolina, Ohio, and Florida on March 15; Wisconsin on April 5; and Pennsylvania on April 26.
What issues do young people care about most? College tuition and student debt are among the top concerns for young voters, according to Zak Malamed, the founder and executive director of Student Voice, a nonprofit that mobilizes young people to speak out on issues they care about. Also on the list? Health care, social security, and income inequality. Candidates should start paying attention to young people, even those who aren't of voting age yet, and learn why they lean toward certain candidates, Malamed said.
"We need to understand this reason because these people aren't going to leave our country; they're going to develop as voters."
Daniela Enriquez, a 20-year-old student at the University of Colorado-Denver, doesn't like the way media portrays her generation in politics. "'Oh they just want free tuition,'" Enriquez said, referring to how voters her age are described. "'They're on their phones all the time' or 'they're lazy.' We're highly involved, in my opinion."