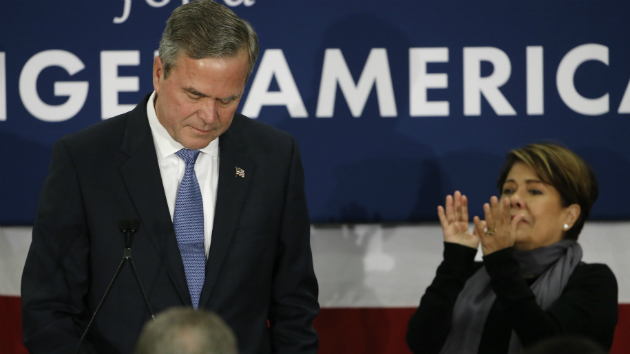 Fight disinformation:
Sign up
for the free
Mother Jones Daily
newsletter and follow the news that matters.
Jeb Bush, once considered the prohibitive front-runner for the Republican presidential nomination due to his nine-figure war chest, has now revealed that his defunct campaign is more than a quarter of a million dollars in debt.
Bush ended his campaign almost two months ago amid poor poll numbers, but the extent of its wreckage is only now becoming clear. In a filing made over the weekend, Bush revealed that his presidential campaign is more than $260,000 in debt and has just $31,000 in cash on hand. That's a stunning admission from the candidate who once sat on a pile of more than $115 million in cash, and a demonstration of just how far Bush fell.
A year ago, before Bush was even a declared candidate, he was working closely to wring dollars out of big donors for the benefit of his super-PAC, Right to Rise, which vacuumed up more than $100 million in its first six months of existence. Bush aides talked of a "shock and awe" campaign that would wow and cow his rivals.
According to Right so Rise's filing from last summer, on April 15, 2015, exactly a year before the new report of the campaign's debt, the super-PAC raised $852,000—just on that one day alone. The single biggest donor that day, James C. Flores, the CEO of mining giant Freeport-McMoran's oil operation, gave $250,000. That would now be nearly enough to wipe out the campaign's remaining debt. (Not that it could: Super-PAC money isn't legally available for the direct use of the candidate it backs.)
Last April, Bush was actually worried about being seen as having too much money, and he asked his super-PAC donors not to write such big checks. This April, the Bush team is just trying to keep the lights on while it finishes winding down.
As if that weren't bad enough for Bush, the biggest outstanding debt comes from a $250,000 loan issued during the campaign's dying days—by Bush himself.