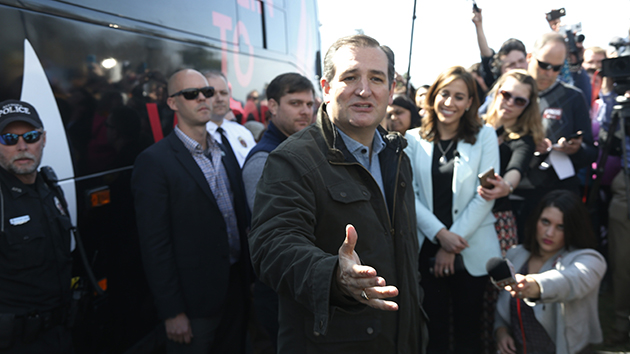 Fight disinformation:
Sign up
for the free
Mother Jones Daily
newsletter and follow the news that matters.
One of Ted Cruz's supporters in Wisconsin once stood up for the idea that gay couples who married in another state should be sent to prison—and be fined hefty sums.
Back in 2008, when California legalized same-sex marriage (before Proposition 8 temporarily ended marriage equality there), same-sex couples in Wisconsin considered heading to California to tie the knot. But there was a hitch. As the Milwaukee Journal Sentinel reported at the time, an obscure state law "makes it a crime for Wisconsin residents to enter into marriage in another state if the marriage would be prohibited here." The law also carried a serious penalty of up to $10,000 and nine months in prison.
And at least one person wanted to see that law enforced against gay Wisconsin couples who married elsewhere. "If it were challenged and the courts decided to basically wink at it, and refused to enforce the law, we have a problem," Julaine Appling, who led the Wisconsin Family Council, said at the time.
Appling, now president of Wisconsin Family Action, a conservative Christian group, was dubbed "the most important social conservative" by the Capital Times. Her name appears at the top of a list of 50 evangelical and Catholic Cruz supporters that the campaign released Friday ahead of the April 5 primary in the state.
Appling has a long history of fighting marriage equality. She supported passage of a state constitutional ban on same-sex marriage in 2006. And in 2009, she was behind a lawsuit to block a Wisconsin domestic partnership law to grant same-sex couples some of the benefits married couples received. Appling called the law "an assault on the people, the state constitution, the democratic process, and the institution of marriage."
The conservative crusader wants to not only stop gay couples from marrying, but also keep straight couples from separating. In 2014, she told the Capital Times that she wanted the state to pass laws to encourage relationship counseling and discourage divorce by lengthening the waiting period for obtaining a divorce.
And she is no fan of Donald Trump. In February, she signed on to an open letter to the Republican front-runner from social conservatives asking questions like "How will you make America great when you've run businesses associated with increased crime, bankruptcies, broken marriages and suicides?" and "What would you say to young girls and women who are concerned about a president who is directly connected with the exploitation of women?"