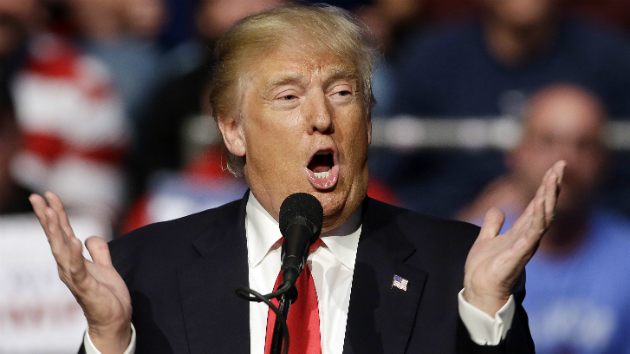 Fight disinformation:
Sign up
for the free
Mother Jones Daily
newsletter and follow the news that matters.
Planning for a possible open convention, a super-PAC headed by Donald Trump ally Roger Stone, the self-proclaimed dirty trickster, has quietly scoured the country for evidence that could be used to disqualify delegates supporting Sen. Ted Cruz. Stone, an informal adviser to Trump and a veteran practitioner of political dark arts, claims his group has documented thousands of cases of "voter irregularities" in the 11 primaries and caucuses the Cruz campaign has won. Should the Trump opposition within the GOP attempt to deny the celebrity mogul his coronation in Cleveland, Stone says his super-PAC will use this information in a bid to toss out certain Cruz delegates.
This super-PAC, the Committee to Restore America's Greatness, has so far maintained a low profile. Between October, when it was founded, and February, it raised a mere $39,000. But in March, a couple of big checks rolled in from John P. Middleton, a Hollywood producer who is the son of the Philadelphia Phillies' billionaire co-owner. It is these funds that are bankrolling the super-PAC's investigation of Cruz's delegates.
According to a Federal Election Commission filing by the super-PAC, it recently paid a Florida company called Citroen Associates LLC $185,000 for "voter fraud research and documentation." Stone told Mother Jones that the super-PAC has gathered more than 3,800 sworn affidavits documenting voting problems where Cruz won.
"These will be submitted to the credentials committee if and when the Trump campaign or any delegate elects to challenge the seating of delegations elected through a pattern of voter fraud," Stone wrote in an email, adding that the super-PAC's inquiry is still ongoing. He said there is precedent for challenging a candidate's delegates, and he pointed to the 1952 Republican convention where representatives of Dwight Eisenhower argued successfully that a number of Robert Taft's delegates should not be seated because of the way they were selected.
Stone declined to share the evidence the super-PAC is collecting. "Making this material, which we have collected at some substantial expense, public at this time would merely guarantee harassment of these citizens by the Cruz campaign, so no we won't release the material until/if it is filed with the committee," Stone wrote.
In public, the Trump campaign has distanced itself from Stone's operation. Trump campaign manager Corey Lewandowski has called this super-PAC a "big league scam." And last week, the Trump campaign sent a letter to the FEC formally disavowing any connection to the Committee to Restore America's Greatness and four other pro-Trump groups.
The group's biggest benefactor is Middleton, the 32-year-old scion of a wealthy Pennsylvania family that earned its fortune with a tobacco business that Middleton's father sold to Altria for $2.9 billion in 2007. The elder Middleton also inherited the family's 48 percent stake in the Phillies. The younger Middleton is a Hollywood-based producer with a small list of film and TV credits to his name: He co-produced the Lego Movie and is the executive producer of My Big Fat Greek Wedding 2.
On March 1, Middleton's company cut a $149,000 check to the Committee to Restore America's Greatness. Shortly after that, Middleton personally donated another $100,000 to the group. Middleton has never made contributions on the scale of his pro-Trump donations. But in 2010, he was a national co-chairman of the Young Eagles, an ill-fated attempt by the Republican National Committee to attract young conservative donors using hip and glamorous outings. (The group collapsed, along with the RNC chairmanship of Michael Steele, after it became public that the RNC picked up the tab for a Young Eagles event at a bondage-themed nightclub in Los Angeles.) In the past, Middleton has donated mostly to Republican causes. He did not respond to multiple requests for comment about his his pro-Trump donations.
"John Middleton is a gutsy guy," Stone told Mother Jones. "Those in Hollywood who think he can be muscled will get slapped with a big fat lawsuit for abridging his First Amendment rights."
In case there is a contested convention in Cleveland, Stone has also begun promoting a group called StopTheSteal, which shares the same mailing address and treasurer as the Committee to Restore America's Greatness. Stone said this outfit has been set up to organize a "march on Cleveland" during the convention to oppose any attempts to block Trump from receiving the nomination.
If Trump continues to rack up delegates, his efforts to disqualify Cruz delegates and mount protests in Cleveland may not be necessary. But it's clear that Stone, who is credited with helping to engineer the infamous "Brooks Brothers riot" that shut down the recount in Florida during the Bush-Gore post-election scuffle of 2000, is prepared to do whatever it takes at the convention to assist Trump.