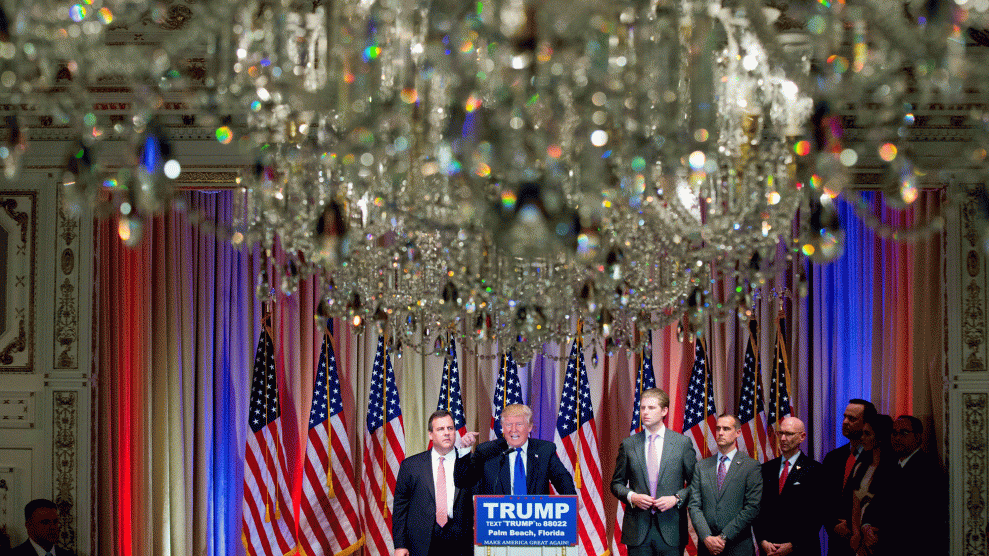 Fight disinformation:
Sign up
for the free
Mother Jones Daily
newsletter and follow the news that matters.
Donald Trump likes to boast he's a great businessman. But one part of his reputation as a wheeler and dealer is not so grand: He can be stingy when it comes to paying his bills. Of course, there are his bankruptcies, and he has bragged about forcing bankers to take haircuts on the money he owes them. USA Today this week reported that it "found hundreds of people—carpenters, dishwashers, painters, even his own lawyers—who say he didn't pay them for their work." And some years ago, an 82-year-old Latvian immigrant named Nicolas Jacobsen learned the hard way about Trump's penchant to squeeze folks when it's time to settle up.
The saga began in 2004, when Trump was sprucing up his private Palm Beach resort, Mar-a-Lago, ahead of his January 22, 2005, wedding to his third wife-to-be, Melania. His upgrades included the purchase of three crystal chandeliers from Jacobsen's West Palm Beach business, Classic Chandeliers, which specialized in expensive replicas of chandeliers that hung in Versailles or Napoleon Bonaparte's palace.
The price tag for the chandeliers was more than $68,000, but Jacobsen offered to sell them to Trump for $34,000. Jacobsen claimed Trump did not want to pay the sales taxes on the sale but eventually relented; Trump ultimately paid nearly $17,000 as a deposit. Jacobsen installed the chandeliers in the entryway and two bathrooms in the resort's new 20,000-square-foot ballroom, which Trump had built in advance of his star-studded wedding, where many of the wedding vendors reportedly provided their services gratis, hoping for a boost from the extra publicity. (The New York Times even reported that Trump got Melania's 13-carat diamond ring for half-price.)
After the wedding, Jacobsen repeatedly tried to get Trump and the resort to pay the remaining $17,000 owed to him. But the tycoon would not settle up. So Jacobsen took his story of being stiffed by Trump to the Palm Beach Post. After the article ran—it was headlined, "The Big 'I Do' Leaves Some Dues and Don'ts"—Trump berated the columnist who wrote it by phone, insisting that he hadn't paid the bill because Jacobsen had done a poor job installing the chandeliers. As the columnist subsequently reported:
"You want a story?" Trump yelled. "I'll give you a story. This guy (Jacobsen) did a terrible, terrible job. He was late with the chandeliers. He didn't have the proper equipment to install them. His bills were too high. He had to use my people to install them. We're going to end up in court because he's just trying to get free publicity. I'm not going to pay him what I owe him. That's it. I'm not paying."
Jacobsen denied Trump's claim of shoddy work, saying, "Mr. Trump wants to belittle me…That's his style. He is 58. When is he going to grow up? I will collect, one way or another." Jacobsen subsequently told the New York Daily News that, after his story had appeared in the Post, he received 22 calls from merchants who claimed Trump had "stiffed [them] in the past. He can't get anybody to work for him."
The day that story ran, February 2, 2005, Mar-a-Lago asked the local sheriff to serve Jacobsen with a civil suit against his company for breach of contract, alleging that Jacobsen had failed to properly install the chandeliers and that the resort had to hire an electrician to do all the work. And on February 3, one of Trump's lawyers, John Marion IV, sent Jacobsen a letter threatening to bring a libel suit against him over his comments to the Daily News. He demanded that Jacobsen turn over the names, addresses, and phone numbers of the 22 merchants who had called him. The lawyer accused Jacobsen of being a "publicity hound" who'd "made this up."
Marion continued to pressure Jacobsen, and on February 11, he reiterated Trump's intention to file a libel suit. But, he told Jacobsen, the chandelier store owner could end his legal tangle with Trump if he'd do one of two things: take back the chandeliers and refund Trump's money, or accept half the remaining amount owed on the bill and write a letter apologizing to Trump for his comments in the media and saying he'd lied about Trump's desire to dodge sales taxes. Marion also demanded that Jacobsen state in his letter that he "never told anyone at the newspaper that 22 people had called and told you that Mr. Trump had stiffed them."
According to legal filings in the case, Jacobsen (who died last year) initially agreed to accept half of what was owed to him and sign the apology letter (Trump's lawyer helpfully wrote a draft for him), rather than face Trump's legal army. He wasn't fluent in English and had no lawyer at that point. But Jacobsen changed his mind, according legal filings, primarily because "the proposed apology letter would have had [him] lie" about Trump's behavior and because he'd gotten many calls from newspaper readers urging him to fight the case. After getting legal representation, Jacobsen countersued Trump for breach of contract and unjust enrichment, calling Trump and Mar-a-Lago's lawsuit "nothing but fabricated allegations, falsehoods and outright lies" and an attempt to use the court system to avoid "paying what they owe."
The dispute dragged on for months in court, until the case went to mediation and finally settled in early 2007. Ronald Jones, who represented Jacobsen, said his client ended up getting about a third of what he was owed. "My client [was] just a small businessman. No big corporation. He just didn't have the money to fight Mr. Trump," Jones told Mother Jones, adding that Trump's behavior in the chandelier case is apparently "his modus operandi."
The chandelier episode is far from an outlier. Trump is well known for forcing workers, vendors, and small businesspeople he does business with to take haircuts on what he owes them, sometimes with legal threats, a practice known as "the Trump discount," one aggrieved contractor told the Economist. Trump brags that he always gets the best deals, and he has vowed to bring his aggressive deal-making style to the White House. But his slash-and-burn approach doesn't always work, particularly against people with the means to fight back.
William Scherer, a prominent Fort Lauderdale lawyer and GOP fundraiser who had represented Trump in a legal matter, told the Sun-Sentinel last year that Trump is a "deadbeat." (Scherer isn't the first critic to use such a term for Trump.) In 1994, Scherer took Trump to small-claims court to get him to pay a $5,000 bill he owed. Scherer told Reuters that he'd already cut his rate for Trump, but after the matter was resolved, Trump's reps called him and wanted to cut the outstanding bill "from small potatoes to smaller potatoes…I wouldn't go for it." Scherer told the paper he won his full bill, plus court costs.
The Trump campaign did not respond to requests for comment. But, when asked by USA Today about various episodes in which he has been accused of stiffing people, Trump was unapologetic. "Let's say that they do a job that's not good, or a job that they didn't finish, or a job that was way late," Trump said. "I'll deduct from their contract, absolutely. That's what the country should be doing."