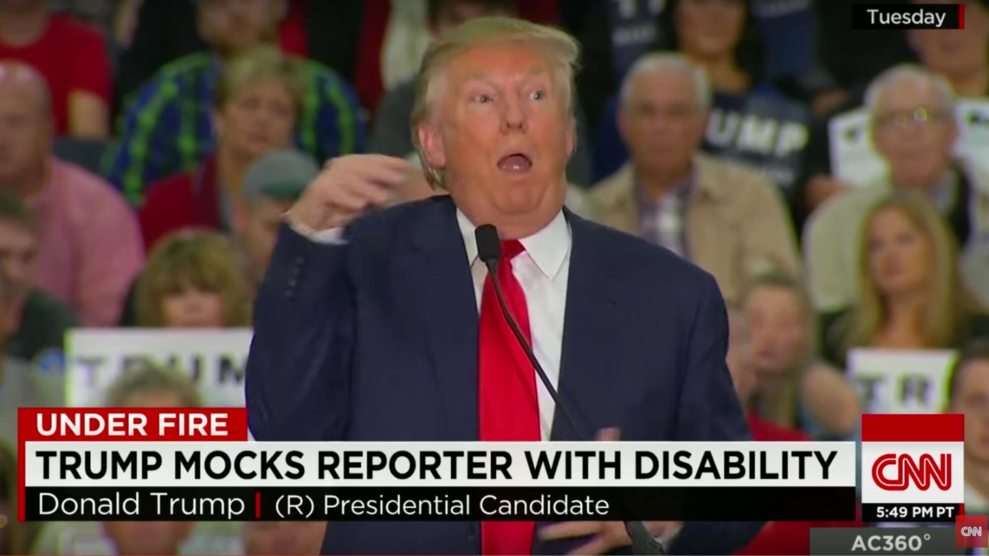 Fight disinformation:
Sign up
for the free
Mother Jones Daily
newsletter and follow the news that matters.
Last year, when Donald Trump and his small band of political advisers were considering whether the celebrity pink-slipper should run for president, there was one factor they did not dwell on: Trump's obvious negatives as a candidate. His bankruptcies and bad business deals that screwed creditors and contractors, his marital infidelities, his ties to mob-linked figures, his long history of crude and rude remarks, his tendency to engage in mean-spirited feuds, his racist birther crusade against President Barack Obama, and his arrogant, egotistic, bombastic, and bullying public persona would all supply tons of material for opposition researchers.
Yet Trump and his crew were not concerned, according to a Trump aide at that time. Their theory was simple: With Trump's name ID close to 100 percent, most voters had already processed Trump—the good, the bad—and had come to a conclusion about him. What would count most was whether voters believed the country was in crisis and were sufficiently worried or frightened that they would turn toward a political novice who would echo and reflect their resentment and anger and who would be willing to say and do whatever it took to get the job done. A successful businessman who would crack heads, not give a damn about niceties, and yell F-you at anyone who disagreed with him. In other words, an asshole.
Trump represents the end of politics—if politics is a battle of ideas—and the triumph of shock-jockiness.
As Republicans gather in Cleveland, they are on the verge of nominating a jerk as their presidential candidate. To call Trump a jerk is not quite an insult, since he has purposefully campaigned as an unpleasant, mean, quick-to-insult, and uncivil contender. (His associates claim in private he does not behave in such a boorish and unpleasant manner.) That is part of his strategy. His campaign has been an endeavor of rage, not ideas—of insults, not intelligent exchanges. Never in modern time has a presidential nominee of a major party sought the White House in this fashion, kicking rational and courteous discourse to the curb and fixating on pompous theatrical delivery. Trump represents the end of politics—if politics is a battle of ideas—and the triumph of shock-jockiness. He is the Mort Downey Jr. of the nation. His campaign playbook is straight from professional wrestling—a world of braggadocio, fakery, and insult. For decades, assorted scolds have whined that American culture is being debased and dumbed-down by assorted evils: television, video games, music lyrics, reality shows. But credit Trump for a giant leap in debasement. He has normalized bigoted speech and bullying.
His extreme behavior is not a bug. It's a feature. His bad-boy outbursts are no aberration. He repeatedly derides his opponents with dismissive nicknames and misogynistic attacks. During the primary contest, he made cracks about the physical appearance of Carly Fiorina and Rand Paul. He called Marco Rubio "Little Marco." He referred to Ted Cruz as a "pussy." He slammed Fox News host Megan Kelly for being a woman. He mocked a reporter with a disability. He maintained that a federal judge who was born in the United States was a "Mexican" (which in TrumpWorld is a foul slur). He taunted Jeb Bush for being "low energy." He dissed Elizabeth Warren as "goofy" and claimed she has no serious accomplishments. He dubbed Hillary Clinton "Lyin' Crooked Hillary." He recently said of Justice Ruth Bader Ginsburg, "her mind is shot."
This is how a thug acts—and it doesn't matter to Trump and his supporters that his insults are often not based on reality. The judge was not a Mexican. Warren, who gave birth to a new federal agency aimed at protecting consumers, has not accomplished nothing. Ginsburg's mind appears to be working fine. With Trump, it's not about scoring legitimate points. His aim is to play to the crowd—a certain crowd. After all, there are voters who do believe with all their hearts that Clinton mounted some sort of conspiracy regarding the Benghazi attack and broke numerous laws with her email system. Rather than address any of the sticky details of these (or other) controversies, Trump trots out the "Lyin' Crooked Hillary" moniker, and he connects with voters already inclined to mistrust her or hate her. He is not out to win a debate; his goal is to turn it into a mud-wrestling match.
Trump operates in a fact-free zone. There is no need to address any specifics—or be bound by actual evidence. He crafted this technique with his birther crusade. During that sideshow, he simply said stuff. It didn't have to be true. But his unfounded claims and comments resonated with conservatives who were predisposed to see Obama as a secret socialist, undercover Muslim who had somehow usurped the presidency and was bent on covertly destroying the United States. Trump engages in combat by catchphrase and slur to avoid serious discussion—and to connect with voters who want to see their resentments and biases fiercely reflected by a figure of importance. He's a television star! He's a tycoon! He has his own plane!
Trump's goal is to be offensive. He and his small circle of political advisers early on concluded that abuse was an asset—that these sorts of displays would signal to pissed-off voters that Trump was as upset as they were and willing to break the rules to change whatever the hell is going wrong in the nation. Shortly after he announced his presidential bid—when only registering single digits in the polls—Trump assailed Sen. John McCain, snarkly noting that he preferred war heroes who were not shot down. The politerati went wild. Politicians on both sides of the partisan divide and pundits from the left and the right cried foul and proclaimed this sort of comment would doom Trump's White House dream: How could he dump on a POW? This was unacceptable. Trump is finished.
He had demonstrated that he could be a cruel SOB who didn't follow normal protocol. And his poll numbers climbed, proving this campaign-by-insult strategy could work.
Trump and his advisers, according to one of them, watched the establishment's reaction with glee. They knew Trump's constituency didn't care about McCain. (In fact, over the years, some conservatives had come to loathe McCain.) The more the talking heads on cable TV denounced Trump for his dig at McCain, the more Trump and his gang relished the moment. He had demonstrated that he could be a cruel SOB who didn't follow normal protocol. And his poll numbers climbed, proving this campaign-by-insult strategy could work. He wasn't bound by rules or facts. He could claim that thousands of Muslim Americans were caught on video celebrating 9/11—and stick to that claim even when it was demonstrated to be false. He boasted he had predicted the rise of Osama bin Laden, though he had not. An important component of the act was being a tough bastard who never backed down or conceded error.
Trump has remained in attack mode. To offend was to advance. There seemed few limits. In the heat of the primary battle, he insulted Cruz's wife and even suggested that Cruz's father had somehow been connected to the assassination of John Kennedy. Trump eschewed all the intellectualism of a presidential campaign (which often is limited). His communication of choice was mean-spirited tweets. He encouraged violence against protesters at his campaign rallies.
Trump boasted he could solve the nation's problems without providing specifics. He was a self-aggrandizing windbag, offering big and bold promises, not boring policy proposals that could be scrutinized. It was all part of his made-on-TV schtick: I'm a success; everyone else is a loser deserving of no respect or regard. He angrily blasted the "rigged system"—without saying what he would do about it. Find a way to end the influence of big money and lobbyists in politics and government? Well, he's courting big money for his own bid and has enlisted a squad of Washington lobbyists to work on his campaign. But a narcissist is not going to allow hypocrisy to get in his way.
He was not a decent fellow—no role model for children. (That's a theme that the Clinton campaign has pushed in its most recent ad.)
Despite the feeble NeverTrump effort, Trump found a home for his vileness within the Republican Party. In fact, Trump's ascent was made possible by the GOP he has taken over. For years, Republican leaders and elected officials have suggested that Obama was essentially destroying the nation. (Obamacare was death panels, his stimulus produced no new jobs, and he was—take your pick—either a tyrannical, power-grabbing chief executive or a feckless leader doing nothing to stop the nation's enemies.) GOPers trafficked in hyperbole to win the votes of tea partiers. They played footsie with birtherism and did not challenge the racism and conspiracy theories infecting large swaths of the right. When Mitt Romney ran for president in 2012, he enthusiastically accepted Trump's endorsement, at a time when Trump was going full-birther. House GOPers were Benghazi maniacs, fueling the darkest notions on the right. On key issues, most notably climate change, Republicans delivered the message that facts and expert opinions don't matter. They legitimized brinkmanship with government shutdowns and debt-ceiling fights.
They teed up the golf ball for Trump. It's not a long distance from a congressman at the State of the Union address shouting, "You lie" at a president to a presidential candidate declaring his opponent ought to be in prison.
Trump is responsible for running a campaign of abuse and ignorance. But he cannot be blamed for his success. A modern-day P.T. Barnum of anger and fury, he found an audience for his cruel and callous routine—an audience that had previously been encouraged by GOP leaders and conservative voices to believe the worst about Obama, Washington, and the nation. McCain lost the 2008 election, but here's his legacy: Much of the GOP electorate was Palinized. After years of that, Trump realized there was an opening within the party for a brash, don't-bother-me-with-the-facts, punch-them-in-the-face billionaire. Trump has turned indecency into a weapon.
So this week the Republican Party is poised to anoint a man whom House Speaker Paul Ryan, the GOP's highest ranking elected leader, has said made racist remarks. That is—or should be—stunning. But even this highly significant fact becomes lost in the torrent of Trump's offensive conduct. And most of the GOP has accepted him as the nominee, enabling and legitimizing his behavior. Per its electorate's wishes, the party has shoved aside traditional conservative principles, basic decency, and fundamental standards of competence—this guy didn't know what the nuclear triad is—to embrace hatred, nastiness, and cruelty. With malice toward none, with charity for all? No, it's opposite day. This convention marks the moment when the party of Lincoln has become the party of reality-show trash talking. As Trump might say, sad!
Now, thanks to Republican voters and the party leaders who encouraged and exploited their worst fears and tendencies, a new poli-sci experiment is under way: How far can a candidate who proudly campaigns as an asshole go in American politics? In Cleveland this week, the Grand Old Party is fully submitting to Trumpism and giving up on the better angels of our nature.