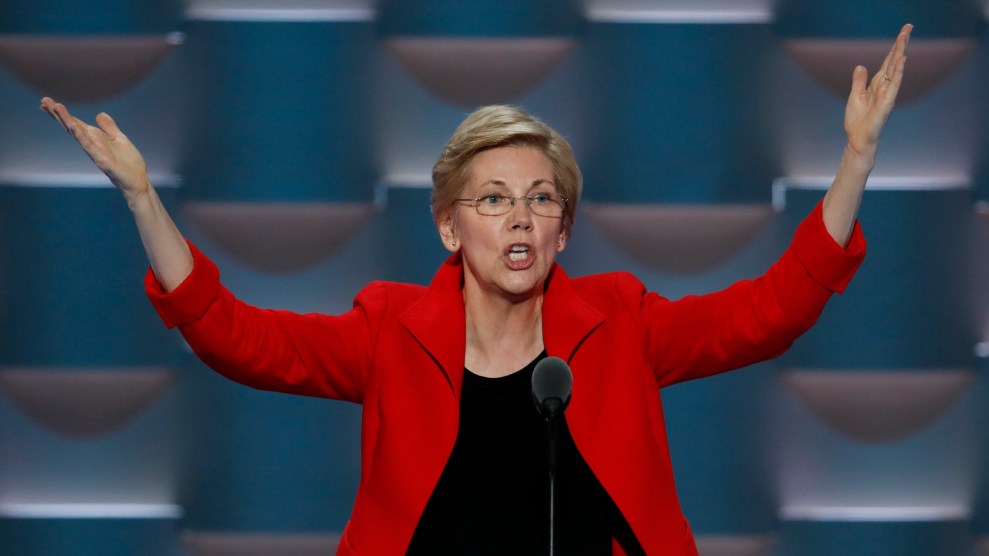 Fight disinformation:
Sign up
for the free
Mother Jones Daily
newsletter and follow the news that matters.
Sen. Elizabeth Warren (D-Mass.) has been one of the fiercest and most persistent critics of Donald Trump, and during her prime-time Democratic National Convention speech on Monday she continued her onslaught on the GOP nominee, blasting him for running a campaign of "fear and hatred" that is centered on stoking racial tensions.
Speaking ahead of Sen. Bernie Sanders, Warren was part of an opening night lineup that was intended to appeal to Sanders' left-wing supporters, a group of fans who started off the night by booing mentions of Hillary Clinton and chanting for Bernie.
The anti-Hillary outcry was tempered over the course of the evening thanks to crowd-pleasing speeches from Sen. Cory Booker and Michelle Obama, and the convention audience was primed for a bit of Warren-style populism. She has earned a reputation in recent months for fiery speeches denouncing Trump, and she didn't hold back in Philly, comparing him to a late-night infomercial salesman. "He'll even throw in a goofy hat," she quipped.
In her speech, Warren sternly warned that Trump is peddling a dangerous form of racial animus. "Trump thinks he can win votes by fanning the flames of fear and hatred. By turning neighbor against neighbor," Warren said.
"That's Donald Trump's America," she continued. "An America of fear and hate. An America where we all break apart. Whites against blacks and Latinos. Christians against Muslims and Jews. Straight against gay. Everyone against immigrants. Race, religion, heritage, gender—the more factions the better." She linked that "divide and conquer" form of racist politics to Jim Crow laws.
The Massachusetts senator didn't just focus on attacking Trump; she made sure to take some time to appease the Bernie crowd, kicking her speech off by thanking his campaign for reminding politicians of core Democratic values. And she made sure to note that she isn't just a reflexive fall-in-line party Democrat. "I'm not someone who thinks Republicans are always wrong and Democrats are always right," she said. "There's enough blame to go around." She was unequivocal about her support for Hillary Clinton, while stressing her support for policies popular among the Bernie crowd—opposition to the Trans Pacific Partnership trade deal, a desire to see Citizens United overturned, and debt-free college—and linking those to Clinton's campaign. "Let's work our hearts out to make sure Hillary Clinton is elected president of the United States," she concluded.