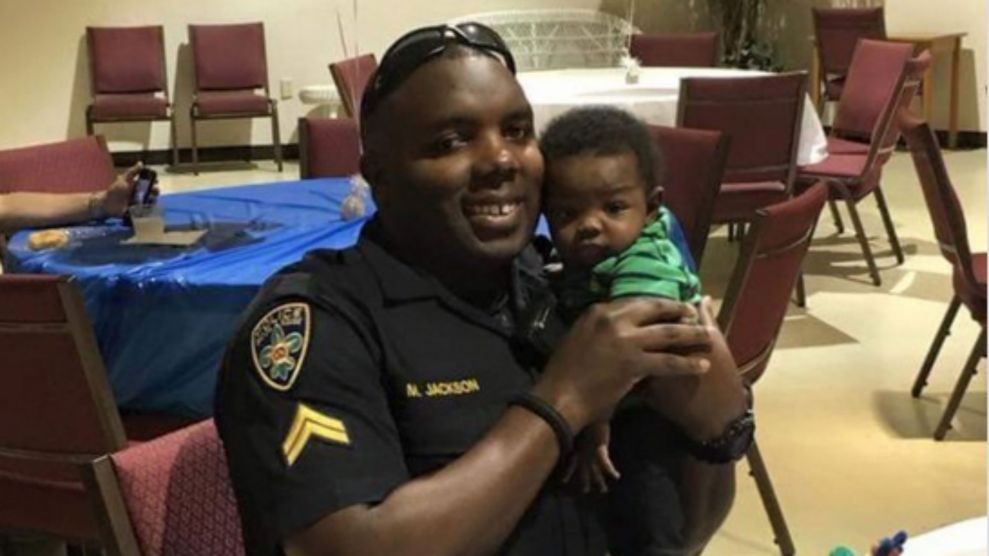 Facts matter:
Sign up
for the free
Mother Jones Daily
newsletter.
Support
our nonprofit reporting.
Subscribe
to our print magazine.
On July 8, three days after Alton Sterling was shot and killed by Baton Rouge police outside a convenience store, Montrell Jackson reflected on the challenge of being a black man and a police officer in the city he loved.
Montrell Jackson, an officer killed in #BatonRouge, posted this msg last week. Heartbreaking. RIP.

(via @ladyhaja) pic.twitter.com/PhNY9F8EY5

— The Undefeated (@TheUndefeated) July 17, 2016
"These are trying times," he wrote in a Facebook post, confirmed by the Associated Press and NPR. "Please don't let hate infect your heart. This city MUST and WILL get better."
More than a week later, Jackson, 32, became one of at least three police officers killed in an altercation with a gunman in Baton Rouge, Louisiana. At least four other officers were injured. The suspected shooter, identified as 29-year-old ex-Marine Gavin Eugene Long, attacked authorities just 10 days after a shooting near a Black Lives Matter protest in Dallas left five officers dead and nine other people injured. Jackson's half-brother Kedrick Pitts told NPR on Sunday that the post came in light of the recent Sterling's death and described Montrell as a well-known officer who "loved the thrill and loved being there for others."
"He felt hurt. He wants justice for their family also. But he just asked every to respect everyone, to continue to love everyone, and he just wanted everyone to get through this together. He didn't want any hatred going on, especially killing," Pitts said. "He was a police officer. He wanted peace."