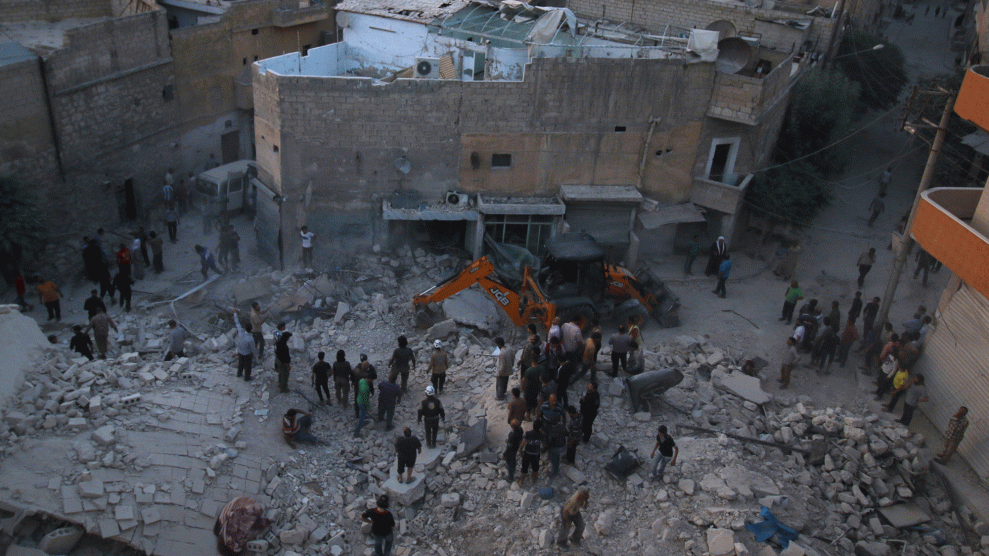 Fight disinformation:
Sign up
for the free
Mother Jones Daily
newsletter and follow the news that matters.
For the third time in just two weeks, chemical weapons were reportedly used against civilians in northern Syria. The United Nations is investigating the most recent case, which came Wednesday when barrel bombs thought to contain chlorine gas dropped on the rebel-controlled neighborhood of Zubdiya in eastern Aleppo, killing at least four people, including a mother and her two children, and wounding around 60 more.
Both the Assad regime and opposition forces have denied responsibility, but several witnesses and monitoring groups have said that helicopters dropped explosive barrel bombs on the affected neighborhood. Opposition forces, it bears noting, do not have helicopters.
Citizen & doctors have confirmed a chlorine attack on Zebdia neighbour n #Aleppo city pic.twitter.com/U7TNfX6Yze

— Mahmoud Rashwani (@MahmoudRashwani) August 10, 2016
Until now one hospital reported 12 casualties affected by the chlorine used b #Aleppo 2night pic.twitter.com/UjGlSM9Y04

— Mahmoud Rashwani (@MahmoudRashwani) August 10, 2016
Staffan de Mistura, UN special envoy for Syria, told reporters yesterday that there is "a lot of evidence" that the attack took place, and if confirmed, would amount to a war crime. Images from the alleged attack, showing men and young children being fitted with oxygen masks, circulated widely on social media.
n1 hospital,70 chlorine casualties r reported, 10 r infants, 25 toddlers, some r n critical condition #Syria #Aleppo pic.twitter.com/a7dOQIOCAE

— Mahmoud Rashwani (@MahmoudRashwani) August 10, 2016
Rama, 6 years old, 1 of the chlorine attack victims. Came 2 the hospital screaming "I cant breathe" pic.twitter.com/I7tCCPbR5O

— Mahmoud Rashwani (@MahmoudRashwani) August 10, 2016
A doctor in Aleppo told Amnesty International that the victims "were all suffering from the same symptoms, mainly coughing and shortness of breath. I could easily smell chlorine on people's clothes." And Hamza Khatib, the manager of Aleppo's Al Quds hospital, told Reuters on Wednesday that he was preserving fragments from the bombs and pieces of clothing to submit as evidence.
"We expect more bombing…They know that the world will not respond."
Chlorine gas is classified as a choking agent, and when inhaled, fills the lungs with liquid and can lead to asphyxiation. Using it in a weapon is banned by the Chemical Weapons Convention, which the Assad regime agreed to join after a 2013 UN investigation found that the nerve agent Sarin was used against civilians in Eastern Ghouta, killing 1,429 people, more than 400 of them children. The Syrian government subsequently turned over thousands of tons of chemical agents, but chlorine, because of its necessary and legal use in other areas, was not among the chemicals that had to be destroyed. Since then, there have been dozens of chlorine gas attacks that have not been countered with any repercussions from the international community.
This latest example comes shortly after rebel forces—led largely by hardline jihadi groups including Ahrar al-Sham and Jabhat Fateh al-Sham (formerly known as the Al Qaeda-linked Jabhat al-Nusra)—broke the Syrian government's siege of Aleppo. The siege had cut off the city's last supply lines, subjecting the 250,000 residents remaining in the rebel-held east to a lack of food, water, and medical supplies. Shortly after the siege broke, doctors warned of revenge air strikes, including a fear that the regime would resort to chemical weapons.
"Looking at the regime's track record, they are ready to do anything to try to win back power," Zaher Sahloul, a Syrian-American doctor who was recently in Aleppo, told the Telegraph. "We expect more bombing…They know that the world will not respond."