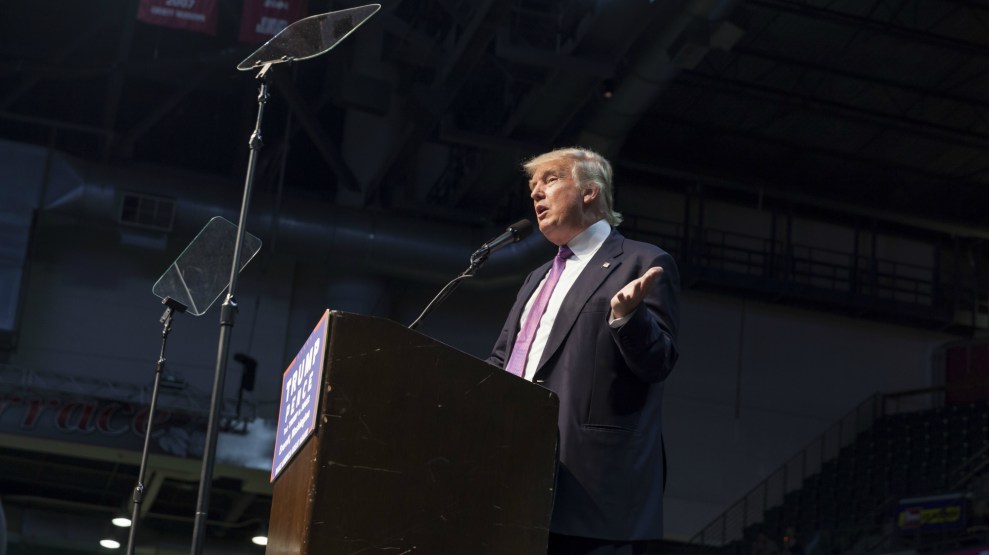 Fight disinformation:
Sign up
for the free
Mother Jones Daily
newsletter and follow the news that matters.
Donald Trump is hoping that his upcoming appearance at a predominantly black church in Detroit will help him make inroads with black voters. But before Trump mingles with worshipers at Great Faith Ministries on Saturday, he will be welcomed by a protest organized by a black pastor critical of the presidential candidate.
On Monday, the Detroit Free Press reported that Rev. W.J. Rideout III, the leader of All God's People Church and a community activist, is planning a "March on Donald Trump" protest for Saturday. Rideout told the paper that while he does not oppose Trump's speaking in Detroit, "I don't want him to think that he can come in here and get our votes."
In a recent interview with CNN, Rideout said that Trump's recent attempts to reach black voters are too little too late after more than a year of comments critical of Muslims, immigrants, and other minorities.
"How can I give him credit for the things that he has said about black African Americans, Latinos, gays, lesbians?" he said. "The things that he has said is not peaceful talk. He's trying to build walls and we're trying to build bridges."
Rideout did not immediately respond to a request for comment.
Trump's upcoming appearance at Great Faith Ministries was initially billed as the candidate's first speech before a black audience, an attempt to counter recent criticism that Trump's black outreach consisted wholly of talking about black communities in front of white audiences. Earlier this week, Trump's campaign manager said that the candidate is planning to visit several black churches prior to Election Day.
But on Wednesday, the Free Press reported that Trump actually won't address the congregation during his time in the church on Saturday. Instead, he will attend a sermon and then sit down for a one-on-one interview with the congregation's leader, Bishop Wayne T. Jackson, that will be broadcast on the Impact Network, a Christian television cable network owned by the minister. The network, which Jackson claims reaches some 50 million homes, usually broadcasts sermons and other religious programming, but will air the interview with Trump as a network special. The interview will not be open to the media and will not be filmed before an audience.
Jackson says that while Trump will not address the congregation during the service, the candidate's appearance could lead to informal interactions. "He'll be here Saturday," Jackson told the paper. "He's going to sit in service and have the experience in the black church, and then he and I will be in this office and do an interview for the Impact Network that will be aired later on. Just like any visitor, there will be fellowship at the service, and he can talk to people one-on-one." Jackson has said that he has also invited Hillary Clinton to appear at the church and sit down for an interview.
Trump's interview will be filmed on Saturday but won't air for at least a week.