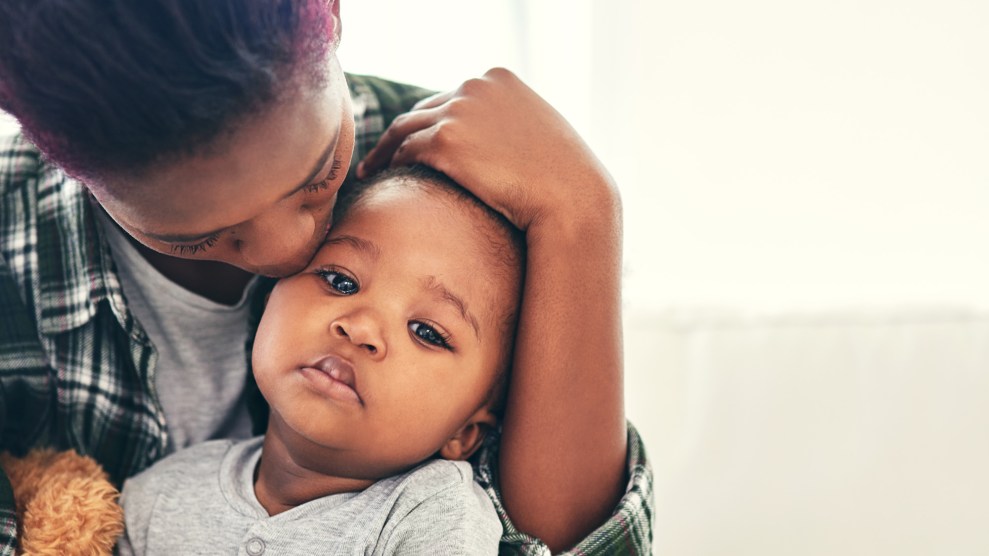 Fight disinformation:
Sign up
for the free
Mother Jones Daily
newsletter and follow the news that matters.
Last week, researchers studying maternal mortality in the United States reported an ominous trend: The rate of pregnancy-related deaths in Texas seemed to have doubled since 2010, making the Lone Star State one of the most dangerous places in the developed world to have a baby. Reproductive health advocates were quick to blame the Legislature for slashing funding in 2011 and 2012 to family-planning clinics that serve low-income women, calling the numbers a "tragedy" and "a national embarrassment."
Now a 15-member state task force has issued its own maternal mortality report, offering a new view of what might be going on. The bottom line: Maternal deaths have indeed been increasing in Texas, members said, and African American women are bearing the brunt of the crisis. For 2011 and 2012, black mothers accounted for 11.4 percent of Texas births but 28.8 percent of pregnancy-related deaths.
"The disparity in the rates for African American women is incredibly important and not widely recognized," said Lisa Hollier, a professor of obstetrics and gynecology at Baylor College of Medicine in Houston who heads the Maternal Mortality and Morbidity Task Force.
"The disparity in the rates for African American women is incredibly important and not widely recognized."
But the overall maternal mortality rate and the actual number of maternal deaths remain uncertain, as does the underlying reason for the sudden jump in 2011 and 2012. Among the challenges encountered by task force members as they try to find answers: Recent changes aimed at keeping better track of maternal deaths—such as check boxes on death certificates noting that a woman was recently pregnant—have led to confusion and more inaccuracies.
"The short answer is, I don't know" what caused pregnancy-related deaths to rise sharply in that period, Hollier said. "The longer answer is I think it's unlikely that there is a single explanation. The problem is complex and the increase is likely due to a multitude of factors."
The task force's most eye-opening findings weren't about deaths but severe maternity morbidity—complications so serious that mothers might have died without major medical and technological intervention or sheer luck. Such cases were far more common than deaths, the report said, and far more common among African American women.
At the same time, Latina women, who now account for nearly half of births in Texas, made up just 30.8 percent of maternal deaths. They also had a much lower rate of severe complications than African Americans.
The report contains other surprises that will give medical experts and policymakers plenty to think about in Texas and beyond. The leading cause of maternal deaths wasn't one of the traditional culprits (hemorrhage, infection, pregnancy-induced hypertension), but rather cardiac problems. The second leading cause: drug overdoses. Hemorrhages and blood transfusions were the biggest factors associated with severe complications.
And women aren't just dying in the hospital during or immediately after childbirth. According to the new report, about 60 percent of maternal deaths occurred six weeks or more after delivery. That figure is particularly important because more than half of the nearly 400,000 births in Texas every year are covered by Medicaid, but benefits for many mothers expire 60 days after they give birth.
The lack of health insurance—Texas has the largest number of uninsured people in the country and has rejected Medicaid expansion under the Affordable Care Act—could be contributing to maternal deaths and near-deaths, task force members said. "If a person had been in regular care, maybe those cardiovascular [problems] would have been identified" before the mother died, said June Hanke, a strategic analyst and planner at the Harris Health system in Houston who advocated the creation of the task force and is now a member. Without insurance, "if you need medication, can you really afford it? Do you even know your blood pressure is high?"
Mental health issues were another overlooked yet critical factor in maternal deaths and severe morbidity, including drug-related fatalities, the task force said.
For many Texas women, "there are no mental health services and even less addiction drug and alcohol services," said Nancy Sheppard, a task force member and licensed social worker with the Seton Healthcare network in Austin. "A lot of time the drugs are being used to self-medicate because [mothers] cannot get mental health treatment."
Mothers who receive antidepressants may not be able to afford them when they lose their Medicaid coverage. "To quit antidepressants cold turkey is very bad. You have to be weaned off that," Sheppard said. "Postpartum, your hormones are raging, you're operating on two hours of sleep, you're not a normal person to begin with. It is a perfect storm, it really is."
Maternal mortality has become a growing public health concern in the United States in recent years, as rates have risen nationally at the same time they have fallen in virtually every other affluent country. The first step to bringing the numbers down is to figure out how many women are dying and why, a process that has proven to be surprisingly difficult.
Researchers said the increase was difficult to explain "in the absence of war, natural disaster, or severe economic upheaval."
The Texas task force was established by the state Legislature in 2013 with a mandate to identify and review all maternal mortality cases in the state as well as trends in major pregnancy complications. About two-thirds of US states conduct maternal mortality reviews. The Texas committee uses the Centers for Disease Control and Prevention's definition of pregnancy-related deaths: any maternal fatality within one year of pregnancy, "from any cause related to or aggravated by…pregnancy," including chronic health conditions or "a chain of events initiated by pregnancy." The final count includes homicides and suicides but not motor vehicle deaths and deaths from non-pregnancy-related cancers.
By matching death and birth certificates and other data, the task force identified 100 maternal deaths in 2011 and 89 in 2012. Next, members began to conduct reviews of the 2012 cases. The process was greatly complicated by the complexity of medical records, the lack of consistency among medical examiners and health care providers in how they report data, and the requirement to redact all identifying information—patient names, provider names, and so forth—before the task force could begin its review. By the time its initial report was completed this summer, the task force had finished reviewing just 11 deaths.
To come up with the rate for severe morbidity, the task force analyzed discharge data for every obstetric hospitalization in 2012, noting those that had at least one major indicator of major complications—everything from stroke and sepsis to blood transfusions.
One thing the task force report did not do was calculate a maternal death rate for 2011-12. By contrast, the study published last week in the journal Obstetrics and Gynecology found that the mortality rate in Texas had jumped from about 18.6 deaths per 100,000 births in 2010 to about 33 deaths per 100,000 births in 2012—an increase that researchers said was difficult to explain "in the absence of war, natural disaster, or severe economic upheaval." The overall US maternal mortality rate was 23.8 deaths per 100,000 births in 2014, the study said.
That article, by researchers at the University of Maryland, Boston University, and Stanford University, employed a different methodology from what the Texas group used, and its mortality-rate calculations would suggest significantly more maternal deaths than what the task force found—closer to 125 deaths in 2012. Hollier said the actual number of deaths is less important than the upward trend. "To say, is that 89 or 86 or 93 is almost a distraction from the real issue, which is that the rate is rising," Hollier said.
The task force did not study whether the family planning cuts in the 2011-12 legislative session—largely aimed at Planned Parenthood but affecting other providers as well—might have triggered the spike in mortality. But other analysts doubted the cuts were to blame, noting that they took effect in late 2011 and 2012, after maternal deaths had already started to rise.
But task force members said the cuts certainly didn't help low-income women who depended on clinics like Planned Parenthood for basic health care and preventing pregnancies that might prove dangerous. The Texas record is "horrific…relative to the rest of the nation, and there's absolutely no excuse for it," Sheppard said.