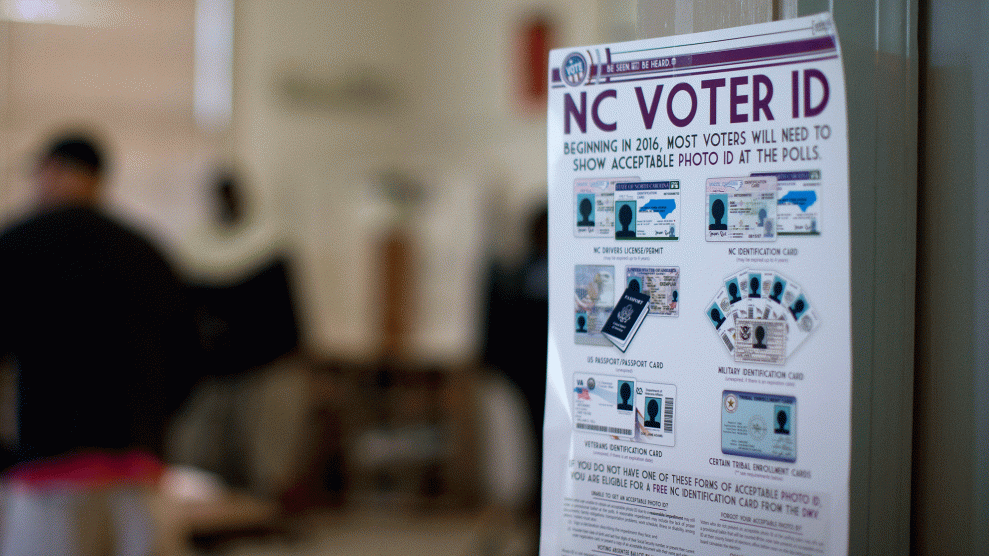 Fight disinformation:
Sign up
for the free
Mother Jones Daily
newsletter and follow the news that matters.
The Supreme Court turned down North Carolina's request on Wednesday to implement a restrictive voting law that a lower federal court blocked last month. The law would have imposed strict ID requirements, shortened early voting periods, and eliminated same-day voter registration, among other barriers to voting. Critics had said the 2013 law was racially discriminatory, and the 4th Circuit Court of Appeals last month agreed, observing that the state Legislature had targeted voting restrictions at African Americans "with almost surgical precision."
The state waited 17 days after that decision to file an "emergency" request with the Supreme Court for a stay of the ruling, which would have allowed the state to proceed with the November election under the restrictive rules. The eight-member court deadlocked 4-4 on Wednesday on whether to grant that request, falling short of the majority required for a stay of the lower court's ruling. The February death of Justice Antonin Scalia once again affected the outcome of a highly politicized case, as his vote with the court's four-member conservative bloc would have allowed North Carolina to proceed with its law.
The North Carolina law was one of the most dramatic and restrictive voting measures enacted in any state since the 1965 Voting Rights Act prohibited discrimination against minorities in voting. The Supreme Court itself paved the way for its passage in 2013 with its decision in Shelby County v. Holder, which gutted the section of the Voting Rights Act that required preclearance by the Department of Justice to enact changes affecting minority voting rights in areas with a long history of discrimination. North Carolina was one of those areas, and it initiated its voting law the day after the Shelby County decision came down.
Allison Riggs, a senior attorney for the Southern Coalition for Social Justice who helped argue the case before the appeals court, issued the following statement after the decision:
The Supreme Court acted in the best interest of North Carolina voters, allowing elections this fall to proceed absent the cloud and concern of racially discriminatory voting laws. This decision opens the door for fair and full access to the democratic process for all voters. Hundreds of thousands of North Carolinians will now be able to vote without barriers. The voting booth is the one place where everyone is equal and where we all have the same say.
Read the decision here: