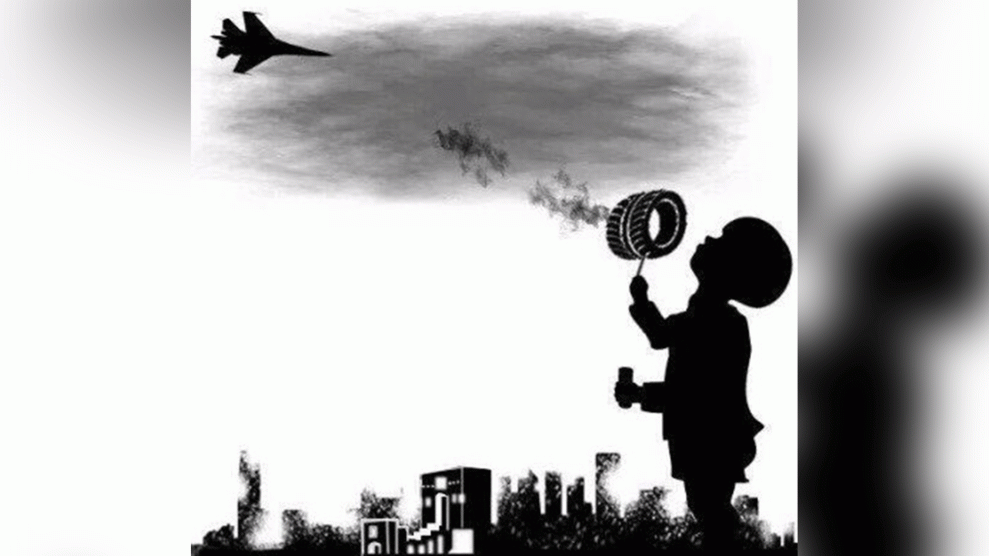 Fight disinformation:
Sign up
for the free
Mother Jones Daily
newsletter and follow the news that matters.
Last month, the Syrian regime successfully encircled the besieged Syrian city of Aleppo and choked off the last remaining rebel supply line. Since then, Syrian forces and their Russian allies have been bombarding the rebel-held half of the city, striking civilian infrastructure including hospitals and markets, and creating what many are calling a "humanitarian catastrophe." Muhammad al-Zein, an administrator who helps oversee hospitals in the rebel-held part of Aleppo, told the Wall Street Journal that airstrikes have hit five hospitals, a clinic, and a medical training institute since pro-Assad forces took control of Castello Road, which had been an access point for food and medical supplies into the besieged city.
"What is happening is to break the will of the opposition," said al-Zein. "They are targeting the infrastructure in order to create a feeling of defeat and surrender."
On Sunday, however, various rebel forces—with the former Al Qaeda affiliate Jabhat al-Nusra, now called Jabhat Fath al-Sham, in a lead role—launched a coordinated surprise counter-offensive in an attempt to break the siege, and over the next two days gained ground against Assad, Hezbollah, and other allied forces, according to Syria Direct. Observers are calling the battle one of the biggest offensives in the Syrian civil war. Charles Lister, a senior fellow at the Middle East Institute, writing of its significance in MEI's Monday Briefing yesterday, called it a "major pivot point" in the Syrian crisis:
The city's Free Syrian Army-dominated Fatah Halab coalition has been planning for the siege since late-2015, with its senior leaders saying they now intend to adopt guerrilla warfare tactics to retaliate against regime targets. More significant, however, has been the reaction of armed groups outside the city. Commanders from Latakia, Hama, Idlib and Aleppo have coalesced to launch what may be the most substantial opposition operation of the conflict. Personal, political and ideological differences have been shelved in order to prioritize a counter-offensive that within 36-hours looks to have the potential to at least temporarily break the siege of the city.
Meanwhile, the city's children have been burning tires in the streets to create do-it-yourself, no-fly-zones to try to prevent Syrian and Russian airstrikes. The burning tires are creating a smoke curtain, impeding the visibility of aircraft carrying out bombing raids. "It's causing confusion for the jets and a diversion for the offensive on the ground that aims to break the siege," Rami Jarrah, a journalist covering Syria, told the BBC. "Everyone is doing it, but to participate in the resistance this is really the only thing the children can do."
Updates, images, and videos of the counteroffensive and the residents' self-made no-fly-zones are spreading on social media under the hashtag #AleppoUnderSiege and #AngerforAleppo. Here's a collection of recent updates:
Children challenge jet fighters in Aleppo, now that's a story. #Aleppo pic.twitter.com/i5rJnD3zgh

— Rami Jarrah (@RamiJarrah) August 1, 2016
An Aleppo resident makes a tongue-in-cheek apology to environmentalists for burning tires.
A sincere apology from a resident in Aleppo to environmentalists around the world #AngerForAleppo pic.twitter.com/mcsmDajl9S

— Rami Jarrah (@RamiJarrah) August 1, 2016
WATCH: Kids make #NoFlyZone in #Aleppo by burning tires!#Syria #AleppoUnderSiege pic.twitter.com/Y0LMErDVyl

— ???? ?????? ??????? (@RevolutionSyria) August 1, 2016
Faisal Irshaid's exclusive video shows burning tires to impair visibility in Aleppo.
Exclusive footage shows burnt tires in #Aleppo to impair vision and create "no-fly zones". #??? pic.twitter.com/RjGhDn5Kem

— Faisal Irshaid (@faisalirshaid) August 2, 2016
#FSA detonated a tunnel bomb in Ramousah district today. pic.twitter.com/vpNVtnQ2Or

— Stork (@NorthernStork) August 2, 2016
This post has been updated.