Two agents with suits and trim haircuts lean against a cubicle wall in the cavernous red-brick building that houses the Bureau of Alcohol, Tobacco, Firearms and Explosives' National Tracing Center in Martinsburg, West Virginia. They're laughing about one of the gun lobby's favorite myths: the notion that the government has a data­base with the names of every gun owner in America, and that one day, maybe very soon, it will sweep across the country to confiscate everyone's weapons.
"We always crack up when they're like, 'You're coming to take our guns,'" says Corey Ray with an eye roll. "Look, we don't have the people." Ray, an ATF spokesman, reels off some facts: More than 10 million guns are made in the United States every year, and another 5 million are imported. That's on top of the estimated 350 million already in Americans' hands. Then consider that there are only 2,600 ATF special agents, and it's not hard to see why gun grabbing isn't just a political fantasy, but a mathematical impossibility. "Even if we were like, 'Yeah, we're coming to take your guns,'" Ray says, "30 years from now you might get a knock on your door."
The ATF has a hard enough time doing the job it's actually set up to do. By design, it's an analog agency in a digital world. The bureau currently gets 2 million new records a month, documents that line the hallways and are stacked head-high in offices throughout the tracing center. The overflow extends to the parking lot, where on the day I visited there were 13 shipping containers crammed with paperwork. Much of it comes from gun dealers that have gone out of business and are required to send their sales records to the ATF. They come in on microfilm, on DVDs, in encrypted files. Some arrive burned, soaked, or on tracing paper. "It makes you wonder if this was done on purpose," says Ray, pointing to a pile of partly shredded documents.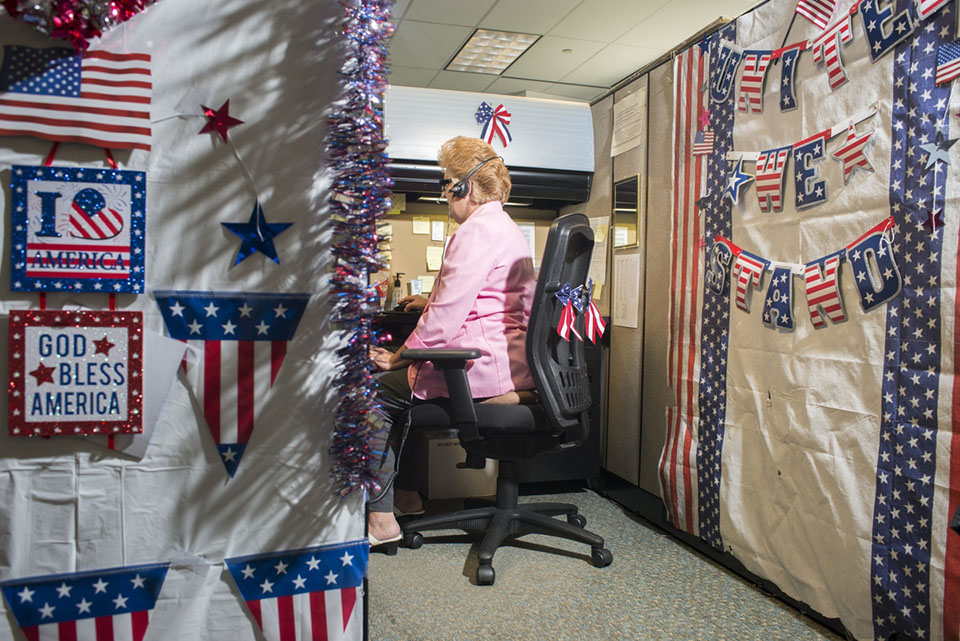 About 370,000 times a year, law enforcement agencies ask the ATF to help track down the origins of a gun that's been trafficked or used in a crime. If the ATF has a gun's serial number—and not all numbers are unique—it will try to track the gun from its manufacturer or importer to its dealer, who must turn over its sales record. In high-profile cases, the ATF can pull off a trace in 24 hours. But the process can be absurd. The 1986 Firearm Owners' Protection Act, passed with the backing of the National Rifle Association, outlaws the creation of a national gun registry. As a result, any documents the ATF scans must be stored as static images that cannot be searched digitally. I watched tracers sitting on the floor, thumbing through pages spread out on the carpet. "It's a fundamentally manual process," says Neil Troppman, the tracing center's program manager. "They may have to end up looking into 18 months' worth of records, page by page."
"I was watching one of the acronym shows, NCIS or CSI or one of those, and there's a body on the ground and a gun in the bushes," Ray recounts. "The detective runs up to it, pulls out his iPhone, and takes a picture of the gun, and it instantly pops up on a screen who bought the gun, where he lives, what his criminal history is. Yeah, that's exactly how it works. 'Go get the microfilm! We gotta get this guy cuffed!' Six hours later—zzzzzzzzz."
The agency estimates that about 50,000 firearms are illegally smuggled across state lines every year, and these weapons—overwhelmingly handguns—fuel everyday gun crime. Ninety percent of the guns used in crimes in New York City, including the last seven murders of police officers, came from outside the state. In Chicago, it's about 60 percent; in Maryland, it's nearly half.

"We always crack up when they're like, 'You're coming to take our guns.' Look, we don't have the people."
In the late '90s, the ATF published reports that identified the guns most commonly recovered at crime scenes. Shooting victims, their families, and cities used this data to sue gun manufacturers and dealers. So the gun industry went to Congress. In 2003, Rep. Todd Tiahrt (R-Kan.) introduced a series of riders to federal spending bills. The Tiahrt Amendments, versions of which have passed every year since, prohibit the ATF from publicly releasing detailed gun trace data and limit its ability to share this data with other law enforcement agencies. "I wanted to make sure I was fulfilling the needs of my friends who are firearms dealers," Tiahrt said. NRA officials, he added, "were helpful in making sure I had my bases covered."
Now the ATF is only allowed to provide specific trace information when a local law enforcement agency asks for it, and only for that particular jurisdiction. "So Baltimore city can't call us and say, 'What is Baltimore County doing?' Or 'What is Maryland State Police doing?' We can only tell them about Baltimore city," Troppman explains.

The ATF's gun-grabbing authority is limited to illegal weapons, some of which wind up in its 20,000-weapon reference collection basking beneath fluorescent lights in a separate wing of the tracing center. Handguns, arranged by make, caliber, and model, fill row after row of drawers. There's an avenue of AR-15s and AK-47s. A gold-plated Kalashnikov that once belonged to Saddam Hussein is displayed behind glass. "The gang violence, they typically use cheaper guns," says Michael Powell, a lanky guy who's one of the ATF's technical firearms specialists. Powell can't tell me which brands are the most commonly trafficked or used in violent crimes; the ATF is barred from sharing that information.
The majority of weapons used in crimes come from a tiny percentage of the nation's gun dealers. But the ATF's ability to crack down on them is also constrained by the Tiahrt Amendments. The bureau is forbidden from requiring gun dealers to conduct inventory checks, something it had proposed after an audit revealed that nearly half the dealers it reviewed couldn't account for all their weapons. Even though false or improper paperwork can be a sign of illegal gun sales, recordkeeping violations are usually misdemeanors. And revoking dealers' licenses or charging them with illegal sales is all but impossible. "A slam-dunk case is going to involve sending in undercover agents or criminal informants to go in and prove on camera that the dealer is somehow willingly participating in some sort of criminal activity," Troppman says. Those investigations require resources the ATF doesn't typically have. Even routine checks on dealers and other federal firearms licensees (FFLs) are rare. "We only inspect about 5 percent of FFLs annually," says Troppman. "We've got 600 inspectors for 140,000 FFLs."
Meanwhile, the NRA wages a perennial fight to keep the ATF's funding at a minimum and prevent it from merging with a more powerful agency, like the FBI. In 2006, the pro-gun group lobbied for an amendment to the Patriot Act that made the ATF's director subject to Senate confirmation. Since then, the ATF has only had one permanent director, who served for less than two years. Todd Rathner, a Second Amendment lobbyist, says it's "twisting it" to suggest the NRA has blocked ATF nominees simply for obstruction's sake. "Look, when [former NRA President] Charlton Heston was alive, if he were nominated to be the director of the ATF, we'd be fine with him being the director," he says.
In January, President Barack Obama proposed adding 200 new agents to the ATF's shrinking, aging workforce. But Congress promptly cut those funds from the ATF's budget. And while Democrats in Washington are pushing for a new round of gun safety measures, no one is calling for the ATF to be reenergized. Chelsea Parsons, the vice president of guns and crime policy at the Center for American Progress, says, "The political challenge of ATF is so overwhelming that they kind of don't know where to start."
"The NRA wants us right where we're at," says the ATF's Troppman. "They have the ear of a big portion of Congress, so they can manipulate what happens. It's, 'You can come this close, but if you come any closer, we're going to make things difficult for you.'"
But the bureau's employees say they do what they can. "ATF prides itself on doing more with less," says David Cheplak, a field agent who helped break up a trafficking ring that ran hundreds of guns from Tennessee to Baltimore in 2015. "You have to be resourceful. There's a lot of changes that could be made that would make our jobs easier, but I don't see those happening in the immediate or faraway future." Troppman says simply, "We do not control our own destiny."