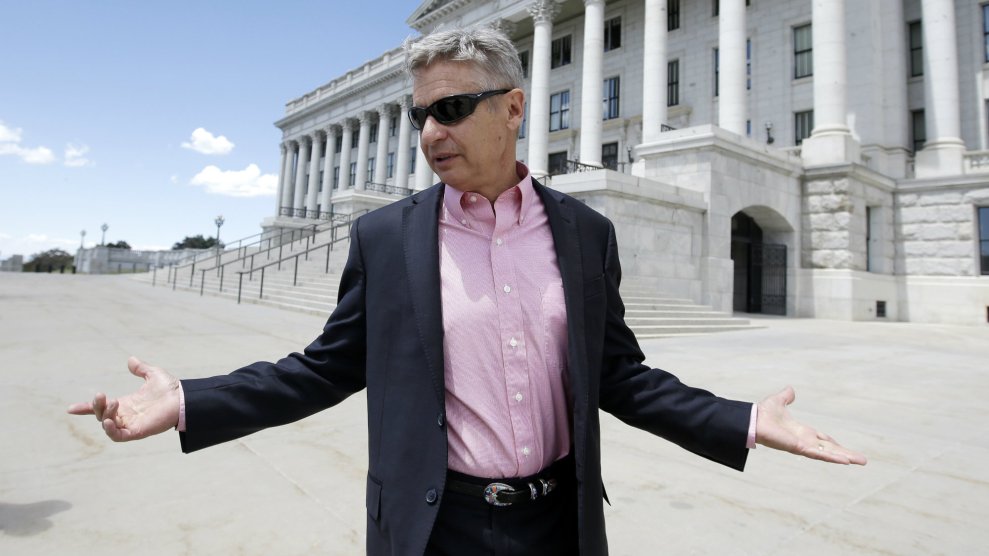 Fight disinformation:
Sign up
for the free
Mother Jones Daily
newsletter and follow the news that matters.
Gary Johnson, the Libertarian Party's quirky nominee for president, opened his speech at a New York City rally Saturday with an unusual statement for a politician: an apology. During a disastrous appearance two days earlier on MSNBC, the former New Mexico governor had replied to a question about Aleppo, Syria—a besieged city that has been devastated by the country's five-year civil war—by asking, "What is Aleppo?" Johnson later claimed that he had simply "blanked," but the comment went viral, making the candidate appear uninformed.
"I wanna start off with an apology to all of you, this whole Aleppo gaffe," he said to the crowd at the beginning of his speech. "Really, all of us work so hard. We care so much about these issues, and I want you to know that I really, really care about these issues."
Many who attended today's rally, however, said Johnson's misstep did not affect their willingness to vote for him in a contest that has been defined by, among other things, Donald's Trump's controversial comments about Muslims, women, and Mexican immigrants.
"If you're gonna judge a whole candidate based on that then you can't really vote for Clinton or Trump…both of them have said way worse things," said Morgan Spicer, a 26-year-old illustrator who is also considering voting for Jill Stein, the Green Party candidate. The fact that Johnson admitted he messed up made a difference for her. "He was a gentleman about it," she said.
Clinton and Trump "are just two sides of the same coin."
Others at the event, including Kyra Chamberlain, 47—who said she and her husband Chris are volunteer coordinators for Johnson in Maine—expressed similar sentiments.
"The fact that he responded right away with an honest and open answer…we needed to get over that stuff and just get back to the issues," Chamberlain said.
Many of Johnson's supporters at the New York rally, including several who said they had backed Bernie Sanders during the Democratic primaries, are attracted to Johnson's non-interventionist foreign policy, his support for the legalization of marijuana, and his support for marriage equality and abortion rights. But for some, Johnson's demeanor is also a selling point.
"I like his positivity," said Eric Antisell, 24, who said that he also voted for Johnson in 2012. "He's not running on fear," Antisell added.
Of the half dozen supporters interviewed by Mother Jones at the event, the majority said they would not consider voting for Trump or Hillary Clinton.
"The two candidates [from the major parties] are just two sides of the same coin," Chamberlain said.
That is an argument that Johnson and his running mate, former Massachusetts Gov. William Weld, both made in their speeches Saturday. "The two parties in Washington really seem to live with no other thought than to destroy each other rather than getting the people's business done," said Weld. Though they now tout the appeal of a third-party option, both Johnson and Weld were Republicans when they served as governors.
While Johnson may have tried to put his Aleppo blunder behind him, not everything at the rally went quite according to plan. When an American flag hoisted on the stage behind him dropped to the floor, Johnson attributed it to something larger.  
"Sometimes I think there is a conspiracy," he said.