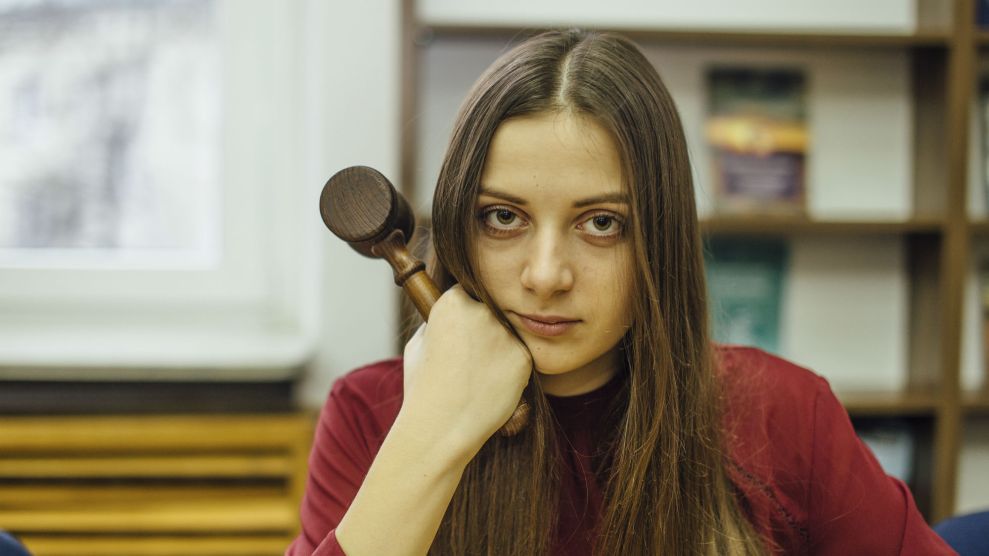 Fight disinformation:
Sign up
for the free
Mother Jones Daily
newsletter and follow the news that matters.
For decades, millions of low-income women have been prevented from getting Medicaid coverage for their abortions—a reality that disproportionately affects abortion access for women of color. The reason? The Hyde Amendment, an appropriations rider preventing the use of federal funding for most abortions. It was first passed in the House 40 years ago today.
Even in 1976, abortion rights advocates recognized that this amendment would prove detrimental to women's reproductive health care access. Soon after its passage, the American Civil Liberties Union and other groups launched a movement to circumvent Hyde by restoring Medicaid coverage for abortions through state constitutions. Today, 15 states provide public funds for abortion coverage. But efforts to repeal the federal funding ban have gained new momentum over the last year, beginning with the introduction of the EACH Woman Act in Congress in July 2015. The bill has been stuck in committee, but this summer another proposal to repeal Hyde cropped up, this time in the Democratic Party platform, a first. Hillary Clinton also announced her support for a repeal. Now, Democrats are trying to use this momentum—as well as the Supreme Court's historic decision in Whole Woman's Health v. Hellerstedt, striking down two abortion regulations in Texas—to rejuvenate debate about the country's ban on public funding for abortions.
But here's the catch: Even if Hyde is repealed, an old and relatively obscure Supreme Court case, Harris v. McRae, could stand in the way of making public funding for abortion a reality.
The McRae case dates back to 1976, three years after the Supreme Court upheld the right to abortion in Roe v. Wade. In those in-between years, low-income women on Medicaid could use their insurance to cover the costs of abortion. And they did: An estimated 300,000 women each year used federal funds through Medicaid to help pay to end their pregnancies. Female federal employees, military personnel, and federal prison inmates also relied on federal money for abortion coverage.
But that changed in 1976, when a freshman congressman from Illinois, Henry Hyde, tacked on to a budget bill an amendment to ban the use of federal dollars toward abortion coverage. Hyde made clear on the House floor that his goal in proposing this amendment was to curb abortion access as much as possible within the confines of the law: "I would certainly like to prevent, if I could legally, anybody having an abortion, a rich woman, a middle-class woman, or a poor woman," he said. "Unfortunately, the only vehicle available is the HEW Medicaid bill."
Immediately after the Hyde Amendment was enacted, a group of abortion rights advocates, including the ACLU and Planned Parenthood, filed a class-action lawsuit against the federal government on behalf of women who needed Medicaid abortions and doctors who wanted to provide them, arguing that the law was unconstitutional because it didn't equally protect the rights of poor women.
"The Supreme Court basically said, 'The government isn't creating the problem. 'If women are too poor to get an abortion, that's not our problem, that's just life.'"
In a 5-to-4 decision in 1980, the Supreme Court upheld the Hyde Amendment, ruling that even though women should have the choice to abort, the government doesn't have an obligation to help. "The Supreme Court basically said, 'The government isn't creating the problem,'" says Mary Ziegler, a legal historian at Florida State University. "'If women are too poor to get an abortion, that's not our problem, that's just life.'"
Congress has approved the amendment every year since 1980, which it has to do because the measure is still just a rider on the budget. Debate over Hyde more or less went dormant after McRae, save for a failed attempt to drop the rider during the Clinton administration. As a result of Hyde, an estimated 1 in 4 low-income women aren't able to get the abortions they want because they can't pay for the procedure.
But Harris v. McRae means getting rid of public funding bans won't be so easy; even if Hyde no longer exists, prohibitions on Medicaid coverage for abortion would still be constitutional, thanks to McRae. States would not be required to change the way they use public money to cover abortion. And given the conservative and often volatile politics around abortion at the state level, it's unlikely most would make an effort to do so.
"To end Hyde but to keep McRae in place is to allow public insurance for abortion to float on the political wind," says Jill E. Adams, a lawyer and the executive director of the Center for Reproductive Rights and Justice at the University of California-Berkeley. "If Hyde were lifted with no further legislative, regulatory, or legal action, it is unclear what would happen in the states. I would guess the status quo of states' Medicaid abortion coverage would remain."
That's why Adams and CRRJ have focused their attention on overturning McRae. "The dream is for the court to say, 'The nature of the abortion right compels the state to furnish the resources necessary to ensure equal access by all people,'" Adams says, because it would effectively invalidate public funding bans.
Repeal-Hyde advocates, including House Reps. Barbara Lee (D-Calif.) and Janice Schakowsky (D-Ill.), probably know that doing away with the budget rider will not remedy the problem. Lee, along with more than 120 co-sponsors, introduced the EACH Woman Act, a bill to require abortion coverage in Medicaid and other public health insurance programs. In that case, with McRae still alive, federal law and Supreme Court precedent would contradict each other. And yet, according to Adams, the law and the ruling would coexist until another court case was brought.
Either way, the two strategies to overturn federal funding bans might not prove successful anytime soon, despite the momentum from Whole Women's Health, according to Ziegler. "In terms of the climate in Congress and the will to move abortion policy, it's going to be really hard to get rid of Hyde."
This article has been revised.