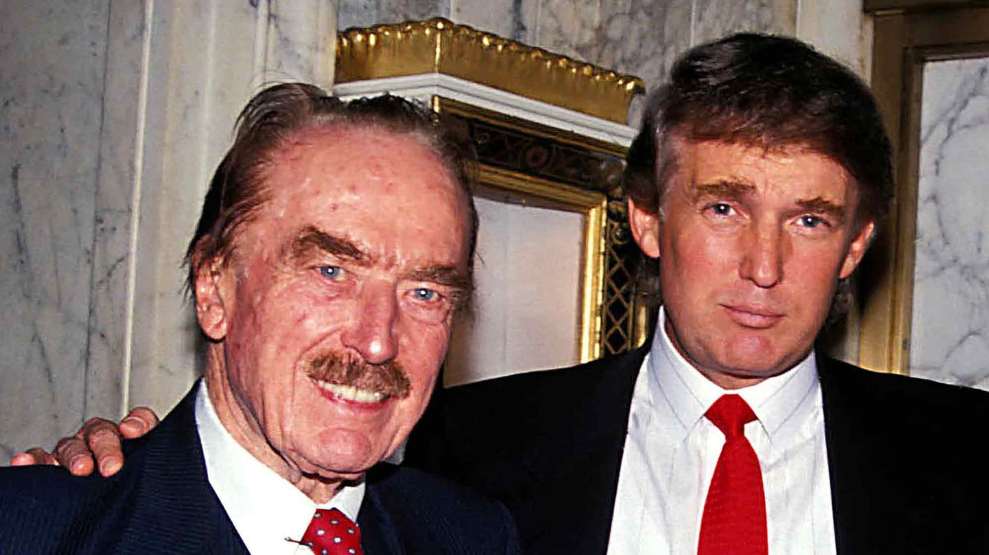 Fight disinformation:
Sign up
for the free
Mother Jones Daily
newsletter and follow the news that matters.
At the first presidential debate, Hillary Clinton brought up a notable and much-covered chapter in Donald Trump's business career: when the Justice Department in 1973 sued the Trump family real estate business founded by his father Fred for discriminating against African Americans seeking to rent apartments in its buildings in New York City and Norfolk, Virginia. Donald Trump, who was president of the firm at the time of the lawsuit, tried to downplay the matter, noting, "We along with many, many other companies throughout the country, it was a federal lawsuit, were sued. We settled the suit with zero—with no admission of guilt. It was very easy to do." Trump didn't acknowledge that federal investigators had gathered compelling evidence of bias (Trump employees had coded applications from minorities with a "C" for colored) and that his company had fiercely battled the suit for two years before signing a consent decree—hailed by equal housing advocates—that would guarantee the desegregation of Trump properties. In 1978, though, the Justice Department accused the Trumps of violating the agreement and charged they were still discriminating against African Americans, but that case fizzled out by 1982.
Trump addressed none of these troubling details at the debate. Nor did he mention another relevant fact, which has not received prominent coverage during the current presidential campaign: just as the Trumps' standoff with the Justice Department was winding down, their real estate business was hit by a group of similar lawsuits for again allegedly discriminating against black New Yorkers looking for apartments.
The suits charged Fred Trump and the other defendants with "steering black persons away from predominantly white apartment buildings and into predominantly black or racially mixed apartment buildings."
In April 1982, the Open Housing Center, a fair housing advocacy outfit, filed class action lawsuits against several landlords and real estate brokers on behalf of nine African Americans who had been denied apartments in Queens. (The Open Housing Center had years earlier provided the Justice Department with information used in the 1973 housing discrimination case against Fred and Donald Trump.) The defendants in these suits included Fred Trump and Coronet Hall Inc., a Trump company that owned a apartment building in Queens. Donald Trump was not named in the lawsuits, but at that point, he was an owner of Coronet Hall and a senior officer of Trump Management Inc., which controlled various Trump companies, including Coronet Hall.
The suits charged Fred Trump, Coronet Hall, and the other defendants with "steering black persons away from predominantly white apartment buildings and into predominantly black or racially mixed apartment buildings, denying housing or making housing unavailable on the basis of race, discriminating in the provision of brokerage services and representing to persons that dwellings are not available for inspection, sale or rental when such dwellings are in fact so available, based on the race of those persons." These actions, the suits asserted, violated the Fair Housing Act and various civil rights laws.
The suits claimed that an African American plaintiff inquiring about an apartment in a Trump building "was not told of or shown these apartments because Kraham [a leasing agency] and Trump follow a practice of not telling blacks of the availability for rent or inspection of apartments" in this building. It alleged that Trump and the other landlords in the case "have evidenced a pattern, practice and policy" of racial discrimination.
The Open Housing Center, with the help of a federal grant, had used a traditional tactic to investigate housing discrimination regarding these properties. It sent "testers" to real estate brokers for several Queens apartment buildings in the neighborhoods of Forest Hills, Kew Gardens, and Rego Park—including two Trump properties. The black and white testers each told the brokers they were looking for an apartment in these neighborhoods and each provided similar details about income and family status. The suits alleged that the brokers treated the black testers differently and kept them away from certain buildings. For example, white testers were told about vacancies in the Coronet Hall-owned building, but African American testers were not, according to legal filings.
Fred Trump and Coronet Hall denied the accusations of bias—and demanded, with the other landlords and brokers, that the case be dismissed and their legal costs be paid by the plaintiffs. For about two years, Fred Trump and the other defendants vigorously contested the case.
But in 1984, a settlement was reached. Five real estate brokers and eight landlords, including Trump and Coronet Hall, agreed to pay the plaintiffs $40,000 collectively and to make one out of every four apartments in the three Queens neighborhoods available to black renters. As was customary in such cases, the landlords and brokers admitted no guilt. The consent order signed by all the parties "enjoined" the defendants "from discriminating in any manner whatsoever against any person because of race or color." The defendants agreed to place ads for rentals in publications aimed at "the black community" and were given 30 days to conduct and complete "an educational program" for employees with rental responsibilities.
A small wire service story in the New York Times, under the headline, "Landlords Settle In Race Bias Suit," reported the settlement—the case had drawn little press attention—and noted that one of the defendants was Trump Management and that the "president of Trump Management is Fred Trump, father of the real-estate developer Donald Trump."
Once more, Donald Trump's business had been caught allegedly discriminating against African Americans, and it yet again agreed to a consent decree vowing not to engage in racial bias. (In 1969, Trump's company was sued for racial discrimination related to a large Cincinnati apartment complex it owned, but the case was eventually dismissed after Fred Trump agreed to rent an apartment to a young black couple who had been denied an apartment.) It may have been "easy," as Trump said at the presidential debate, for his family business to deal with the 1973 federal discrimination lawsuit, but it appears it was tough for the Trump company to change its ways.
A 1982 complaint against Fred Trump, Coronet Hall, and other defendants:
The 1984 consent decree: