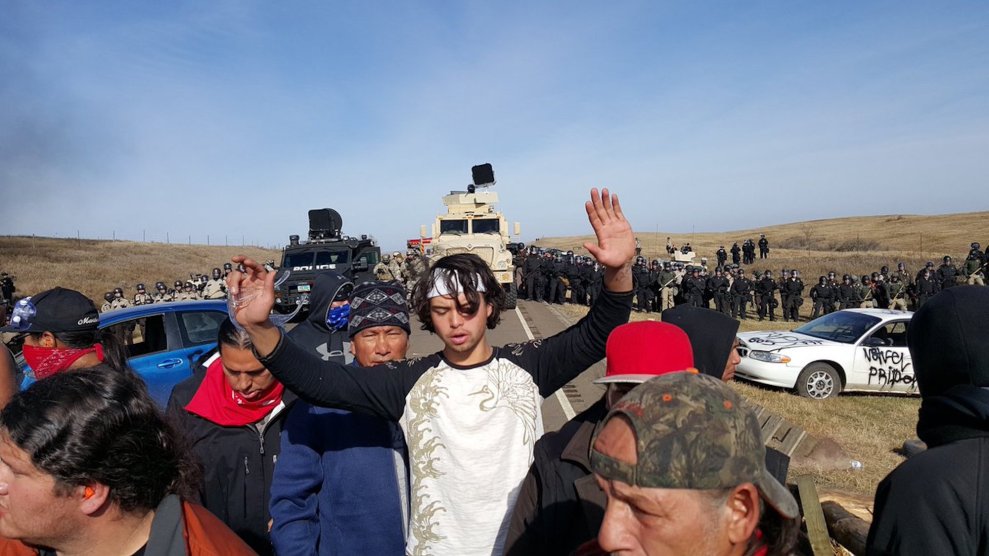 Facts matter:
Sign up
for the free
Mother Jones Daily
newsletter.
Support
our nonprofit reporting.
Subscribe
to our print magazine.
Police in North Dakota Thursday are moving in on hundreds of demonstrators, including members of the Standing Rock Sioux Tribe, who are challenging the construction of the Dakota Access Pipeline. Protestors say the project threatens the area's water supply and destroys sacred Native American sites.
Our reporter Wes Enzinna is live on the scene:
— wes enzinna (@wesenzinna) October 27, 2016
A barricade on route 1806 #NODAPL #DAPL pic.twitter.com/EJbHjv5pQL

— wes enzinna (@wesenzinna) October 27, 2016
#DAPL pic.twitter.com/0JVF2o1DKx

— wes enzinna (@wesenzinna) October 27, 2016
"Go to the main camp, you will not be arrested if you go south to the main camp" –cop at barricade on 1806 #DAPL #NoDAPL

— wes enzinna (@wesenzinna) October 27, 2016
"We do what we want here, you have no authority here…shut the fuck up white man!" Youth on barricade to cop #NODAPL #DAPL

— wes enzinna (@wesenzinna) October 27, 2016
#DAPL cop cars on hill above camp pic.twitter.com/IQUu5Y9hJV

— wes enzinna (@wesenzinna) October 27, 2016
Police encroaching northern edge of 1806 right now #standing rock #DAPL #NoDAPL pic.twitter.com/sk0KQlckWA

— wes enzinna (@wesenzinna) October 27, 2016
"It's a state highway, we are going to clear this highway today" -cop pic.twitter.com/IW6dSuuhJ4

— wes enzinna (@wesenzinna) October 27, 2016
#DAPL pic.twitter.com/PrONnoz8om

— wes enzinna (@wesenzinna) October 27, 2016
Part of the police presence on 1806 right now. "If you do not walk south you will be arrested." ##DAPL #NoDAPL pic.twitter.com/HbAlfB034v

— wes enzinna (@wesenzinna) October 27, 2016
Police said they will defend themselves against horses if necessary #DAPL #NoDAPL pic.twitter.com/5yWqKBUeGW

— wes enzinna (@wesenzinna) October 27, 2016
About to rush the camp #DAPL #NoDAPL pic.twitter.com/7PVwZnj5u8

— wes enzinna (@wesenzinna) October 27, 2016
This is what cops are walking toward on 1806 #NoDAPL #DAPL pic.twitter.com/F0khkRPSeT

— wes enzinna (@wesenzinna) October 27, 2016
"Hands up, don't shoot," crowd chants. #DAPL #NoDAPL pic.twitter.com/kxxUkbFWL3

— wes enzinna (@wesenzinna) October 27, 2016