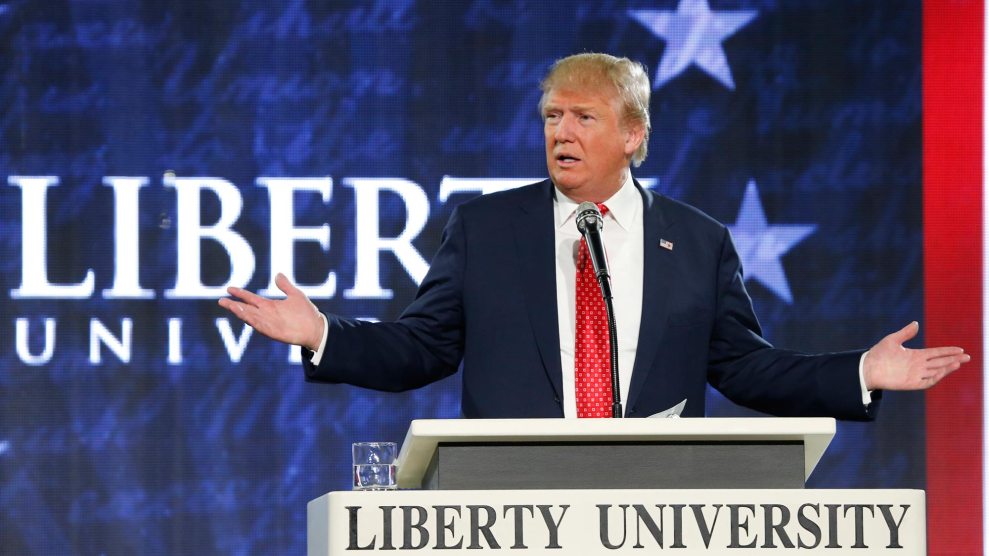 Fight disinformation:
Sign up
for the free
Mother Jones Daily
newsletter and follow the news that matters.
Ten women have accused Republican presidential nominee Donald Trump of sexual assault, most of them stepping forward in the last few weeks. Their allegations follow the release of an Access Hollywood tape in which Trump brags about groping and kissing women without their consent, saying that "when you're a star, they let you do it. You can do anything." Trump has repeatedly denied all the assault allegations, and during the second presidential debate he insisted he never actually engaged in the behavior he described on the tape.
Many Republicans have condemned Trump, but a number of evangelical leaders—including Liberty University President Jerry Falwell Jr. and Christian Broadcasting Network host Pat Robertson—have continued to defend him. "He's trying to look like he's macho," Robertson said on The 700 Club of the leaked tape. "But in the meantime, he speaks to adoring thousands wherever he goes."
For many Christian women, Trump's "macho" boasts demanded a response. Over the last week, a group of more than 1,000 Christian women have signed on to a letter strongly condemning Trump's comments and calling out the leaders of their religious community for making excuses on behalf of the Republican nominee.
"The sin of misogyny has caused many of us to experience sexual assault or sexually abusive language that threatened our safety, dignity and well-being," the group notes in the letter. "Christian leaders cannot condone such violent speech about women as a minor mistake or an innocent attempt to be 'macho.'"
The open letter was posted last week and organized by the Reverend Jennifer Butler, CEO of Faith in Public Life. She told the Religion News Service that within the first hour of the letter's posting by FPL, more than 400 female Christian leaders signed it.
"Women clergy and lay leaders are alarmed that Trump has dismissed his sexually abusive remarks as mere 'locker room' talk, and we are deeply troubled by the emerging evidence of him engaging in the behavior he described on his offensive tape," Butler said in a press release announcing the letter's publication. "Trump has not offered true repentance. Congregations must lead the way in denouncing such vile and violent behavior."