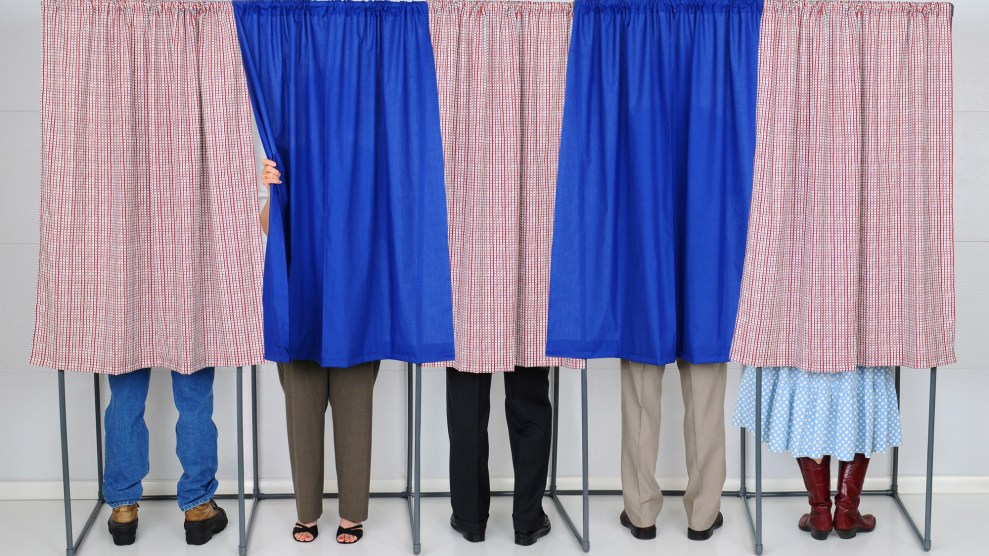 Bob Schneider's blood ran a deep, Republican red. His ancestors, he says, were some of the first to join the party after freeing their slaves. As a young boy, Schneider rode his bicycle through his Illinois neighborhood to hand out campaign flyers for GOP candidates. Schneider later spent his career in public affairs in Washington, DC.
"My life was the GOP," says Schneider. "My identity was wrapped up in the GOP."
"My identity was wrapped up in the GOP."
Fast forward to recent years, and Schneider says he no longer recognized his political party. Why did being a Republican by today's standards mean you had to oppose abortion rights and totally deny climate change? "It was becoming embarrassing to say, 'I'm a Republican, but…'"
And then came the party's 2016 presidential nominee.
"Donald Trump is not the cause of the Republican Party falling apart," he says. "The Republican Party falling apart is the reason they have Donald Trump."
Schneider, now an independent and a self-described "political orphan," discusses his party shift with Stephanie Lepp on this week's episode of Inquiring Minds. The episode is a joint production with Lepp's podcast, Reckonings—a show about big issues that makes us change our mind. This week, Lepp shares interviews with Republicans who recently turned away from a party they once thought spoke for them:
Of course, Schneider's perspective isn't universal. Trump has clearly struck a chord with many voters, especially blue-collar white men. Also on this episode, Indre Viskontas talks with acclaimed sociologist Arlie Hochschild about the controversial real estate mogul's popularity in many parts of the country. Curious about this group of voters and the increasing divide between parties, Hochschild traveled 2,000 miles from the left-wing bubble of Berkeley, Calif., to Louisiana back in 2011. She interviewed hundreds of Republicans, many of whom would eventually become Trump supporters.
"I felt I had come to understand the kindling and then had met the match that lit it."
"I felt I had come to understand the kindling and then had met the match that lit it," says Hochschild.
Hochschild chose Louisiana for her research because it fit what she calls the "red state paradox." In 2012, it was one of the poorest states in the union—44 percent of its budget came from the federal government—yet voters overwhelmingly support the tea party and Trump. In a recent article for Mother Jones, Hochschild described these voters' world views:
The deep story of the right goes like this:

You are patiently standing in the middle of a long line stretching toward the horizon, where the American Dream awaits. But as you wait, you see people cutting in line ahead of you. Many of these line-cutters are black—beneficiaries of affirmative action or welfare. Some are career-driven women pushing into jobs they never had before. Then you see immigrants, Mexicans, Somalis, the Syrian refugees yet to come. As you wait in this unmoving line, you're being asked to feel sorry for them all. You have a good heart. But who is deciding who you should feel compassion for? Then you see President Barack Hussein Obama waving the line-cutters forward. He's on their side. In fact, isn't he a line-cutter too? How did this fatherless black guy pay for Harvard? As you wait your turn, Obama is using the money in your pocket to help the line-cutters. He and his liberal backers have removed the shame from taking. The government has become an instrument for redistributing your money to the undeserving. It's not your government anymore; it's theirs.

I checked this distillation with those I interviewed to see if this version of the deep story rang true. Some altered it a bit ("the line-waiters form a new line") or emphasized a particular point (those in back are paying for the line-cutters). But all of them agreed it was their story. One man said, "I live your analogy." Another said, "You read my mind."
Many speculate that advances made by traditionally marginalized groups have contributed to Trump's popularity. African Americans, women, and Latinos have made big economic gains in the past 40 years, but the same isn't so for working-class white men. Hochschild explains how this mentality of being left behind is fodder for Trump's "Make America Great Again" rhetoric and how the presidential candidate speaks directly to this group:
Trump, the King of Shame, has covertly come to the rescue. He has shamed virtually every line-cutting group in the Deep Story—women, people of color, the disabled, immigrants, refugees. But he's hardly uttered a single bad word about unemployment insurance, food stamps, or Medicaid, or what the tea party calls "big government handouts," for anyone—including blue-collar white men.
Alex Mamach is one of those white men. Originally from Illinois, Mamach tells Lepp that when Trump first started speaking, "it was absolutely cathartic." Trump personified the anger he felt at a political system that seemed to be full of "people who were insisting that you didn't exist or didn't deserve to be paid attention to."
But when Mamach bought a house in a working class neighborhood and got to know his neighbors—immigrants, African Americans, and Latinos—his perspective began to change. "All of these people have so much to lose," he says. The question of who to vote for haunted him. "Trump is a Band-Aid on a gunshot wound," he says. "What I really want is to feel that we're all working together."
In the end, Schneider and Mamach say they voted for Hillary Clinton.
Inquiring Minds is a podcast hosted by neuroscientist and musician Indre Viskontas and Kishore Hari, the director of the Bay Area Science Festival. To catch future shows right when they are released, subscribe to Inquiring Minds via iTunes or RSS. You can follow the show on Twitter at @inquiringshow and like us on Facebook.
Reckonings is a podcast that explores how people fundamentally change their hearts and minds. Guests range from policymakers to high school students, and business leaders to artists—all of whom share a willingness to wrestle with transformation. It's produced by Stephanie Lepp, with theme music was composed by Chris Peck. Climate Desk readers should check out Reckonings' interview with former Rep. Bob Inglis (R-S.C.) about his conversation from climate change skeptic to one of the nations's leading voices calling for action to address global warming.