It's official. Donald Trump won.
The next presidential election is four years away. It's hard to imagine Hillary Clinton making a third attempt at the White House. Joe Biden will be 77 years old. Bernie Sanders will be 79. But there are plenty of other Democrats who might take a shot, and if history is any guide, they could start jumping into the race as early as 2018. So here, in no particular order, is our very early list of the Democrats who might make a run:
Elizabeth Warren
An obvious place to start. Warren, an anti-Wall Street crusader, has an impressive following among progressives and a knack for generating huge publicity online. Plus, the Massachusetts senator loves going after Trump:
Let's be honest – @realDonaldTrump is a loser. Count all his failed businesses. See how he cheated people w/ scams like Trump U.

— Elizabeth Warren (@elizabethforma) March 21, 2016
Tim Kaine
Despite some criticism of his debate performance, the Democrats' 2016 VP candidate is emerging from the campaign relatively unscathed. The Virginia senator remains reasonably popular in his home state, where he previously served as governor. He has a quietly impressive progressive record, and—until last night—he'd never lost a race.
Amy Klobuchar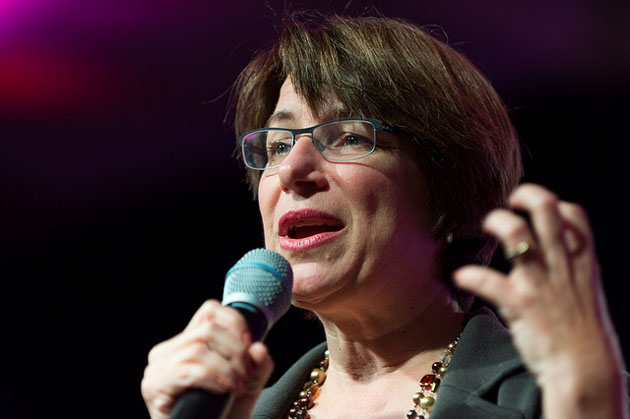 The Minnesota senator has sky-high approval ratings. She's already been the subject of presidential speculation. She told the Star Tribune last year that she's given some thought to running for governor or the White House.
Kirsten Gillibrand
After Clinton became secretary of state, Gillibrand replaced her as New York's junior senator. Will Gillibrand succeed Clinton as the party's presidential nominee, too?
Kamala Harris
The California attorney general was elected to the US Senate on Tuesday. If she decides to take on Trump, she'll have served in federal office for only a couple of years—which is exactly how long Barack Obama served in the Senate before launching his White House bid. In a headline last year, the Washington Post asked, "Is Kamala Harris the next Barack Obama?"
Tammy Duckworth
After two years as assistant secretary of veterans affairs and two terms representing her Illinois district in Congress, Duckworth defeated GOP Sen. Mark Kirk on Tuesday. An Iraq War veteran, Duckworth was awarded the Purple Heart after losing both her legs in combat. Following two consecutive Democratic nominees who made history, the party could select a third by tapping the first Asian American major-party nominee.
Cory Booker
The New Jersey senator and former Newark mayor has a reputation as a political reformer. His first attempt to run for mayor against an entrenched political machine is chronicled in the documentary Street Fight. He once saved a woman from a burning building.
Martin O'Malley
The former Maryland governor's style—a bland mix of liberalism and technocratic competence—never really caught on this time around. But after a couple of years of Trump, who knows?
Chris Murphy
The Connecticut senator got a bit of buzz earlier this year as a possible running mate for Clinton. He's perhaps best known for his outspoken gun control advocacy in the wake of the Sandy Hook massacre in his state. In June, he received substantial media attention when he spearheaded a 15-hour filibuster in support of firearms legislation.
John Hickenlooper
The Colorado governor is generally disliked by environmentalists because of his coziness with the state's fracking industry. Still, his name was floated this year as a possible VP pick, and he's a popular politician in a swing state.
Michelle Obama
Former Barack Obama adviser David Axelrod recently declared that he "would bet everything" he owns that Michelle Obama won't run for office. But the popular first lady clearly has no love for Trump, and if she did choose to seek the nomination, it's hard to imagine another Democrat beating her. Sure, she's never held an elected office of her own—but you know who else hasn't?
This article was revised on November 9 to reflect election results.