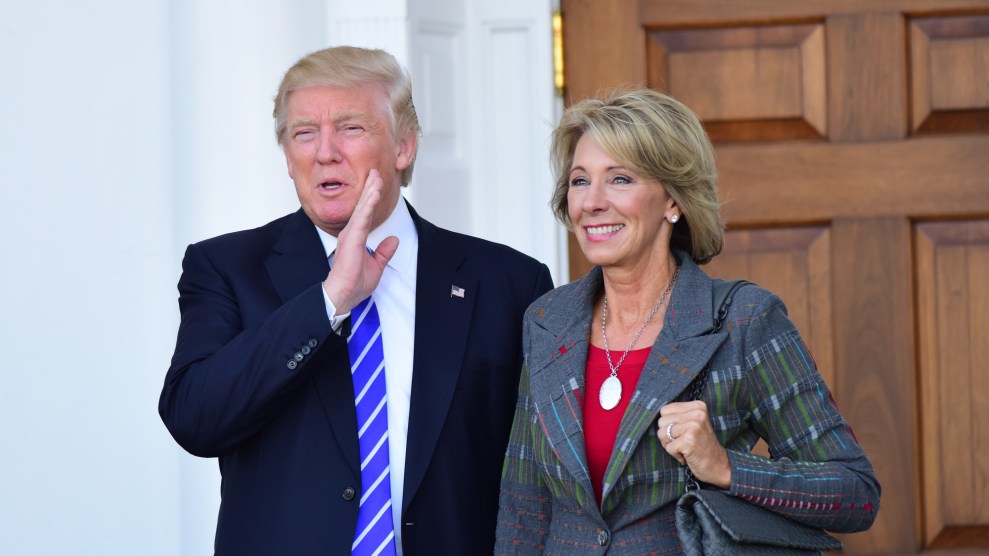 Fight disinformation:
Sign up
for the free
Mother Jones Daily
newsletter and follow the news that matters.
President-elect Donald Trump has reportedly chosen Betsy DeVos to be his first secretary of education—and, according to Bloomberg's Jennifer Jacobs, the Michigan Republican has accepted the job.
Former Mother Jones reporter Andy Kroll profiled the DeVos family and its "plan to defund the left" in these pages back in 2014:
The Devoses sit alongside the Kochs, the Bradleys, and the Coorses as founding families of the modern conservative movement. Since 1970, DeVos family members have invested at least $200 million in a host of right-wing causes—think tanks, media outlets, political committees, evangelical outfits, and a string of advocacy groups. They have helped fund nearly every prominent Republican running for national office and underwritten a laundry list of conservative campaigns on issues ranging from charter schools and vouchers to anti-gay-marriage and anti-tax ballot measures. "There's not a Republican president or presidential candidate in the last 50 years who hasn't known the DeVoses," says Saul Anuzis, a former chairman of the Michigan Republican Party.
Betsy is a member of the conservative clan through her marriage to Dick DeVos.
Betsy, who is 56, is the political junkie in the relationship. She got her start in politics as a "scatter-blitzer" for Gerald Ford's 1976 presidential campaign, which bused eager young volunteers to various cities so they could blanket them with campaign flyers. In the '80s and '90s, Betsy climbed the party ranks to become a Republican National Committeewoman, chair numerous US House and Senate campaigns in Michigan, lead statewide party fundraising, and serve two terms as chair of the Michigan Republican Party. In 2003, she returned at the request of the Bush White House to dig the party out of $1.2 million in debt. A major proponent of education reform, Betsy serves on the boards of the American Federation for Children, a leading advocate of school vouchers, and Jeb Bush's Foundation for Excellence in Education, which supports online schools.
Read the whole profile.