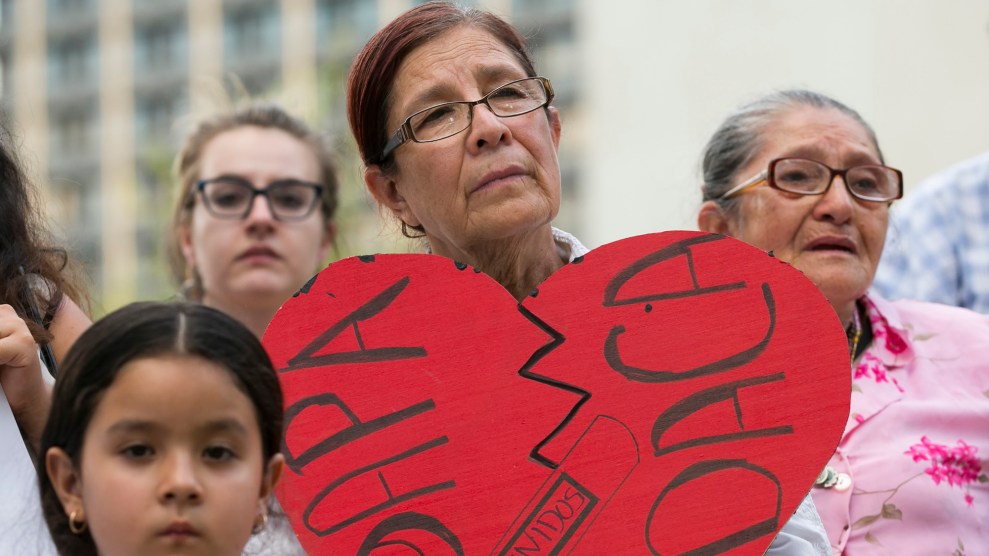 Fight disinformation:
Sign up
for the free
Mother Jones Daily
newsletter and follow the news that matters.
With Donald Trump taking office in less than two months, immigration lawyers and advocates are trying to reassure their nervous clients that there is hope for them despite the president-elect's caustic anti-immigrant rhetoric during the campaign. But those lawyers say they know almost as little as their clients about what the Trump administration may do, and they are telling many undocumented immigrants to stay in the shadows rather than rushing to find paths to legal status in the remaining weeks of the Obama administration.
"There's just a lot of fear about what's going to happen, and a lot of that has to do with the language and the sort of hate-mongering that we heard during the campaign," says Lindsay Toczylowski, the executive director of Immigrant Defenders Law Center in Los Angeles. "I think that fear of the unknown has just resulted in sort of extreme caution." Even immigrants with clear paths to green cards or other forms of legal status have been scared enough to wonder if they should still go forward with their applications, she says.
"We're fielding dozens of phone calls," she adds. "All of our attorneys' phones are kind of ringing off the hook."
Tocyzlowski and other immigration attorneys say they have little idea of what concrete actions will occur under President Trump. Trump has not named his choice for secretary of homeland security, and he has offered few details about policies he will implement. But one major program likely on the chopping block is Deferred Action for Childhood Arrivals. President Barack Obama issued an executive order in 2012 establishing DACA, which allows undocumented immigrants who were brought to the United States as children to apply for three-year work permits and exemptions from deportation. They can then renew their DACA status for a second three-year period. The immigration plan that Trump issued during the campaign specifically calls for ending DACA, describing it as "illegal executive amnest[y]."
Because DACA was created by executive order, it can simply be abolished with another order. "It's the one that we know in January could be the easiest one to be done away with," says Jamilah Espinosa, an immigration attorney in Woodbridge, Virginia. Rather than have clients rush to submit applications before Trump takes office, the lawyers who spoke to Mother Jones are telling their undocumented clients to stay hidden, lest they give their information up to a government looking for deportation targets come January 20. All say other immigration lawyers they know are doing the same.
Lawyers are telling their undocumented clients to stay hidden, lest they give their information up to a government looking for deportation targets.
For one thing, says Anam Rahman of the Virginia-based law firm Calderón Seguin, there's no time for those applications to be resolved before Obama leaves office. "I don't think that they will be adjudicated before January 20—in fact, that's basically impossible," Rahman says. As of September, wait times around the country for DACA applications were at least five months. That means losing a $465 application fee for potentially nothing. "That is a lot of money to these people," she says, "and I don't think they'll get a benefit at the end of the day."
The risk to the applicants themselves is even greater. "People do kind of come out of the shadows and give all of their information about where they live and where they have lived and even about their family members," Rahman says, "and they're giving that all over to the government to get a benefit that's largely speculative. That's putting it in the best light. They could just round up all the people with DACA." That prospect is real enough that Rahman says her firm is even advising clients who have moved since enrolling in DACA not to fill out renewal applications, for fear of providing a potential Trump deportation force with a road map to their doorsteps.
Rahman and other lawyers are hopeful that a mass sweep of DACA status-holders won't happen. Mass deportations would require more resources and personnel, which may be a roadblock to Trump's plan. "Our current system is overburdened even at the pace that it was moving under the Obama administration," Rahman says. And while Toczylowski says she expects that "raids and other enforcement actions are right around the corner," there's no way to know whom they will target. "I don't think that people who are eligible for DACA are really going to be a priority for the Trump administration," Rahman says. "But that's just my optimistic speculation. I don't really know."
Trump told 60 Minutes two weeks ago that he would immediately move to deport 2 million to 3 million undocumented immigrants with criminal records. "What we are going to do is get the people that are criminal and have criminal records, gang members, drug dealers," he said. But there is no indication of what would classify someone as having a criminal record, stoking fears that minor offenses such as driving without a license could result in deportation. A draft plan carried into a meeting with Trump by Kris Kobach, a longtime anti-immigration advocate who is a candidate for secretary of homeland security, advocated issuing new policy guidelines that define "criminal aliens" as undocumented immigrants arrested for any crimes. "All of that just results in a lot of fear in the community, a lot of uncertainty," Toczylowksi says.
Either way, Toczylowski says, immigration lawyers and advocates are "digging our heels in and preparing for the fight of our lives."