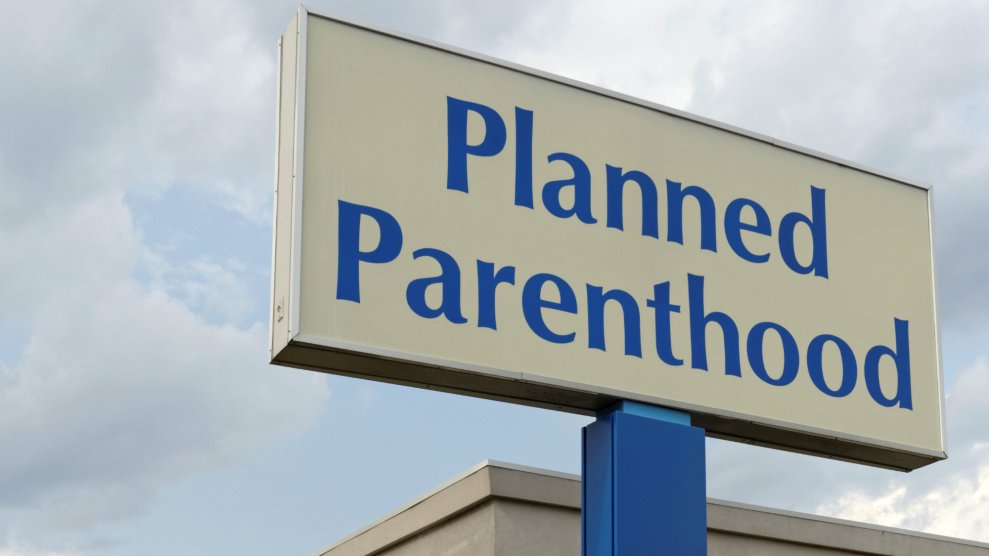 Fight disinformation:
Sign up
for the free
Mother Jones Daily
newsletter and follow the news that matters.
States will not be allowed to block federal funding to health care providers for performing abortions, thanks to under a new rule from the Obama administration. Under the regulation, states will be prohibited from withholding federal grants for family planning from Planned Parenthood. On Wednesday, the Department of Health and Human Service finalized the rule, which was first proposed about three months ago.
The move comes in the wake of a national effort by Republicans to defund Planned Parenthood—both in statehouses around the country and in Congress—which took off after the anti-abortion nonprofit Center for Medical Progress released secretly recorded and deceptively edited videos in 2015 that it claimed showed Planned Parenthood officials discussing the illegal sale of fetal tissue. The videos have been widely discredited, but the attacks on access to reproductive health care continue.
President Barack Obama warned states earlier this year that they'd be "out of compliance with federal law" if they refused to make Medicaid payments to Planned Parenthood clinics. Several states have tried to block Medicaid funds, which they receive from the federal government and distribute to health care providers, from going to clinics that perform abortions, even though federal law already prohibits that money from being used for abortions in almost all cases. State courts have also found restrictions illegal because they limit health care access for low-income recipients.
But the question of whether states can choose to withhold family planning grants—known as Title X funds—from health care providers that perform abortions has remained unanswered until now. According to Planned Parenthood, 85 percent of people who benefit from Title X have incomes below the federal poverty line, and nearly half are uninsured.
The rule prohibiting states from withholding Title X funds will go into effect just two days before President-elect Donald Trump takes office. Trump has said he wants to defund Planned Parenthood.
"President Obama has cemented his legacy as a champion for women's health," Cecile Richards, president of Planned Parenthood, said in a statement. "This rule protects birth control, cancer screenings, STI testing and treatment, and other health care for millions of people. Yet this fight is not over. We are deeply concerned about the future of health care access in this country with extremists like Mike Pence and and Tom Price at the helm."
Price, Trump's pick for secretary of health and human services, has a long history of working to limit access to contraception and abortion, as Mother Jones reported last week. Reproductive rights advocates are also concerned about Congress, where both chambers voted a year ago to defund Planned Parenthood. Only Obama's veto stood in the way.