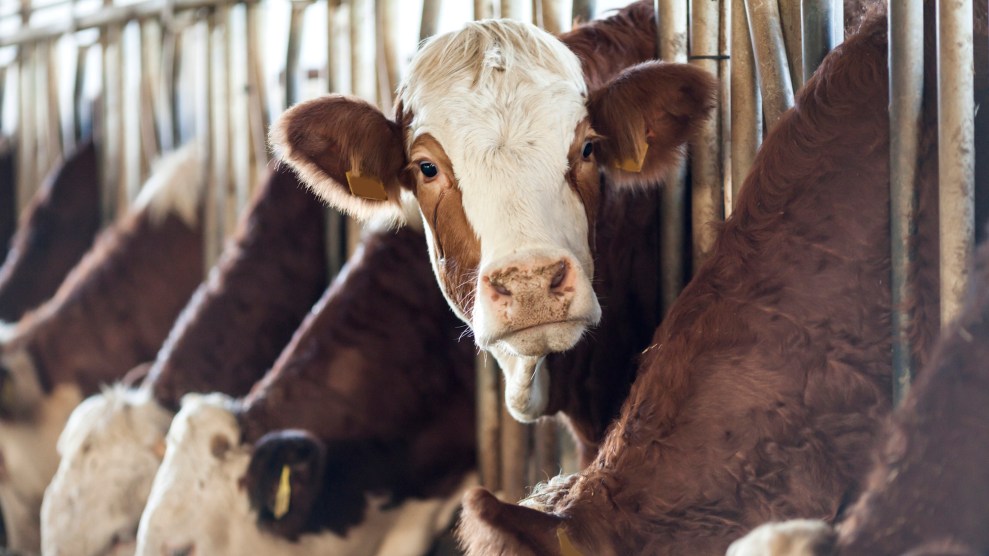 Fight disinformation:
Sign up
for the free
Mother Jones Daily
newsletter and follow the news that matters.
UPDATE: The US Dairy Council confirmed Tuesday that Tom Vilsack, who exited his post as secretary of the US Department of Agriculture on Friday, will be the group's new president and CEO, effective Feb. 1.
While Donald Trump mulls which interesting character to place atop the US Department of Agriculture, Barack Obama's choice for that job may have settled on his post-exit plan. USDA Secretary Tom Vilsack, who has persevered in that role through both of Obama's terms, will become president and CEO of the US Dairy Export Council when he leaves office this month, reports the trade journal Agri-Pulse, citing a "source familiar with his plans."
If the report turns out to be true, Vilsack's new role will represent quite a swish through the revolving door separating government agencies and the industries they regulate.
Neither Vilsack's office nor the US Dairy Export Council will confirm or deny the report. But the item is worth taking seriously—Agri-Pulse reporter Philip Brasher, who has a co-byline on the piece, is a longtime and highly reliable purveyor of DC ag-politics news.
If the report turns out to be true, Vilsack's new role will represent quite a swish through the revolving door separating government agencies and the industries they regulate. The USDA exerts enormous influence over the dairy market through its Federal Milk Marketing Orders, which help set the price farmers get paid for milk. The USDA has also long boosted Big Dairy in other ways, from maintaining a "food group" devoted to it in dietary guidelines to buying milk products for federal nutrition programs, as Josh Harkinson showed in 2015.
The US Dairy Export Council (DEC) describes itself as a "non-profit, independent membership organization that represents the global trade interests of U.S. dairy producers, proprietary processors and cooperatives, ingredient suppliers and export traders." The organization boasts quite a list of member organizations. It includes massive companies that buy milk and process it into exportable products: PepsiCo (a maker of yogurts), Starbucks (milk-laced bottled coffees), and Land O'Lakes (butter and cheese). Then there are enormous dairy-processing cooperatives like Dairy Farmers of America, which just this past June agreed to pay $50 million to settle a suit alleging that DFA colluded with milk giant Dean Foods to lower the price paid to thousands of farmers for their milk. And there's also powdered-milk giant DairyAmerica, which is embroiled in a similar suit filed by farmers.
Companies that supply pharmaceuticals to large-scale dairy producers are also represented: Elanco, the animal arm of pharma giant Lilly; and Zoetis, Pfizer's animal spin-off.
The USDA doesn't just regulate the same industry the US Dairy Export Council represents. It's also a substantial funder of the group. The DEC is funded mainly by the dairy checkoff, a federal program overseen by the USDA in which dairy farmers pay 7.5 cents for every 100 pounds of milk they sell into a fund used to promote the industry. And then there are direct grants. As Pete Hardin, publisher of the great dairy newsletter The Milkweed, pointed out to me, the USDA's Market Access Program doles out annual grants to "share the costs of overseas marketing and promotional activities that help build commercial export markets for US agricultural products and commodities." The US Dairy Export Council brought in more than $16 million since the fiscal year 2014 from the program (here, here, here, and here).
There's no reason to assume the US Dairy Export Council got special treatment from Vilsack's USDA. Other similar industry-aligned nonprofit federations—including the US Meat Export Federation and the Western US Agricultural Trade Association—got even more. Still, it's bracing to see the head of a federal grant-giving agency jump to a group funded by that agency.
If Vilsack does take the role, he's looking at the prospect of a sweet paycheck, if the compensation package for the outgoing president, Thomas Suber, is any indication. According to the 2014 990 (tax) form of Dairy Management Inc.—the parent group of US Dairy Export Council—Suber enjoyed a base compensation of $355,000 in 2014, plus a bonus of $110,000. Including "retirement and other deferred benefits," Suber's total compensation that year came to $875,203.
Vilsack would hardly be the first former USDA secretary to jump directly into a food industry role. Soon after leaving the Reagan administration in 1986, John Block started a seven-year stint as CEO of the International Foodservice Distributors Association. He also served on the boards of pork giant Hormel and farm equipment behemoth John Deere, and has for years been a senior policy adviser at OFW, a major agribusiness law and lobbying firm.
And it would make sense for Vilsack to devote himself to peddling US dairy products overseas. He's long been a huge booster of US farm exports and a vocal champion of the Trans-Pacific Partnership, the controversial (see here and here) and now stalled global trade pact supported by the US Dairy Export Council. Vilsack's pro-TPP position is more commonly held among the kind of huge companies represented by the Dairy Export Council than it is among rank-and-file dairy farmers.