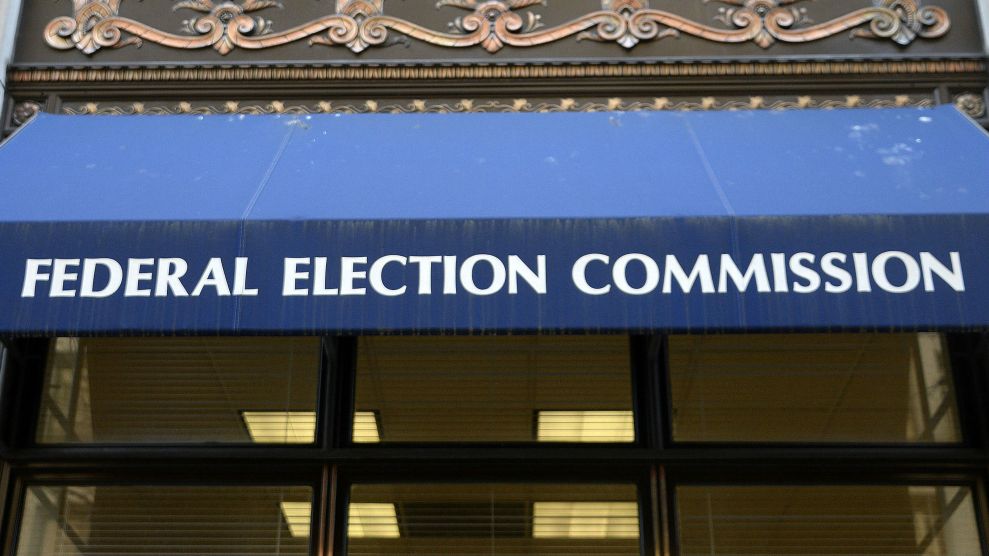 Fight disinformation:
Sign up
for the free
Mother Jones Daily
newsletter and follow the news that matters.
A strange thing happened last week at the Federal Election Commission, the nation's watchdog for campaigns and elections. On Friday evening, the FEC's three Republican members quietly released a slew of missing legal memos related to cases dating back as far as 10 years. The commissioners gave no reason for why they decided to act now, after a decade of silence on the cases in question.
But it turns out that the newly released memos were the result of a Freedom of Information Act request recently filed by Mother Jones. The request was a modest one and asked only for a list of all such overdue legal documents at the FEC. That list would show every case for which FEC commissioners had failed to perform a customary part of their jobs: explaining to the public why they had voted a certain way on cases that had come before the agency. Dismiss a complaint, open an investigation, assess a fine—whichever way a commissioner decides, he or she is expected to explain that decision in a memo made available to the public.
In a move that perplexed several legal experts, the FEC denied our FOIA request. Yet soon after that, the FEC's three Republican commissioners hastily wrote and released to the public 11 of these long-overdue legal memos. When Mother Jones asked the three Republican commissioners if our FOIA request had anything to do with their decision to act, two of them, Lee Goodman and Matthew Petersen, confirmed that it had. "Most of these were on the back burner as our reasons were either already clear or changes in the law made the issues moot," Petersen says. "Your request was a useful reminder to bolster the record with formal statements."
Congress created the FEC in the 1970s to police campaign-related abuses and enforce election laws passed in the wake of Watergate. Unlike most federal agencies, the FEC has an even number of commissioners—six—divided equally by political party. In today's hyper-partisan environment, with frequent 3-3 deadlocks on key votes, it's hard not to see the FEC as an institution designed to fail. (The commission will be without a sixth member now that Democrat Ann Ravel has announced her resignation, effective March 1.)
But for most of its 40-year history, the FEC worked mostly fine. The commissioners regularly found the four-vote majority they needed to act—to investigate potential wrongdoing, assess fines against lawbreakers, and provide guidance to candidates, committees, political parties, and other outfits looking to get involved in federal elections. That began to change in the mid-2000s. Three new Republicans came aboard who took a more ideological approach to campaign finance laws and free speech. Led by then-Commissioner Donald McGahn, who is now President Donald Trump's White House counsel, the Republicans often voted in lockstep to block enforcement actions. A Public Citizen analysis found that the FEC hit a 3-3 vote on enforcement actions roughly 1 percent of the time between 2003 and 2007. In 2008, deadlocks rose to 10 percent. In 2013, they hit a peak of 23 percent. "For nearly every case of major significance over the past several years, the Commission has deadlocked on investigating serious allegations or has failed to hold violators fully accountable," outgoing Democratic Commissioner Ann Ravel wrote in a recent report titled Dysfunction and Deadlock.
When FEC commissioners vote on a case to go against what the agency's lawyers recommend, they are required to publish a legal justification—a Statement of Reasons, in agency jargon—for why they voted the way they did. These memos educate the public on the legal underpinnings of the commission's decisions and give outside parties a basis to sue the agency if they disagree. But starting in the mid-2000s, the FEC's Republicans simply stopped explaining many of their decisions. Some or all of the Republican commissioners failed to write Statements of Reasons in 25 such cases over a 10-year span, according to an unofficial tally obtained by Mother Jones earlier this month. (The tally shows that Democratic commissioners had no overdue Statements of Reasons.)
Larry Noble, a former FEC general counsel who now works at the Campaign Legal Center, a group that supports tighter political donation limits and more transparency in elections, says that failure to file Statements of Reasons is longstanding problem that has worsened over time. "Delaying them deprives the public of knowing what's going on or why commissioners did what they did," Noble says.
A few weeks ago, Mother Jones filed a Freedom of Information Act request seeking the FEC's own list of all overdue legal Statements of Reasons. In its February 17 denial letter, an FEC official cited FOIA Exemption 5, which shields from disclosure "documents covered by the attorney work-product, deliberative process, and attorney-client privileges."
Two hours after the denial, the FEC posted its weekly digest. It included the 11 Statements of Reasons authored by Republican commissioners relating to old cases. The documents were all signed and dated within a four-day span last week, and each one is only several pages long, unlike the lengthy, footnote-laden documents typically produced by the commissioners and their staffs.
Ellen Weintraub, the senior-most Democratic commissioner at FEC, applauded the release of the 11 legal memos. "I am pleased on behalf of the American people that they are finally getting some kind of explanation for the commission's failure to act in so many cases," she says.