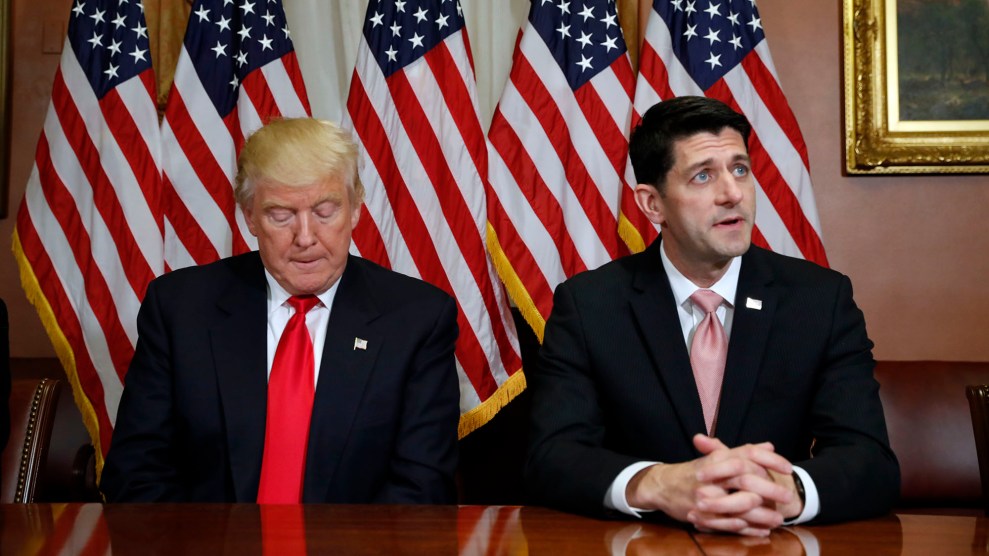 Fight disinformation:
Sign up
for the free
Mother Jones Daily
newsletter and follow the news that matters.
After conservatives in the House threatened to block the GOP's plan to repeal and replace Obamacare, Speaker of the House Paul Ryan (R-Wisc.) released an amendment Monday night aimed at cutting even more benefits for the poor. The Republican plan would now make enrolling in Medicaid even more difficult, with states encouraged to add a work requirement for adults who want to get insurance. States would also now be allowed to accept Medicaid as a block grant—a system that would allow state governments to offer fewer health insurance benefits.
Ryan's changes have the support of President Donald Trump, but they apparently don't go far enough to appease right-wing activists. Heritage Action, a prominent conservative advocacy group tied to the Heritage Foundation think tank, announced Tuesday that it is still doesn't think the GOP plan goes far enough in repealing Obamacare. The organization says it plans to pressure house Republicans to vote against the bill when it comes to the floor. (The vote is currently scheduled for Thursday.)
Michael Needham, Heritage Action's CEO, said on Twitter that the group "will be keyvoting against" the bill in its annual scorecard for members of Congress. To translate that into non-Washington speak, the group will downgrade its rating of any lawmaker who votes for the GOP plan.
Barring additional changes, the AHCA keeps the architecture of ObamaCare (Title I regs) in place. Heritage Action will be keyvoting against.

— Michael Needham (@MikeNeedham) March 21, 2017
According to a tabulation by the New York Times, there are currently 48 Republicans in the House who are hesitant about voting for the bill or are outright opposed. Assuming every Democrat votes against the measure, Trumpcare will go down in defeat if just 22 Republicans vote no on the bill. That would be just one more set-back for Ryan's keg-fueled dreams of slashing Medicaid.
Update 4:04 p.m. ET: The Koch-funded advocacy organization Americans for Prosperity joined in the hatefest opposing the GOP's repeal and replace plan.
Currently, we can't support the GOP healthcare plan. Without major changes, we'll key vote against it & stand with those that stand with us.

— AFP (@AFPhq) March 21, 2017