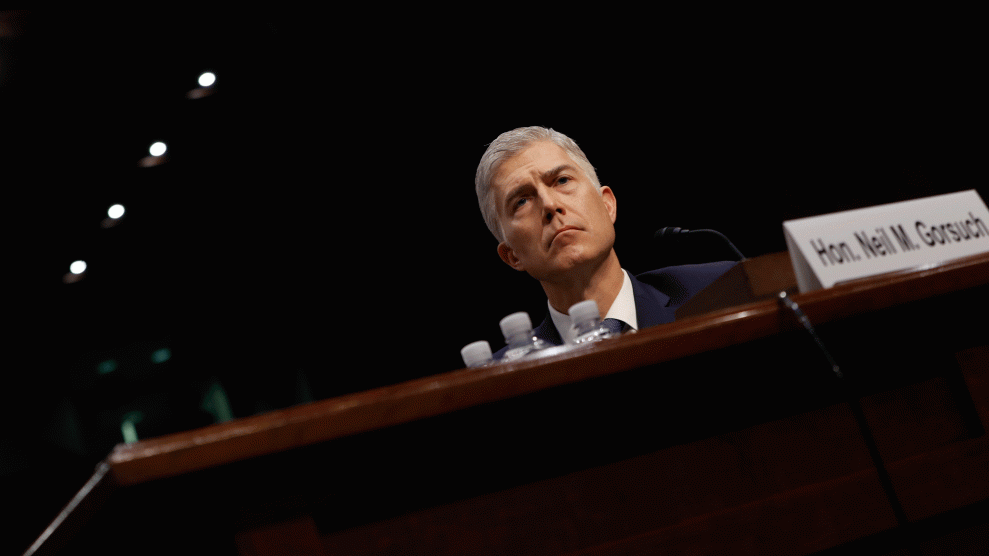 Facts matter:
Sign up
for the free
Mother Jones Daily
newsletter.
Support
our nonprofit reporting.
Subscribe
to our print magazine.
When newly minted Supreme Court Associate Justice Neil Gorsuch takes the bench later this month, he will likely have an immediate impact on a court that has been somewhat paralyzed since the unexpected death of Justice Antonin Scalia in February last year. The court, evenly divided with eight members, has waited to tackle a number of potentially thorny cases, either because they were unable to agree on whether to hear them or they were reluctant to adjudicate them. Gorsuch has been confirmed just in time to change all that.
He will also shape the future when, on April 13, he participates in his first court conference, where the justices decide which new cases to hear in the new term and which they're rejecting. Decisions from that meeting may demonstrate quickly whether fears Senate Democrats have raised about his views on everything from religious freedom to gay rights to corporate power were on target.
Here are a few of the pending cases where Gorsuch will have an opportunity to make an early mark:
Masterpiece Cake Shop v. Colorado Civil Rights Commission: In 2012, a Colorado baker named Jack Phillips refused to make a custom wedding cake for two men getting married in Massachusetts, one of the few states where same-sex marriage was legal at the time. The couple was planning a reception in Colorado, where they lived and wanted to celebrate. Phillips claimed making the cake would violate his religious beliefs. The couple sued and has prevailed at every level in Colorado courts, which found that baking a gay wedding cake would not violate Phillips' free speech or religious freedom rights, but refusing to make one would constitute illegal discrimination based on sexual orientation.The case has been stuck in conference purgatory, relisted multiple times for consideration, but probably not for long.
The gay-cake case seems custom-made for Gorsuch, who was one of the lower court judges who ruled in favor of Hobby Lobby.
The gay-cake case seems custom-made for Gorsuch, who was one of the lower court judges who ruled in favor of Hobby Lobby, the craft store that claimed providing health insurance to its employees that covered contraception violated its corporate religious freedom rights. The Supreme Court later upheld the ruling in a 5-4 decision, and critics have warned it will be used to justify the kind of anti-gay discrimination at issue in the cake case. The presence of Gorsuch on the high court, instead of Merrick Garland, President Obama's court nominee who was denied the seat by Senate Republicans, is likely to be decisive. It probably doesn't bode well for the LGBT community, despite Gorsuch's claims to have gay friends.
Salazar-Limon v Houston: Even though police shootings have been in the news and the source of intense protest over the past couple of years, the eight-member Supreme Court seems to have been reluctant to wade into the fray. This case is another one that's been languishing at the court for many months, waiting for a decision on whether it will be heard. It involves what might be called the "reaching for the waistband" defense frequently deployed by cops who shoot unarmed people of color.
In 2010, 25-year-old Mexican immigrant Ricardo Salazar-Limon had a wife, children, and a construction job. One night after a long day of work, he was out with friends and driving to see another friend when a Houston cop pulled him over for speeding. He had no criminal record, no outstanding warrants, a valid drivers' license, and insurance on his truck. He was in the country legally and was unarmed. But the cop told Salazar he was going to jail and tried to put him in handcuffs. Salazar jerked back and walked towards his vehicle, annoyed because the officer refused to even tell him why he might be going to jail. As he was walking the officer told him to stop and then shot him in the back, leaving Salazar paralyzed from the waist down.
Salazar sued the police department alleging excessive force. In his defense, the officer claimed that he feared for his life when he shot Salazar because he had moved his hands towards his waistband while walking away. It's the same argument that's been employed by cops in at least two other shootings of unarmed citizens in Houston, and it works. The District Court dismissed Salazar's case, and the 5th Circuit Court of Appeals upheld the decision. The Supreme Court is now being asked to decide whether a court can dismiss a case against an officer in a suit for excessive force "by concluding that it is an 'undisputed fact' that the person reached for his waistband just because the officer said he did."
The facts in this case are infuriating, yet it's clear that the court has been unable to get the requisite four votes needed to hear it. Whether Gorsuch will provide that additional vote is anyone's guess, but criminal justice reformers shouldn't hold out hope that he'll change the outcome. He's ruled in a similar case before. In 2013, he wrote the majority opinion in a 10th Circuit ruling dismissing a lawsuit brought by the parents of a man who was tased in head by a cop and died. The cops in that case also used a "reached for his waistband" defense.
Alaska Oil and Gas Association v. Zinke: One of the biggest concerns raised by those opposing Gorsuch's confirmation was that his record suggested he would be hostile to environmental regulations and the agencies that create them. That theory will be tested soon after Gorsuch's swearing in, with a case involving the fate of polar bears.
In 2008, the Bush administration's Fish and Wildlife Service officially declared the polar bear a threatened species under the Endangered Species Act. Two years later, the agency designated 187,000 square miles around the Bering Sea, the Arctic Ocean and the Alaskan North Slope as critical habitat for the bears, which created new restrictions on oil drilling in the region. The Alaskan oil industry sued and alleged that the Fish and Wildlife Service had overreached and made an arbitrary decision in selecting the boundaries for the critical habitat. The trial court partially agreed, but the 9th Circuit Court of Appeals overturned that decision and sided with the wildlife agency. The appeal of that decision is pending before the Supreme Court, which will decide in the next few months whether to hear the case.
Federal agency overreach is something Gorsuch has a clear record on. He wrote a lengthy concurrence to one of his own opinions on the 10th Circuit, calling on the Supreme Court to limit the requirement that judges defer to federal agencies such as Fish and Wildlife when considering the implementation of laws made by Congress. This may be a sign that, despite his love of skiing, Gorsuch probably is not going to side with the polar bears.
"The burden remains on Gorsuch to prove that he will be a Justice who fairly applies the law and the Constitution and does not, contrary to President Trump's promises, just represent certain segments of the population."
Trinity Lutheran Church of Columbia, Inc. v. Comer: The court agreed to hear this case last year, shortly before Justice Scalia died, but it took its own sweet time scheduling it for oral arguments. When it finally did, a year later, the case was set for the second-to-last week of arguments for the term. The court's reluctance to decide this case may stem from the fact that it's the most controversial church-state separation case on the docket this year, and the closest thing to a culture war case that's likely to break out before the court recesses in June.
Here's how we described it last fall:
A Michigan church applied for a grant from Missouri's Scrap Tire Grant program for assistance resurfacing a playground at its preschool with a safer, rubber top made of old tires. While the church's grant proposal was well rated, the state ultimately turned it down because the state constitution prohibits direct aid to a church. The church sued, with help from a legion of lawyers fresh off the gay marriage battles. They argue that Missouri's prohibition, originally conceived as part of an anti-Catholic movement, violates the Establishment Clause of the Constitution, especially when the money was going to a purely secular use.
While this might have been an easy win for the church before the death of Justice Antonin Scalia, who was on the court when the justices took the case in January, the remaining eight-members might not be quite so well-disposed to rule in its favor. Forcing taxpayers to underwrite improvements to church property is in direct conflict with some of the court's earlier rulings. Critics see a ruling for the church as a slippery-slope sort of argument, leading to compulsory government support of religion, which the Founders deeply opposed.
Once again, Gorsuch's views in Hobby Lobby and religious freedom seem likely to predispose him to support church, but we'll know more about his position on April 19, when he will be on the bench for the oral arguments in this case.
Liberal court watchers, having lost the confirmation fight, are now moving into breath-holding mode as they look to these cases for clues as to just what sort of justice Gorsuch is really going to be. As Elizabeth Wydra, president of the Constitutional Accountability Center said Friday, "Now that he has been confirmed, we certainly hope that Justice Gorsuch will fulfill Judge Gorsuch's commitments: To be an independent jurist, to be a good judge who respects precedent, to be an originalist who respects the Constitution's radical guarantee of equality, and follows the text and history of the Constitution wherever it leads." She added, "The burden remains on Gorsuch to prove that he will be a Justice who fairly applies the law and the Constitution and does not, contrary to President Trump's promises, just represent certain segments of the population."