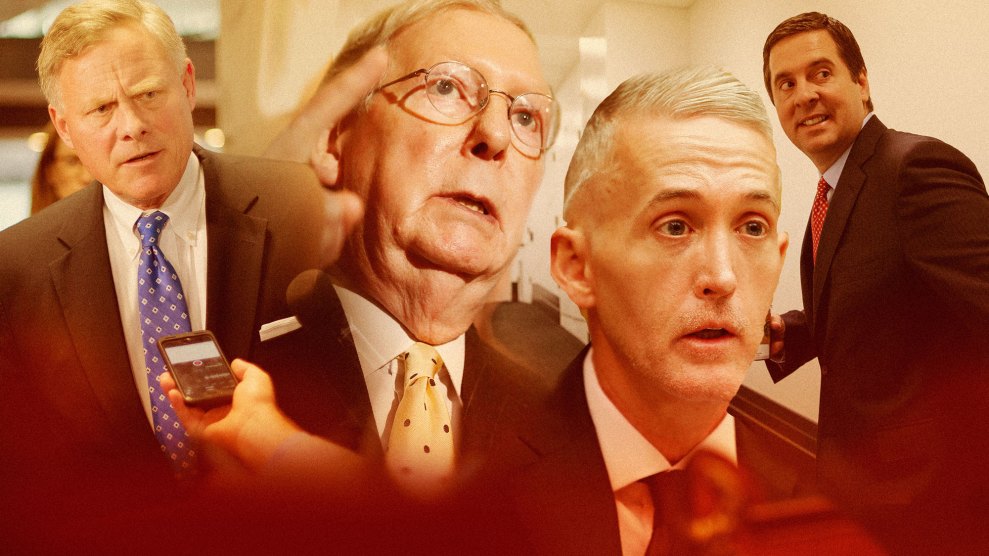 Fight disinformation:
Sign up
for the free
Mother Jones Daily
newsletter and follow the news that matters.
On Monday, Yahoo News broke an important—but unsurprising—story: the Senate Intelligence Committee's investigation of the Trump-Russia scandal has made little progress, with its Republican chairman, Richard Burr of North Carolina, refusing to sign off on subpoenas and witness interviews and failing to devote to the inquiry sufficient staff power and resources.
This was the latest blow to the effort to scrutinize Russia's effort to disrupt the 2016 election and the connections between Donald Trump's inner circle and Russians. Several weeks earlier, the House Intelligence Committee led by Rep. Devin Nunes (R-Calif.) imploded, when Nunes discredited himself with a bizarre stunt: He claimed he had obtained from secret sources classified evidence that Obama administration officials had improperly obtained the identities of Trump associates who were unintentionally picked up in intelligence intercepts, and he dashed to the White House to inform President Trump before sharing (and evaluating) this information with his staff and committee colleagues. It turned out Nunes' sources were White House officials and his conspiratorial characterization of the material was inaccurate and overblown. This curious episode led to the House Ethics Committee launching a probe into whether Nunes had revealed sensitive information, and Nunes recused himself from his committee's Russia investigation.
All of this rigmarole leads to an obvious question: Can the Republicans mount an independent and effective investigation of Moscow's hacking during the 2016 campaign and the interactions between Trump's crew and Russia? There is now a good argument that the answer is no.
From the start, it appeared this would be a dicey assignment for the GOP. An investigation of these matters threatened to taint Trump's victory by providing more information to back up the intelligence community's assessment that Vladimir Putin launched an extensive covert operation to subvert the 2016 elections in order to help Trump become president. Worse for Republicans, a probe could possibly produce evidence of contacts between Russians and Trump's political and business associates that might be related to Moscow's assault on American democracy.
No wonder that Burr and Nunes were not eager to accept this mission. Burr only agreed to examine the Trump-Russia interactions after Sen. John McCain (R-Ariz.) called for a select committee to be created to explore the subject. In order to maintain control of the inquiry, Burr expanded his committee's inquiry into the Russian hacking to cover the Trump-Russia connection. Certainly, he was not enthusiastic about this endeavor.
Nunes, too, displayed no passion for the main issues of this scandal. At the one hearing his committee held on the subject—before he self-defenestrated—Nunes devoted more time in his opening statement to echoing Trump's assertion that there was no evidence of collusion between the Trump campaign and Russia than he did to decrying Putin's effort to influence the US election. (An investigator is not supposed to echo the self-serving assertions of an involved party before the investigation is conducted.) Nunes then handed a chunk of his questioning time to another Republican who fixated on leaks—not the Moscow operation or any possible Trump link to Russians. (And the leaks this congressman was upset about were the revelations that showed that then-national security adviser Michael Flynn had lied about his contacts with Russian Ambassador Sergey Kislyak.) After the hearing, Nunes told me that he had never heard of Roger Stone or Carter Page, two Trump advisers who were prominent players in the Trump-Russia scandal. His performance at the hearing and these remarks suggested Nunes did not—and perhaps did not want to—have a strong handle on the job.
It might have been unrealistic to expect Burr and Nunes to act as crusading investigators. They both are invested in Trump's success—maybe more so than the average Republican. During the presidential campaign, Burr served on Trump's national security advisory council and helped burnish Trump's foreign policy credentials. Days after the election, Trump named Nunes to his transition team's executive committee. And the leaders they each answer to in Congress—Senate Majority Leader Mitch McConnell for Burr, and House Speaker Paul Ryan for Nunes—have not been cheerleaders for a vigorous investigation. McConnell stubbornly resisted calls for a select committee. (He did not want McCain, who, as chair of the Armed Services Committee, would have had a good claim to be included as a member, anywhere near this investigation, because McCain is one of the few GOPers who has called this inquiry an important priority.) And Ryan advised Nunes to make his public run to the White House when Nunes was clumsily trying to pull off a distraction to help Trump. In February, Burr and Nunes were enlisted by the Trump White House to knock back news stories about Trump associates' ties to Russia—a development that undercut their independence.
And look at the House Republicans whom Nunes tapped to replace him as the managers of the House Intelligence Committee's investigation: Rep. Mike Conaway of Texas, who will be assisted by Reps. Trey Gowdy of South Carolina and Tom Rooney of Florida. In January, Conaway dismissed the Moscow hacking with an absurd comparison: "Harry Reid and the Democrats brought in Mexican soap opera stars, singers and entertainers who had immense influence in those communities into Las Vegas, to entertain, get out the vote, and so forth. Those are foreign actors, foreign people, influencing the vote in Nevada. You don't hear the Democrats screaming and saying one word about that." Yes, the fellow in charge of the inquiry into how a foreign power subverted a US presidential election through hacking and leaking essentially said this was no big deal and no different than standard campaign maneuvers.
At that one hearing the committee held, Rooney showed he was obsessed with the leaks in the Flynn case and the issue of "unmasking"—when the identity of an American incidentally captured in a US intelligence intercept is revealed to a senior US official authorized to receive this information. Gowdy, too, zeroed in on this side matter, and he also suggested that reporters should be prosecuted for publishing classified information. Moreover, Gowdy's past performance as a congressional investigator does not inspire confidence. He ran the House special committee investigation on Bengahzi that went on endlessly—after other House probes had examined the topic—and that was marred by partisan moves and leaks from the Republican side of the committee.
Under this new leadership, the House inquiry has restarted, with the committee announcing it will soon hold hearings featuring former CIA chief John Brennan, former Director of National Intelligence James Clapper, and former Deputy Attorney General Sally Yates. But it's unclear what is happening with the actual investigation.
There are a few small but encouraging signs in other corners of the Capitol. Sen. Lindsey Graham (R-S.C.), who has joined McCain in demanding a robust inquiry, is using the subcommittee on crime and terrorism he chairs to keep this issue front and center. This week, he announced his subcommittee will hold a hearing on Russian interference in the 2016 election with Yates and Clapper on May 8. And Rep. Jason Chaffetz (R-Utah), the chair of the House government oversight committee, has been pressing the White House to release documents related to payments Flynn received from Russia.
But the big picture is still not reassuring: Most of the men with responsibility for pursuing the truth in the Trump-Russia scandal do not have much credibility at this point. Nunes compromised himself out of the job. His successors have demonstrated no commitment to the core issues. Burr, who claimed he would follow the evidence wherever it led, was touted as the non-Nunes. But he is hardly pursuing the case aggressively. (FBI Director James Comey has said the bureau has been investigating interactions between Trump associates and Russians since last July, but there is no telling if that probe will yield any criminal cases or any public accounting.)
It is never easy for a member of Congress to conduct an investigation that affects a president from his or her own party. Republicans had a difficult time during Watergate and the Iran-Contra affair. But this time around, they face an impulsive and vengeful president who has asserted that this whole business is a hoax. During the campaign, Trump repeatedly denied the Russians had anything to do with the hacking—even after the intelligence community concluded Moscow was behind it. He weirdly praised Putin. In the months after the election, Trump attacked the intelligence community, comparing it to Nazi Germany. He insisted that the Russian story was "fake news." He claimed, without any evidence, that President Barack Obama had wiretapped him during the campaign and that this was the real story. He has signaled over and over that he will not look kindly upon anyone who treats the Trump-Russia scandal seriously.
It would take a Republican of tremendous fortitude and independence to withstand all the political pressure and lead a thorough, come-what-may probe that could end up blemishing if not endangering the Trump presidency. So far, no GOPer has assumed this role. And in today's hyperpartisan political environment, that may be too much to ask for. The alternatives, then, would be an independent, nonpartisan commission that was not part of Congress or a bipartisan select committee of Congress. The problem: Either one would have to be backed by the Republican leaders of Congress. (A commission, if created by an act of Congress, would have to be signed into existence by Trump.) That, too, would take more guts than most Republicans can muster when it comes to uncovering the truth about Putin's operation and Trump links to the regime that waged covert political warfare against the United States.