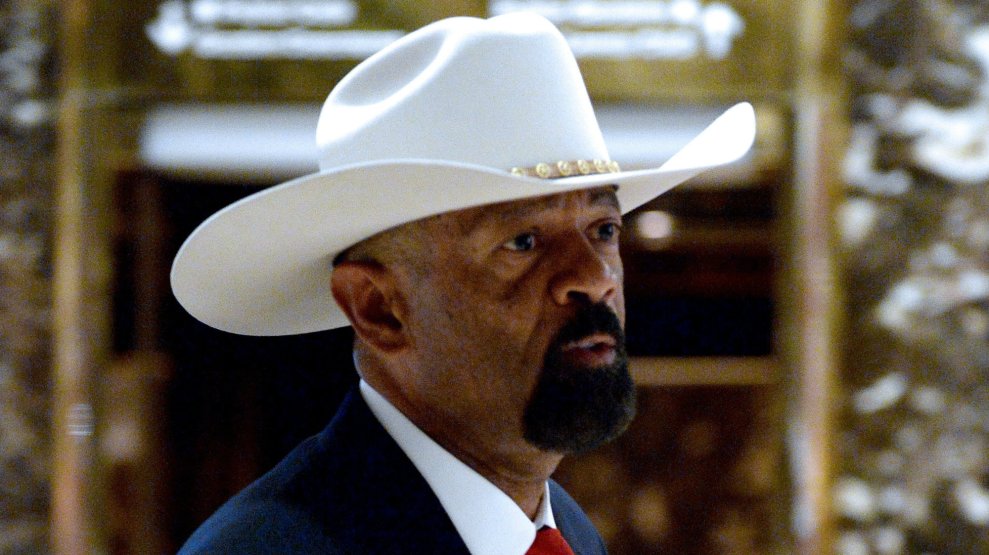 Fight disinformation:
Sign up
for the free
Mother Jones Daily
newsletter and follow the news that matters.
David Clarke, the controversial sheriff of Milwaukee County, Wisconsin, will "accept an appointment as an assistant secretary in the Department of Homeland Security," he reportedly told a local radio host Wednesday. Clarke said he will take a position at the Office of Partnership and Engagement. In that role, he would help coordinate DHS outreach to local law enforcement agencies, according to the Milwaukee Journal Sentinel.
So far, DHS isn't confirming Clarke's appointment. "Such senior positions are announced by the Department when made official by the Secretary," a department spokeswoman said in an email to Mother Jones. "No such announcement with regard to the Office of Public Engagement has been made."
Clarke, who rose to national prominence last year as a vocal Trump supporter and a frequent guest on Fox News, has made headlines in recent months due to lawsuits filed against him alleging mistreatment of inmates in the jail he oversees. Last year, four people died in that jail. As we reported in March:
Clarke has faced two federal lawsuits since December, in the wake of four deaths that occurred last year in the Milwaukee County Jail. In mid-March, the family of a man who died of dehydration in April 2016 sued Clarke and the county, alleging that jail staff subjected the man to "torture" by denying him water as he pleaded for it over 10 days. County prosecutors are considering bringing felony charges against jail staff for neglect. Another lawsuit, filed last December, seeks damages for the death of a newborn in the jail last July, after jail staff ignored the infant's mother as she went into labor and for more than six hours thereafter, according to the suit.
A grand jury recently recommended charges against several jail employees in the case of the man who died of thirst. A separate lawsuit alleges mistreatment of pregnant inmates at the jail:
In that suit, a woman alleges that, during a seven-month stint at the jail in 2013, she was forcibly shackled with a "belly-chain" that tied her wrists and legs to her stomach during her hospitalization for pre-natal care, while she was in labor, and while she received treatment for post-partum depression after she gave birth. The restraints made giving birth more painful for the woman, left marks on her body, and made it more difficult for doctors—who insisted she be freed—to give her an epidural, the lawsuit says. The jail has a policy that inmates be shackled while receiving medical care that makes no exceptions for pregnancy, according to the lawsuit, which also states that more than 40 women were subjected to the same treatment.
Clarke has apparently been angling for a job with the Trump administration for months. Last year, he spent so many days away from his office while stumping for Trump that local officials have called for his resignation:
Clarke visited 20 states in 2016, according to financial disclosure documents he filed with the county, often to give paid speeches in which he praised Donald Trump. He spent about 60 days out of state last year, the documents show. (Before he campaigned for Trump, Clarke took a trip to Moscow in December 2015 with a delegation from the NRA, during which they met with Russian officials.)
In January, the Milwaukee Journal Sentinel published an editorial calling for the sheriff to step down, citing the jail deaths, his habit of attacking his political opponents on social media—which he does on his department's official Facebook page—and the fact that Clarke seemed more focused on "pining for a job in the Trump administration" than on his responsibilities as county sheriff. County auditors have launched an investigation into whether Clarke abused his power following an airplane flight in January when he had six deputies and two K-9 units confront a passenger at the gate with whom Clarke had an unfriendly exchange on the plane.
Clarke has also faced pushback from local activists and officials critical of his plan to enroll his sheriff's department in a controversial immigration enforcement partnership with the Immigration and Customs Enforcement, a division of the Department of Homeland Security. In his role at DHS, Clarke would presumably be recruiting other agencies to participate in the program.