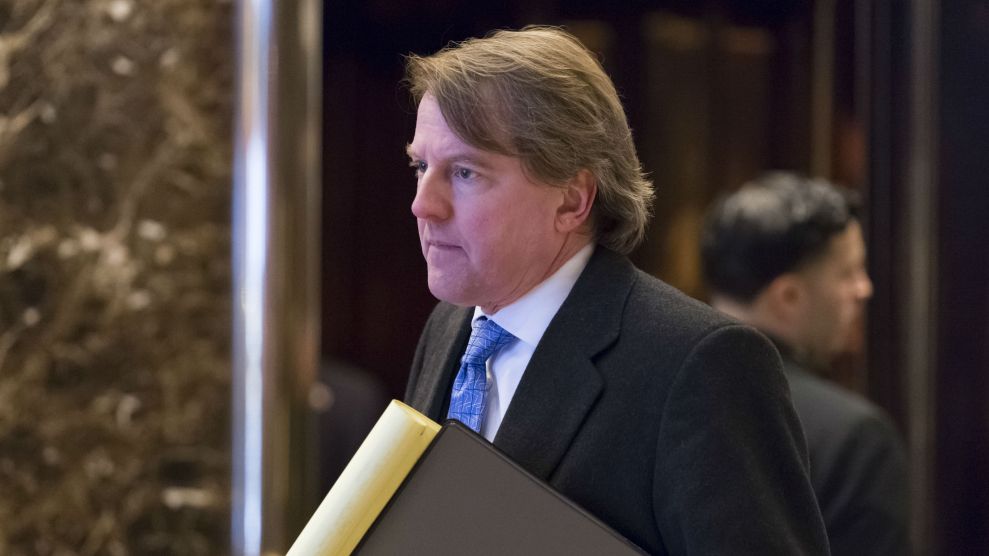 Fight disinformation:
Sign up
for the free
Mother Jones Daily
newsletter and follow the news that matters.
Donald McGahn, like all White House counsels who have served before him, has a broad portfolio but one fundamental charge: to keep his boss, the president of the United States, out of trouble. To say McGahn hasn't fared well in this department is an understatement. President Donald Trump and his administration have been besieged by scandal from the outset. And lawyers who worked in past administrations, Democratic and Republican, have questioned whether McGahn has the judgment or the clout with his client to do the job.
Four months in, despite having yet to confront a crisis not of its own making, the Trump administration faces a growing list of controversies, legal and otherwise. The FBI is reportedly investigating retired Lt. General Michael Flynn, who for 22 days served as Trump's national security adviser, for his lobbying on behalf of Turkish interests and for his conversations with the Russian ambassador to the United States before Trump took office. There are two congressional probes examining Flynn's actions and two more looking at whether anyone connected with the Trump campaign interacted with Vladimir Putin's regime when it was interfering with the 2016 presidential race. And the Justice Department recently appointed a special counsel to oversee the FBI's probe into Moscow's meddling and the Trump-Russia connections. Jared Kushner, Trump's son-in-law and a close adviser; former Trump campaign manager Paul Manafort; and Trump's personal lawyer, Michael Cohen, face FBI or congressional scrutiny.
"One gets the sense that Mr. Trump has people talking to him, but he doesn't either take their advice, ask for their advice, or follow their advice."
All presidents, Democratic and Republican, experience their share of scandals. But the pace and magnitude of the controversies engulfing the Trump White House are on a different level and pace. (Recall that Richard Nixon's Saturday Night Massacre—when he fired the special prosecutor investigating Watergate—didn't happen until nearly five years into his presidency.) And each leak and drip of new information raises more questions about McGahn, the man whose job is to steer Trump clear of potential land mines before they explode into breaking-news bombshells.
An election lawyer who served five contentious years on the Federal Election Commission, McGahn first met Trump in late 2014 and was one of the mogul's first hires when he launched his presidential run. He endeared himself to Trump by fending off an effort to remove Trump from the New Hampshire primary ballot and coordinated the campaign's well-timed release of a list of potential Supreme Court nominees, a move that helped to attract ambivalent evangelical and conservative voters.
Shortly after winning the presidency, Trump rewarded McGahn's loyalty by picking him to be White House counsel.
About six weeks later, on January 4, according to the New York Times, McGahn spoke with Michael Flynn, the retired general whom Trump had selected as his national security adviser a week before he hired McGahn, about a sensitive matter. In August 2016, Flynn's consulting firm, Flynn Intel Group, had signed a $600,000 contract to lobby on behalf of Turkish interests; Flynn's client was a Dutch company run by a Turkish businessman who is an ally of Turkey's president, Recep Tayyip Erdogan. At the time, however, Flynn did not register under the Foreign Agents Registration Act, which requires lobbyists and advocates working for foreign governments to disclose their work.
Now, with Trump's inauguration almost two weeks away, Flynn reportedly told McGahn that he was under federal investigation for failing to disclose his lobbying on behalf of foreign interests.
What McGahn did with this information is unclear—but it's nonetheless revealing to former White House lawyers that Flynn went on to receive a top White House post, arguably the most sensitive job in the White House. (McGahn, through a White House spokesperson, declined to comment for this story.) Alums of the counsel's office in previous White Houses say it was unimaginable to hire a national security adviser who faced legal questions regarding foreign lobbying, let alone one who was under federal investigation. "In the White House counsel's office I was working in, the idea that somebody was under investigation was a big red flag and it would be doubtful that we would go forward with that person," says Bill Marshall, a former deputy counsel in the Clinton White House. "That's not even saying it strong enough."
Flynn remained on the job and, during the transition, reportedly told the outgoing Obama administration that it should delay a joint American-Kurdish military strike on an ISIS facility in the Syrian city of Raqqa—a move that conformed with the desires of the Turkish government.
In a short ceremony at the White House on January 22, Flynn was sworn in as national security adviser and McGahn as chief counsel. Four days later, Sally Yates, the acting US attorney general, and a senior official in the Justice Department's national-security division met with McGahn at the White House. Yates informed McGahn of a troubling development: the US had credible information to suggest that Flynn had not told the truth when he denied that he had discussed sanctions during conversations with Sergey Kislyak, the Russian ambassador to the United States. Yates added that Flynn had been interviewed by the FBI.
Flynn had lied. What's more, his mention of sanctions was potentially illegal under an obscure law known as the Logan Act. (Since the law's creation in 1799, not one person has been convicted under the Logan Act.) Yates warned McGahn that the discrepancy between Flynn's public statements and what he said to the Russian ambassador left him vulnerable to blackmail by the Russians.
"If Sally Yates had come to me with that information, I would've run down the hall like my hair was on fire," Rob Weiner, another former counsel in the Clinton White House, told me. Because the messenger in this case was a holdover from the Obama administration, Weiner added, the Trump White House "might not have had a lot of trust in Yates at that point. Even so, that should've been something to cause alarm bells to go off." Jack Goldsmith, a former senior Justice Department lawyer during the George W. Bush administration, echoed Weiner's observation. Writing at the website Lawfare, Goldsmith weighed in: "Especially coming against the background of knowing (and apparently doing nothing) about Flynn's failure to report his foreign agent work, the information Yates conveyed should have set off loud alarm bells."
Flynn, with two federal investigations hanging over his head, remained on the job for another 18 days. He joined Trump in the Oval Office for calls with foreign dignitaries, including the leaders of Australia and Russia. He presumably sat in on daily intelligence briefings and had unfettered access to classified information. It was only after the Washington Post on February 13 reported on Yates' warning to McGahn about Flynn's susceptibility to blackmail that Trump fired Flynn.
The question looming over the entire debacle was this: How had Flynn been allowed to stay on the job? At the media briefing on the day after Flynn's dismissal, Sean Spicer, the press secretary, addressed McGahn's role in the Flynn controversy. McGahn had conducted his own review after meeting with Yates, Spicer explained, and "determined that there is not a legal issue, but rather a trust issue."
It was a mystifying answer, especially given the facts that later emerged: Flynn was allegedly the target of active investigations. "It is very hard to understand how McGahn could have reached these conclusions," wrote Goldsmith, the former Bush administration lawyer. McGahn, Goldsmith noted, could not know all the details of the investigations targeting Flynn. (Indeed, Yates later testified that McGahn appeared to have not known that the FBI had interviewed Flynn about his calls with the Russian ambassador.) "Just as important, the final word on the legality of Flynn's actions was not McGahn's to make," Goldsmith went on. "That call in the first instance lies with the FBI and especially the attorney general."
The steady stream of revelations about the Trump White House and its various legal dramas has only cast a harsher light on McGahn and the counsel's office. After the Post reported that White House officials had pressured the director of national intelligence and the National Security Agency chief to downplay the FBI's Russia investigation, Goldsmith tweeted, "Asking again: Is WH Counsel 1) incompetent or 2) ineffective because client's crazy and he lacks access/influence?"
Lawyers who have represented Democrats and Republicans agree that Trump is about as difficult a client as they can imagine. "One gets the sense that Mr. Trump has people talking to him, but he doesn't either take their advice, ask for their advice, or follow their advice," says Karen Hult, a Virginia Tech political-science professor who has studied the White House counsel's office. C. Boyden Gray, the White House counsel for President George H.W. Bush, said few, if any, presidents have had more financial and ethical entanglements than Trump. "I didn't have anywhere near the complexities that Don McGahn had," he told me earlier this year. Bob Bauer, a former counsel in the Obama White House, recently questioned whether any lawyer could rein in Trump: "Is the White House counsel up to the job of representing this president? We may find out nobody is." There is some indication that Trump does trust McGahn. When Trump wanted to release statements of support for Flynn and Kushner after the naming of a special counsel to oversee the Trump-Russia investigation, it was reportedly McGahn who convinced Trump not to do so.
But part of the job, former lawyers in the counsel's office say, is giving the president unwelcome advice and insisting that advice be followed. "It's always very hard to say no to the president and not do what the president of the United States wants," says Bill Marshall, the former Clinton White House lawyer. "But the long-term interests of the president of the United States can often be not doing something he might want to do, and if you do, it can come back and hit you from a direction that you never anticipated."