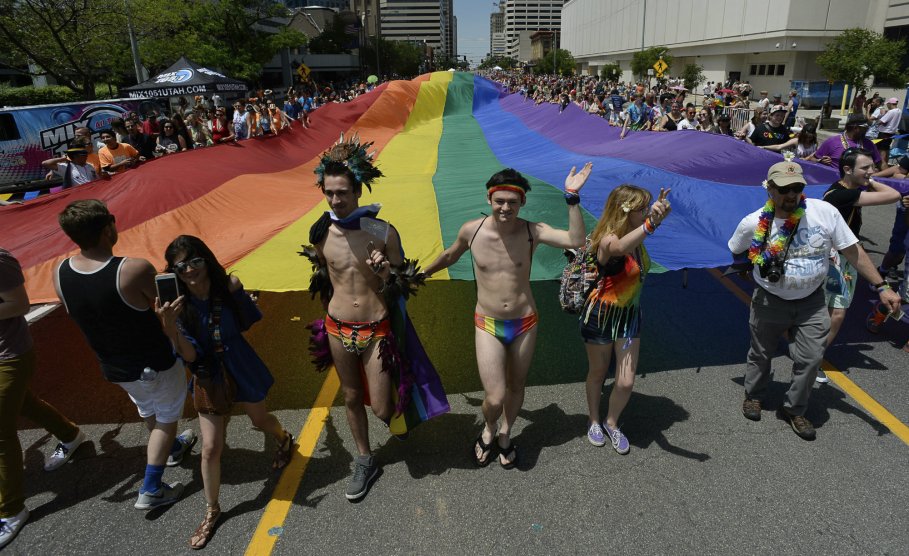 Fight disinformation:
Sign up
for the free
Mother Jones Daily
newsletter and follow the news that matters.
About 200 people from various LGBT communities filed into National City Christian Church near downtown DC on May 8 for a meeting called by the organizers of this year's Capital Pride event, to listen to community concerns and grievances about the June celebration. DC's Pride has grown and changed substantially since the city's first small event in 1972. Today, the Pride parade in the nation's capital draws tens of thousands of spectators, and another 250,000 attend the festival with live music, food, and a number of businesses and community-based organizations promoting their products and services.
But this year, the meeting leading up to the parade was not to finalize organizational touches. Instead, many members of the LGBT community bombarded Capital Pride organizers with their concerns about corporate sponsorship, police participation, the lack of diverse leadership, and fundamental questions of whether this year's Pride should be a celebration or a demonstration. For more than two hours, attendees pushed for significant changes, outnumbering those who wanted Pride to remain the same celebration it's been in recent years.
In various ways, the meeting in DC was a microcosm of concerns that have become more prominent in planning Pride celebrations in the era of President Donald Trump, from New York to Los Angeles. Cities all over the country began having June parades in 1970, on the one-year anniversary of the Stonewall riots, in which patrons of a gay bar called the Stonewall Inn spontaneously rose up against police harassment in an event generally considered to be the beginning of the LGBT liberation movement. Over the years, the events became lively festivals and parades celebrating LGBT identity, with increasing corporate sponsorship and police participation.
But this year, organizers and activists across the country are grappling with whether Prides should be celebrations or protests. Some say being out, proud, and unapologetic is in itself a protest, while others point out that the event commemorates a moment of powerful resistance. They argue that given how the assault on LGBT rights has intensified, coupled with other attacks on civil liberties, it's time to return to those roots. "The early gay liberationists were really radical, they came out of black power, they came out of black civil rights," Jim Downs, author of Stand by Me: The Forgotten History of Gay Liberation, tells Mother Jones. "But by the early 1980s you begin to see is that commitment…dissipating." He noted that during the early 1970s, being gay "was a radical political act. People who saw themselves as gay were already politicized and were already radical and were already on the fringes, and as gay becomes more acceptable…you begin losing that radical fringe."
"People who saw themselves as gay were already politicized and were already radical and were already on the fringes and as gay becomes more acceptable…you begin losing that radical fringe."
Some argue that this less political movement has left many marginalized groups within LGBT communities behind, a recurring internal debate that predates Trump's presidency but has intensified this year. "There seems to this kind of disconnect between traditional Prides and some communities within them, specifically the [queer people of color] community and the trans community," says Sue Doster, co-president Interpride, which connects and supports Pride internationally. "I think Pride organizers are becoming aware of this very starkly…but I really don't think the knowledge has been mainstream."
In some cities, activists are working with Pride organizers to incorporate political protests into the yearly celebration. Ken Kidd, an organizer with Rise and Resist, a direct-action group in New York City formed after the 2016 election, says the city's Pride celebration, as the largest in the world, has a special responsibility to be political this year. "This is a historic moment that's on par with historic moments like Stonewall," he says. "Whatever they say is happening that day is going to be recorded as a part of what's happening in this historic moment."
Kidd and other activists successfully pushed to have a resistance contingent at the front of New York's parade on June 25. Usually the Pride rally consists of music and comedy performances, but this year the city's celebration will include speeches from activists and community leaders. In Los Angeles, pride organizers have replaced the parade with a protest march—a sharp about-face from last year when the event was branded as a music festival, which critics derided as "gay Coachella."
But in some other cities, activists are staging protests within the Pride events, arguing the yearly celebrations cater to the most privileged, failing to make space for transgender communities and queer communities of color. When Phoenix, Arizona, held its celebration—in April instead of June, to avoid some of the blistering summer heat—national concerns about police and immigration became a source of conflict. Holding a protest banner that read "No Justice No Pride," members of Trans Queer Pueblo, a group for LGBT migrants, stood in the middle of the street and blocked the parade—demanding that police no longer participate in the event. In many Prides across the country, police march or have floats despite concerns by many queer people of color and activists that law enforcement targets their communities. Some say any police presence is harmful, even if it's just for security purposes.
In a video of the Phoenix protest, one attendee, who appears to be a white woman, shouts at the Trans Queer Pueblo representatives, "This is not your day! Go do this at the park! You're ruining our parade!" Someone who appears to be a white man shouts repeatedly, "Shame! Shame!" Later in the video, he can be seen yelling "fuck you" at the protesters. Others shouted racial slurs and shoved the protesters. A local alt-weekly noted the resemblance to a Trump rally "except that this time, the angry white men were wearing rainbow beads and were at an event that's supposedly about tolerance and equality."
"We wanted to make sure we have a safe pride for everyone," Dago Bailon, a member of Trans Queer Pueblo who helped organize the protest, told Mother Jones. For protesters that means no police floats in the parade or cooperation with law enforcement. Bailon was surprised by the "pushback from the people in the audience" and explains many members of the group, including himself, are undocumented immigrants who worry about being targeted by police. "Our members could face deportation and criminal charges," he explained.
Phoenix isn't the only place where advocates want to exclude police, whose presence has become a debate in several Pride celebrations in recent years. Pride "should not be a PR platform or an opportunity for the police to march with us," says Catalina Velasquez, an undocumented transgender woman in DC who works for Casa Ruby, a multicultural LGBT nonprofit focusing on the needs of transgender youth. "That is concerning because trans and queer people continue to be profiled and heavily targeted by enforcement agencies."
The use of corporate sponsors are another point of controversy throughout the country and in DC. As LGBT people have gained wider social acceptance and Prides have gotten larger, corporate sponsors have pumped money into the celebrations. Capital Pride events cost a total of $1.3 million and corporate sponsors foot about 40 percent of the bill. The sponsorship of Wells Fargo, which donated $15,000 in cash and in-kind contributions, has sparked some of the most intense criticism this year from critics, including No Justice No Pride, an LGBT activist group formed in DC following Trump's Inauguration Day protests. The corporation has been criticized for opening credit card accounts and forcing other unauthorized banking services on unsuspecting customers, lending to the Dakota Access Pipeline project, and allegedly targeting people of color with predatory loans. In addition to accepting the sponsorship, Capital Pride banks with Wells Fargo.
At the Capital Pride meeting, Jen Deerinwater, a citizen of the Cherokee Nation of Oklahoma and an organizer with NJNP, described being sprayed with tear gas and having guns pointed at her and her community members while protesting the Dakota Access Pipeline project in North Dakota. "Wells Fargo profits off our genocide, and you all collude with them," she told Pride leadership.
Another controversial funder is Maryland Live! Casino, which gives tens of thousands of dollars to the celebrations and is one of Pride's top three sponsors that donate between $50,000 and $75,000 in cash and in-kind contributions. (A representative from Capital Pride would not provide the specific amount from Maryland Live! Casino.) The reason for the controversy is David Cordish, the CEO of the Cordish Companies, which owns and operates the casino; he is also "one of the key alliances in the president's inner circle," according to the Financial Times. When Trump was suing Cordish, a rival developer, the two were ordered by the court to meet. "I walked in and I fell in love in about two minutes," Trump said of that meeting during a Maryland Republican Party dinner in 2015. "We worked out our problems in, what, 12 seconds?" Cordish's son, who met his wife through Ivanka Trump, now works in the White House for the Office of American Innovation.
NJNP organizers say Cordish's close association with Trump—who is attempting to roll back LGBT rights—should exclude his companies from any involvement with Capital Pride. "As a sponsor of Capital Pride, Live! Casino gets unfettered access to our community," NJNP wrote in a Medium post. "Their name and logo is everywhere. By giving them the chance to slap their name on our events, we allow them to paint themselves as an ally of the LGBT community."
The president of Capital Pride, Bernie Delia, wrote Mother Jones, "From the outset, Live! Casino stated clearly that it wants to be very involved in the community…The members of their corporate staff have demonstrated a genuine interest in working with and supporting Capital Pride." Moreover, he says, it's simply too late to drop corporate sponsors or make other significant changes.
Capital Pride has made some tweaks in response to concerns brought up at the meeting—for example, transgender and queer youth will be leading the parade. Some in the leadership say the group plans to develop standards for corporate sponsors and address other concerns before next year's Pride. Ryan Bos, Capital Pride's executive director, says that for him, it's been a productive conversation. "I've learned that there are a lot of people in our community that need to be challenged," he tells Mother Jones, "and we need to figure out a way to create a space for them to hear because not everyone listens in the same way."
NJNP activists have decided to protest the main Pride events and organized a separate march and night of "healing and resistance" celebrating the most marginalized voices in the community. Noa Leibowitz, a transgender woman and activist with NJNP, could be speaking for communities all over the country when she says Capital Pride needs to put those voices front and center. "When we talk about diversity it doesn't mean adding a few token representatives [to Capital Pride's board]," she told those assembled for the May meeting. "It doesn't mean there are a bunch of white cis dudes who are going to take our opinions into account. It means we are the ones making the decisions."