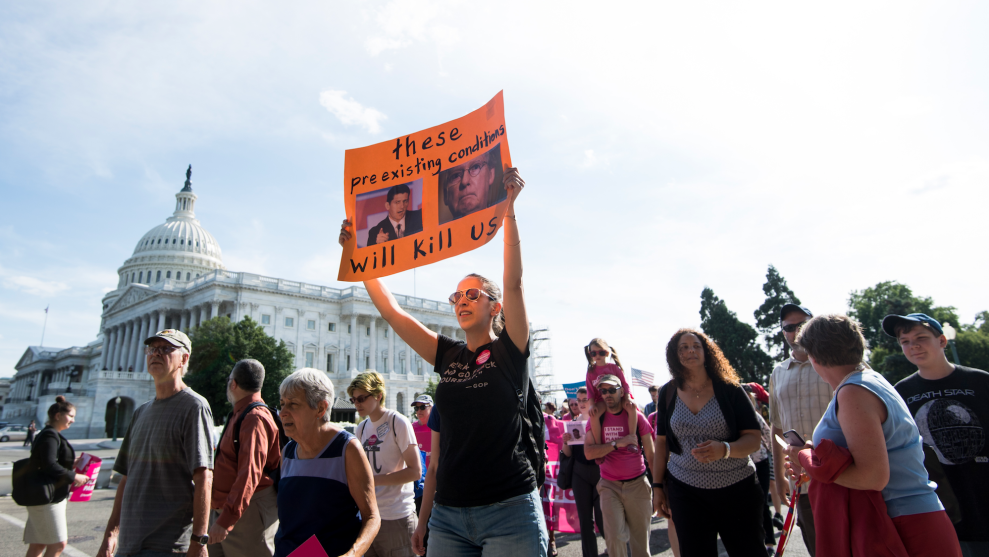 Fight disinformation:
Sign up
for the free
Mother Jones Daily
newsletter and follow the news that matters.
Repealing Obamacare and replacing it with a bill that would leave 22 million more people uninsured hasn't been as easy as Republicans hoped. On Tuesday, less than a week after releasing a bill written in secret, Senate Majority Leader Mitch McConnell (R-Ky.) announced that he would postpone a vote on his health care bill until after the Fourth of July recess.
The Republican bill is widely unpopular among the public. Just 17 percent of the country is in favor of the bill. Throughout the year, Republican lawmakers have faced angry constituents who want to preserve the Affordable Care Act (ACA). Below are a few of those instances.
On February 11, a man told Rep. Gus Bilirakis (R-Fl.) about how the ACA saved his daughter's life.
On February 21, Chris Petersen, an Iowa pig farmer, confronted Sen. Chuck Grassley—telling him that repealing Obamacare was "gonna create one great big death panel in this country."
https://www.youtube.com/watch?v=AwmTCIeAhXI
The next day, an Arkansas woman told Sen. Tom Cotton that three members of her family, herself included, would be dead without the Affordable Care Act. "What kind of insurance do you have," she asked Cotton.
https://www.youtube.com/watch?v=FVR0PimiRDA
On May 5, the day after House Republicans passed their bill to repeal Obamacare, Idaho Rep. Raúl Labrador made the startling claim that, "nobody dies because they don't have access to health care."
https://www.youtube.com/watch?v=j47pgI1qzUM
On June 20, as McConnell drafted his bill in secret, Sen. Shelley Moore Capito (R-Wv.) listened as Rev. Janice Hill told Capito about how her 41-year-old daughter, who is fighting cancer, would not be alive without Obamacare.
Two days later, McConnell released his health care bill. After disabled activists staged a "die-in" outside his office, Capitol Police carried them away as fellow protesters shouted, "no cuts to Medicaid. Save our liberty."
https://www.youtube.com/watch?v=uEwL9JUcwUE
Tuesday's delay offers activists a few more days to pressure Republicans. On Wednesday, in a series of Capitol Hill protests, demonstrators made clear that they plan to take advantage of the extra time.
WATCH: Health care bill protesters arrested and carried away from Sen. Toomey's office: "Kill the bill, don't kill me!" – @VaughnHillyard pic.twitter.com/CNBQxunMYo

— NBC Nightly News with Lester Holt (@NBCNightlyNews) June 28, 2017