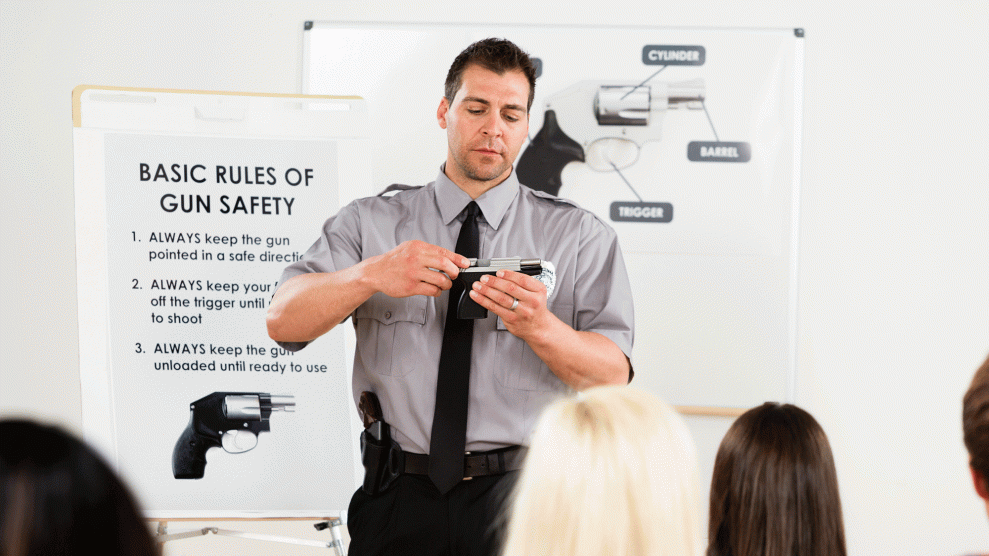 Fight disinformation:
Sign up
for the free
Mother Jones Daily
newsletter and follow the news that matters.
Forty percent of America's gun owners have not received any formal firearms training, according to a new study from the University of Washington (UW) School of Public Health.
The study, published in the journal Injury Prevention, is the first of its kind in more than 20 years. In those two decades, "that number hasn't meaningfully changed at all," says Ali Rowhani-Rahbar, an associate professor of epidemiology at UW and the study's lead author. In 1994, two surveys found that about 56 to 58 percent of US gun owners had received formal firearms training. "Now that number stands at about 61 percent," says Rowhani-Rahbar. "It basically shows that, while training programs do exist—those that the NRA is running and that other gun advocacy groups are running—the reality is that they're not reaching a larger fraction of gun owners than they used to many years ago."
The study uses data from a nationally representative online survey of nearly 4,000 people. It found that among gun owners, men reported receiving more training (66 percent) than women (49 percent). People who purchased a gun for protection were far less likely to have received training (57 percent for handgun owners and 47 percent for long gun owners) than those who owned guns for hunting and sport shooting (approximately 68 percent). Training includes instruction on gun storage, safe handling, and preventing accidents.
Only 14 percent of non-gun owners living in gun-owning households said they had received training. "Why care about that?" Rowhani-Rahbar asks. "We have plenty of evidence that shows that living in a gun-owning household is associated with a higher risk of suicide and unintentional injuries. It's important they know something about firearms." Only 15 percent of gun owners had been exposed to any material related to suicide prevention.
The survey was not designed to evaluate how effective current firearms training is. "That is the next step—to compare those who have received training to those who haven't and see whether it actually translates to saving lives," says Rowhani-Rahbar.