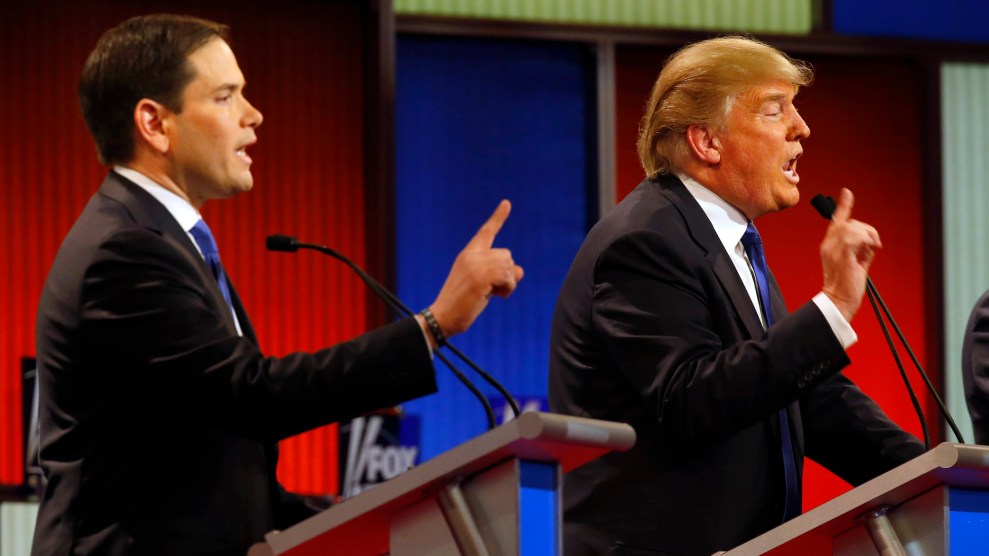 Fight disinformation:
Sign up
for the free
Mother Jones Daily
newsletter and follow the news that matters.
Republicans are telling anyone who will listen that Congress needs to repeal Obamacare immediately because the program's insurance markets are collapsing around the country. "The situation has never been more dire," Secretary of Health and Human Services Tom Price said this week. "Americans are continuing to lose what health coverage they have and are forced to choose from fewer options or pay the IRS for the right to go without." President Donald Trump has even suggested that if Senate Republicans can't pass a health care bill, they could simply let Obamacare fail.
Republican Senators are working very hard to get there, with no help from the Democrats. Not easy! Perhaps just let OCare crash & burn!

— Donald J. Trump (@realDonaldTrump) June 26, 2017
Tales of Obamacare's demise have been greatly oversold. In many states, the marketplaces are actually doing just fine, with moderate premium increases and healthy enrollment. There is no death spiral. An analysis released by the Kaiser Family Foundation earlier this week examining the current state of Obamacare's marketplaces found that "the individual market has been stabilizing and insurers are regaining profitability."
But Obamacare's marketplaces have certainly encountered problems in some areas. Premiums have quickly increased in other parts of the country. And Kaiser lists 38 counties—covering 25,133 enrollees—that are at risk of having no insurers selling coverage on the marketplaces in 2018. That's a small subsection of the more than 10 million people who signed up for 2017 insurance, but it's a severe problem for the people in those 38 counties, since the government subsidies they are entitled to are only available for insurance offered on the marketplaces.
For all their griping about the ways Obamacare isn't working, Republicans are leaving out one key fact: Many of the law's troubles can be traced back to opposition and sabotage by Republicans themselves. From the very moment Barack Obama signed the Affordable Care Act into law, Republicans were proclaiming that they would "repeal and replace" the law, and that threat has hovered over the implementation of the law ever since. But it's not just broader rhetorical threats: Republicans at all levels of government have made specific policy decisions that have hurt Obamacare.
Here's a brief rundown on the myriad ways Republicans have derailed implementation of Obamacare's marketplaces:
Opposing Medicaid expansion
One of Obamacare's simplest and most important tools for decreasing the number of people without insurance was expanding Medicaid—the government insurance program for the poor—to everyone who makes less than 138 percent of the poverty line. The federal government pays 90 percent of the cost of the expansion, with states covering the remaining 10 percent. The law was written so that if a state wanted to receive any Medicaid funding, it would have to accept the Medicaid expansion. But after Obamacare opponents sued, the Supreme Court ruled that the feds couldn't force states to adopt the expansion.
Predictably, lawmakers in Republican-controlled states immediately revolted against the Medicaid expansion, rejecting the new federal dollars that would have helped cover millions of people. So far, 19 states have refused to expand Medicaid.
But limiting Medicaid expansion has ended up increasing the costs of health care for people who buy coverage on the marketplaces. A 2016 study by the Department of Health and Human Services looked at comparable counties in states that accepted the expansion and states that rejected it. The researchers concluded that refusing the expansion actually increased the cost of health insurance for everyone in a state, with premiums 7 percent lower in states that took the expansion, after controlling for demographics and other health policy factors that might play a role. For a variety of reasons, poorer people tend to require more health care. The federal government was supposed to cover most of that cost through Medicaid. But by rejecting expansion, Republican-controlled states have instead spread that cost to everyone buying insurance on the individual market.
Cutting insurance subsidies
When Obamacare banned insurance companies from charging higher rates for people with preexisting conditions, that posed a potential problem for insurers: What if a disproportionate number of the sickest consumers happened to sign up with the same insurer? That would saddle one insurer with outsize costs for health expenses. The risk that such a scenario might occur would drive up premiums for everyone. To mitigate that risk, Obamacare included provisions to spread it out over all insurers. From 2014 to 2016, insurance companies that ended up spending less money than predicted for medical payments would pay a fee to the government, which would then be handed back to other insurance companies that faced unexpectedly high costs.
This program was known as "risk corridors," but Republicans became fond of a politicized description, terming it a "bailout" fund. Sen. Marco Rubio (R-Fla.) reportedly added language to a must-pass appropriation bill in 2014 (language that was subsequently renewed) barring the Obama administration from using other sources of money to supplement those fees if the fund wasn't big enough to fully cover the risk.
This seemingly arcane legislative maneuver had a serious impact. In the first year of the risk corridor, insurance companies had $2.87 billion in claims—but the government only had $362 million to hand back to them. "A little-noticed health care provision slipped into a giant spending law last year has tangled up the Obama administration, sent tremors through health insurance markets and rattled confidence in the durability of President Obama's signature health law," the New York Times wrote of Rubio's efforts. "Some insurers left the marketplaces or even collapsed altogether, leading Rubio to crow his actions have been 'a big part of ending Obamacare for good,'" explained Politifact.
Playing chicken with cost-sharing reductions
Since he took office early this year, Trump has been playing a game of chicken with the insurance industry, hinting that he'll blow up the individual marketplace if lawmakers don't repeal Obamacare. The administration even reportedly threatened to wreck the industry's finances if insurers don't support the GOP's health care bill.
The dispute relates to a provision in Obamacare known as cost-sharing reductions that helps offset out-of-pocket costs for lower-income families. It requires insurance companies to offer lower deductibles and co-pays and, in exchange, promises that the federal government will reimburse insurers for these costs. The lower out-of-pocket costs are clearly mandated under the law, but in 2014, House Republicans sued the Obama administration over the reimbursement payments, claiming that Congress hadn't technically appropriated those funds. That case remains in legal limbo, but Trump has threatened to drop the administration's defense against the suit and end the payments.
Because of the way the law is written, even if Trump ended the cost-sharing payments, insurance companies would still have to offer the lower rates. That would destroy their financial calculations, forcing insurers to raise premiums across the board or pull out of some markets altogether.
The payments to insurers are made monthly, and Trump has said he could decide to stop making them at any time. Each month, the Trump administration has reiterated the uncertainty around cost-sharing reductions. "We committed to making them last month, and that's as far as we will go at this time," White House press secretary Sean Spicer said in late June. "We're not committing to them this month."
Insurance companies have already cited that uncertainty when announcing their decisions to either leave marketplaces or increase premiums for 2018. Brad Wilson, the head of Blue Cross Blue Shield North Carolina, directly pointed to Trump's comments to justify his company's request for a 22.9 percent premium increase for 2018. "The biggest single reason for that rate increase is the lack of the federal funding for CSRs in 2018," Wilson told Vox. "We cannot assume nor should we that the money is going to be there based on what we know today. The president and the administration have made several statements about CSRs that don't give any comfort that they will be available." Similarly, the Congressional Budget Office said last month that Obamacare markets are generally stable but that uncertainty about the future of CSR payments "may lead insurers to withdraw from the market."