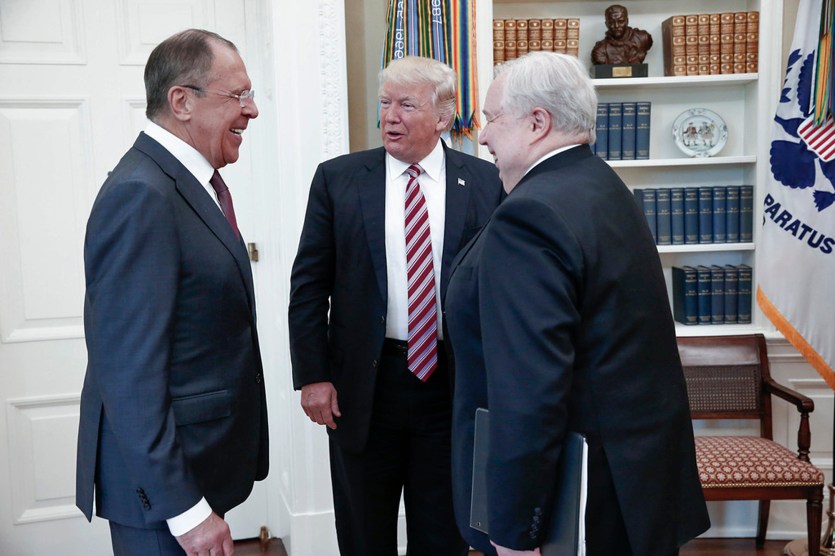 Fight disinformation:
Sign up
for the free
Mother Jones Daily
newsletter and follow the news that matters.
This is rich. Outgoing Russian Ambassador Sergey Kislyak complains in a new interview that the deeply divided political climate in the United States—the same atmosphere of controversy and mistrust his government helped to usher in with its attack on the US presidential election—has made it difficult for the Kremlin to advance its agenda in Washington.
The Trump administration "has not taken any real steps" toward the president's promise to boost cooperation with Russia, Kislyak gripes in an interview posted Wednesday by Russian news agency TASS. "Work with Donald Trump's administration is unfolding uneasily," he notes. "The internal political struggle in the United States has dealt a heavy blow to Russian-U.S. relations. Sometimes, you are surprised at the ease with which the American establishment is ready to sacrifice normalcy in our relations."
Relations between Russia and the United States are anything but normal at the moment, especially after (as US intelligence agencies have concluded) the Kremlin's interfered in the election to help Trump win the presidency. Kremlin-backed hackers stole and released emails from Democratic targets, deployed social-media bots to push pro-Trump messaging, and probed local election infrastructure in at least 21 states.
But Kislyak complains that despite Russian hopes that Trump would undo economic sanctions imposed after Russia's 2014 incursion into Ukraine, the new administration has expanded the penalties. Meanwhile, Congress is moving toward imposing additional sanctions against Russia and barring the executive branch from unwinding the rules without congressional approval. The potential new sanctions are "another headache," Kislyak says.
During the transition, Trump gave the Russians reason for optimism. In late December—on the same day when the Obama administration expelled 35 suspected Russian intelligence operatives and shuttered two Russian diplomatic compounds in retaliation for Russia's election hacking—Kislyak exchanged phone calls and text messages with former Lt. General Michael Flynn about the newly imposed sanctions. The Washington Post reported that Flynn suggested the penalties that Obama imposed would be reconsidered after Trump took office. Flynn lost his job as Trump's national security adviser and is being investigated partly as a result of lying about those contacts.
Kislyak and Flynn also communicated during the presidential campaign, the ambassador told the Washington Post. Kislyak claimed the contacts were benign but refused to say what subjects they discussed. That could be a key subject for US investigators to examine.
Kislyak has not given up on Trump. He tells TASS he hopes a meeting between Trump and Russian President Vladimir Putin Friday at a G-20 summit in Hamburg will "determine in which direction interaction between our countries will further develop."
"There are always opportunities for positive turnarounds," Kislyak says.
Indeed, Trump has sent the Russians positive signals. The last time Trump met with Russian officials—Kislyak and Russian Foreign Minister Sergey Lavrov—the president was accommodating. He disclosed highly classified information related to Israel's intelligence gathering on the Islamic State. Trump, who has dismissed Russian meddling in the 2016 election as fake news designed to excuse Hillary Clinton's loss, has no firm agenda for the Putin meeting, according to national security adviser H.R. McMaster. And White House officials have said Trump does not plan to bring up Russian interference to Putin.
So is Kislyak truly upset about Trump? Given that he represents a regime that ran a covert operation to subvert the 2016 election to help Trump, his statements probably shouldn't be accepted at face value.