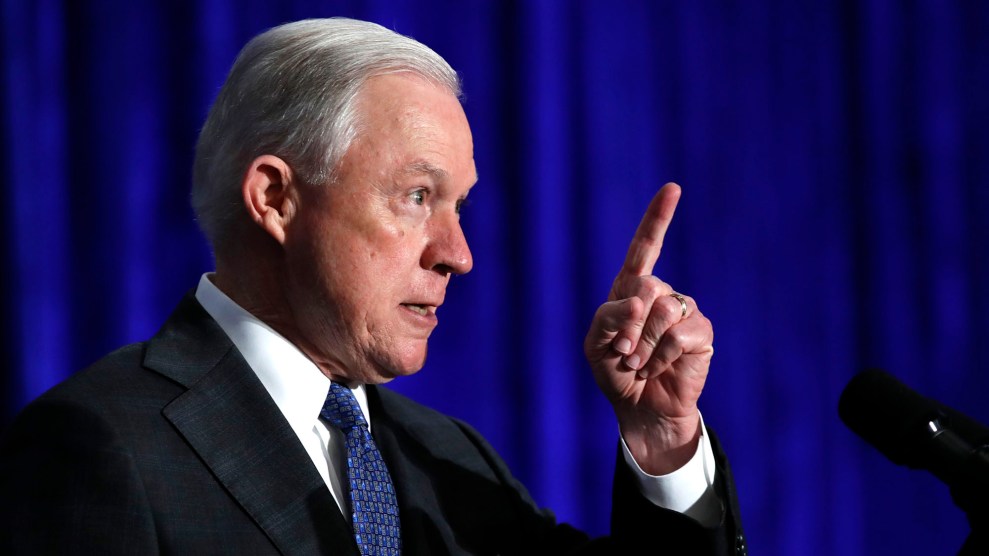 Fight disinformation:
Sign up
for the free
Mother Jones Daily
newsletter and follow the news that matters.
Attorney General Jeff Sessions announced on Monday that the Justice Department will increase the use of asset forfeiture, a controversial tool that allows law enforcement to permanently seize cash and property, even from people who have not been charged with a crime.
"We hope to issue this week a new directive on asset forfeiture—especially for drug traffickers," Sessions said in a speech to a gathering of district attorneys in Minneapolis, according to his prepared remarks. "With care and professionalism, we plan to develop policies to increase forfeitures. No criminal should be allowed to keep the proceeds of their crime. Adoptive forfeitures are appropriate, as is sharing with our partners."
Since 2007, the Justice Department's asset forfeiture program has collected $28 billion, including $3.2 billion in cash that the Drug Enforcement Administration has confiscated from individuals who were never charged with a crime, the Justice Department's inspector general found earlier this year.
Asset forfeiture has come under scrutiny from both liberals and conservatives in recent years. This year, Republican Reps. Darrell Issa of California and Jim Sensenbrenner of Wisconsin co-sponsored legislation to limit the use of civil asset forfeiture, which allows law enforcement to confiscate assets from an individual who has not been charged, much less convicted, of a crime. The practice is often used at the state level to fund local police departments. "In too many cases, civil forfeiture has wrongfully harmed innocent Americans through loss of property rights and due process," Issa said in March.
"It appears that the attorney general is really moving in the opposite direction of where much of the country has been moving in terms of criminal justice reform and trying to remedy the overuse and abuse of civil forfeiture," says Louis Rulli, an expert in asset forfeiture at the University of Pennsylvania Law School. Rulli singles out Sessions' comment about adoptive forfeiture as "very troubling." Under adoptive forfeiture, officials in states with restrictive forfeiture laws can seize property and hand it off to the federal government to officially confiscate it under federal law. The feds then return much of the property to the local authorities, usually about 80 percent. During the Obama administration, the use of adoptive forfeiture decreased. Sessions' announcement signals he will seek to reverse that trend.
"It's very troubling because many of the states now, having seen the abuses of civil forfeiture over a good number of years, are taking steps to change civil forfeiture to remedy those abuses," says Rulli. "And the federal government's adoptive program is a way in which these state reforms can be avoided and civil forfeiture can take place through the federal level."
"Let's not forget that there is such economic self-gain involved here in civil forfeiture," Rulli added. Some state laws require that seized assets go to the state's education fund or general treasury, for example. "In those states where the money doesn't go to law enforcement…this is a way around that."